'I Am Definitely Preaching To This Choir': Michael Moore On His Trump-Centric, One-Man Show
10:54
Play
Filmmaker and activist Michael Moore, who gained notoriety for such documentaries as "Bowling for Columbine" and "Fahrenheit 9/11," has spoken out against President Trump since he was candidate Trump. Now, he's doing it onstage in a one-man show.
While critics say Moore (@MMFlint) might be preaching to the choir, he tells Here & Now's Jeremy Hobson that's the point.
Interview Highlights
On why he wanted to come to New York
"New York is the capital of liberal America, and the liberal establishment in the Democratic Party has really failed much of us who live out there in the Midwest, in the Brexit states. And I wanted to come here and speak to the people of this area — and especially the people I see every night in a Broadway theater — because we need them."
On critics who say his show is "preaching to the choir"
"I am definitely preaching to this choir. This choir has been out running around, doing the wrong kinds of things that have left us completely out of power. We're the majority of this country, the majority of Americans agree with us on all the issues. Name the issue, whether it's equal pay for women, climate change, gun control, death penalty. The majority of Americans take the liberal position, and yet we hold no power as we sit here right now: We don't have the White House, we don't have the Senate, the House, the Supreme Court, 50 of our state capitals, the Democrats control only six of them. That is unacceptable, considering that we are the majority of this country. So I am here to give the choir a song to sing. I am here to challenge people who work in liberal media, who work for the Democratic Party. I mean, so much good emanates from this city to the rest of the country and the world. We need the people here first and foremost on board."
"We don't have the White House, we don't have the Senate, the House, the Supreme Court, 50 of our state capitals, the Democrats control only six of them. That is unacceptable, considering that we are the majority of this country."

Michael Moore
On why he says Trump will try to take the U.S. to war
"He's so easy to read. He's easily distracted himself, and he easily distracts us, and he is going to need us to be distracted because when and if any of those committees in Congress, or Mueller's investigation, bears any fruit, I fully expect him to either try taking us to war, or doing that awful thing he did during the campaign when he would not ever once say he would accept the election results if he lost. He said, you know, 'If Hillary wins,' I'm not quoting exactly, but something to the effect of, he calls upon his 'Second Amendment people' ... 'It's gonna be rigged,' he kept saying that, and it was a code to say to his people — especially his armed followers — 'be ready to go into the streets.' If it looks like he's actually going to be removed while he's still president, that he will not go quietly."
On stories from his life he wanted to tell in the show
"I wanted to tell stories that showed how I learned, starting at an early age, as a teenager, that one person can make a difference, and that that's not just a cliche. It really is true, and I experienced it starting at the age of 17, where something I did in Michigan made it on the 'CBS Evening News,' and then the next year I became one of the youngest people ever to be elected to office — when 18-year-olds were given the right to vote, a few months later I got elected in Michigan. And I never would've thought that could've happened. I basically, I share these stories ... and [stories of] other people I've seen do things that have made huge changes in this world simply because they woke up one morning and said, 'Damn it, I'm tired of this,' or, 'I'm gonna to do something about it.' As much as you're told that you're nobody from nowhere, that is the biggest lie. You are actually somebody, you are from somewhere and what you are is scary to those who run the show."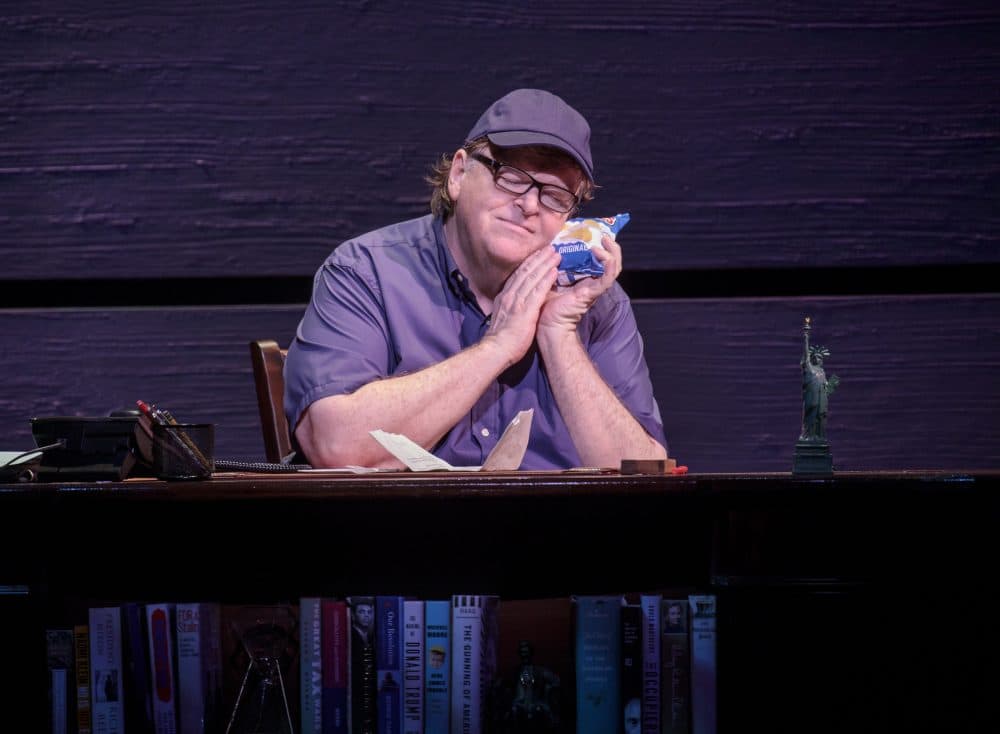 On who he thinks could defeat Trump in the 2020 election
"We need to run Tom Hanks. I wanna run a beloved American that people are gonna vote for. [Oprah Winfrey] would win, everybody knows Oprah would win. Michelle Obama would win, oh my God. She's not gonna run, but, that's the way Democrats need to start thinking: not thinking about which wonky senator or representative or whatever. We gotta think outside the mainstream of political people. I mean first of all, Trump has proven anybody can get elected president. So if now we know that's the truth, we don't have to run just anybody, we could actually run somebody that could win."
This segment aired on October 4, 2017.