'I Was Always Nervous About Missing Something': Pete Souza On Photographing Barack Obama
Play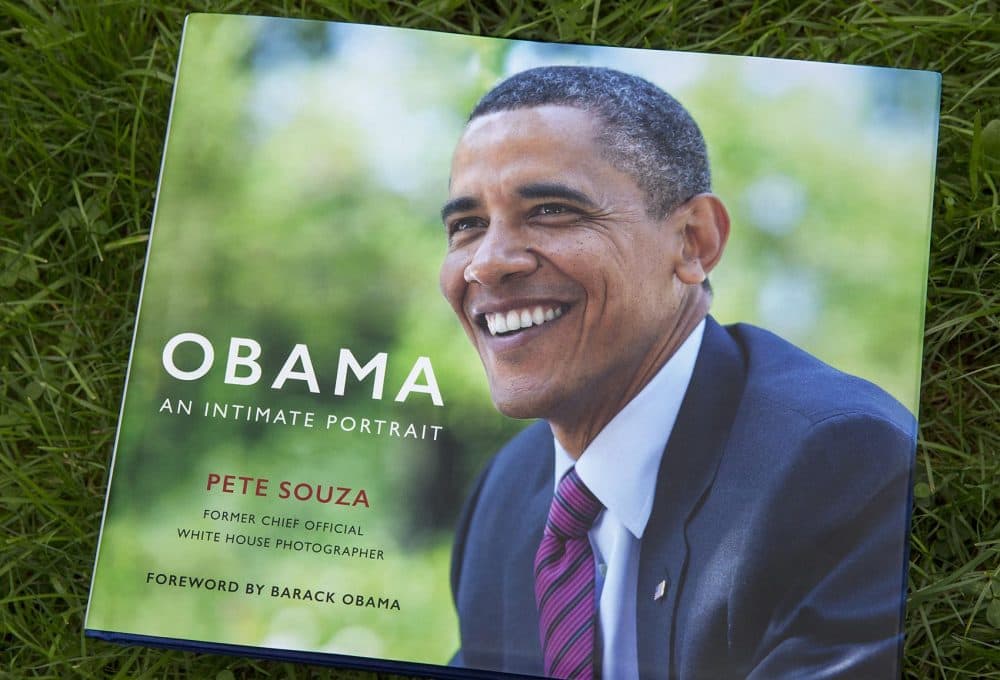 This article is more than 5 years old.
During his eight years as President Obama's chief official White House photographer, Pete Souza took almost 2 million pictures. Now he's published the collection "Obama: An Intimate Portrait."
Souza (@PeteSouza) joins Here & Now's Jeremy Hobson to talk about the book and documenting the Obama presidency.
Interview Highlights
On meeting then-Sen. Obama
"I was based in the [Chicago] Tribune's Washington, D.C. bureau, and Jeff Zeleny, who was a correspondent in the bureau, came up with this idea of doing a documentary look at Obama's first year in the Senate, and he mentioned me and I said, 'I'm in for this.' So I got to know him that first year in 2005, and then subsequently continued to cover him as a senator, and went on a couple of foreign trips with him and covered the start of his presidential campaign. So without that relationship I never would have gotten this job."
On covering Obama before he became president
"The apparatus that follows him was not the same. I mean, I remember we went to Moscow on a trip. He went with Richard Lugar, senator from Indiana, the two of them on a congressional delegation, and Jeff and I went along. And we were in Red Square with one security guy from the State Department and not a single person in Red Square recognized him. Those days are gone.
"I was consciously — that first trip to Moscow in 2005 — I was consciously trying to show people ignoring him, because I thought, you know, someday this guy may become president, and you're never going to have this scene again, where he's going to be in such an open public space where no one even knows who he is. Of course, you know, once anyone becomes president, everyone is focused on that person. And just the situation is completely different."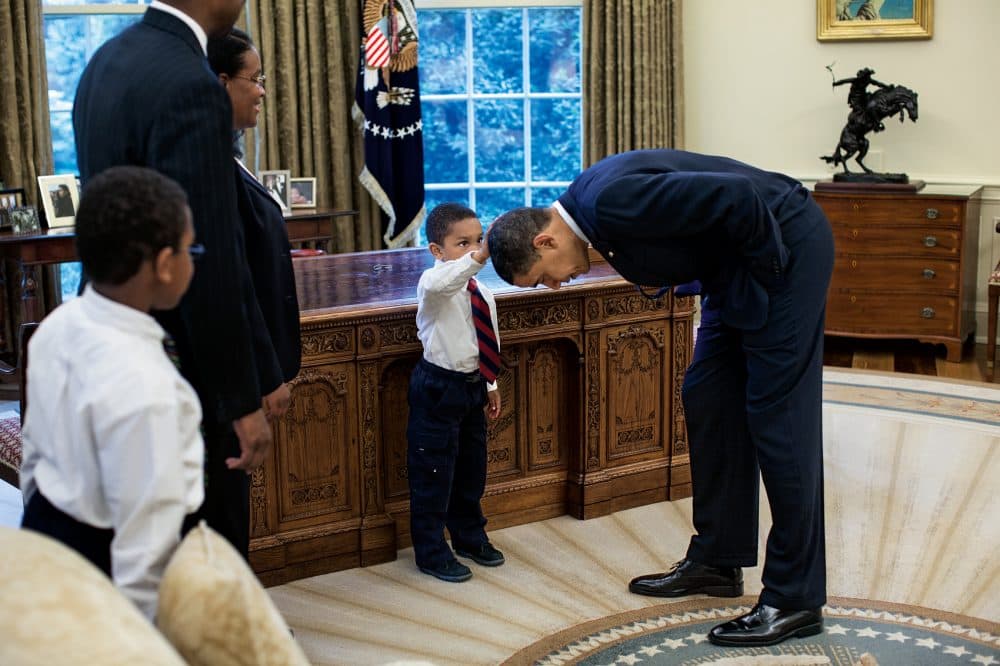 On getting access to photograph President Obama
"My model of a White House photographer was Yoichi Okamoto, who was LBJ's photographer. I never knew Yoichi, but Yoichi was really the one, the first White House photographer, to truly document a president for history. And his pictures are just so good, his access was so good. He set the bar so high that I think every subsequent official White House photographer has been trying to reach his bar. So that was my model. President Obama understood that and he ceded to my request, but of course, once you step inside the Oval Office, things change. And, if you can imagine every day somebody following you around, taking pictures all day, every day, it takes a little getting used to. And then you have other people that are worried about what they're saying to the president. Here's this, you know, what they consider an observer, in the room. So that took a few months to sort of get people accustomed to me being in every meeting, you know, every day, whether it was a domestic policy meeting or a national security meeting. But I think after the first few months, I think people recognized that I took what I did seriously, that I was not going to ever leak anything, that I was really trying to document his presidency for history."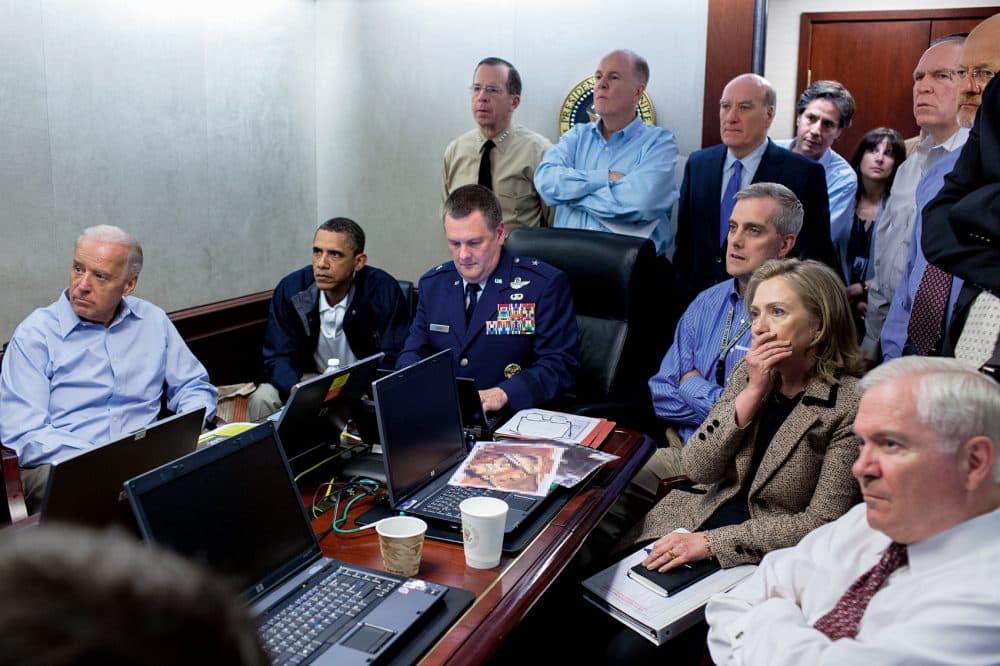 On whether he was ever asked to leave the room for security or privacy reasons
"Not that I can recall. I think the one time where I tried to give him some space was if he was having a one-on-one meeting, meaning there was just him and one other person. I would get the shots that I needed and then just quietly back out of the room. I wasn't kicked out, but I knew that he wanted it to be a private meeting, and mostly for the sake of his guests, I knew that it was better to give him some privacy in meetings like that when you did stay in meetings."
"I think people recognized that I took what I did seriously, that I was not going to ever leak anything, that I was really trying to document his presidency for history."

Pete Souza
On how closely he paid attention to the meetings, and how much he was focusing on his photography
"I didn't tune it out totally because you sort of want to get the broad sweep of what's going on because that helps you capture the right moment, the right mood. Maybe there's a certain individual in the meeting that you should be focusing on other than the president, you know, depending on the subject matter. So although I couldn't, you know, relay in detail what anyone was saying, I needed to have an idea of what the essence of this meeting was about to help my photography and help create, you know, meaningful pictures."
On "fear of missing anything"
"The first five years I did not take a vacation. And then the last three years, I took one week each year — otherwise my wife would have killed me. Those were the only times I took off. I also took one sick day in eight years and that was because I had to undergo anesthesia to have a colonoscopy. So they did not let me come to work. When you're documenting history, you don't really know, all the time, when it's going to take place. So I was always nervous about missing something."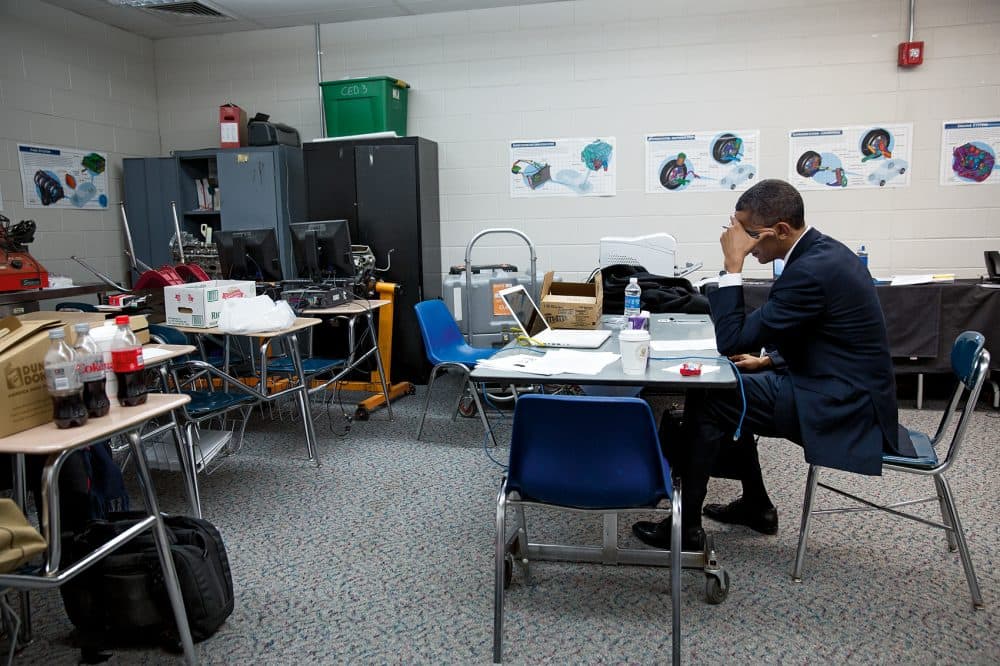 On visiting Newtown after the Sandy Hook shooting
"After the mass shooting at Sandy Hook Elementary School, two days later we went to Newtown and the emotions were still raw. You can imagine. You're a parent. You sent your 6-year-old first-grader off to school and they never come home because some crazy guy shot them to death. There were 20 parents that that happened to. And we went to Newtown two days after what for them was the worst day of their life, and just the emotion of him meeting with these families privately for hours before the public memorial service was just too much to bear."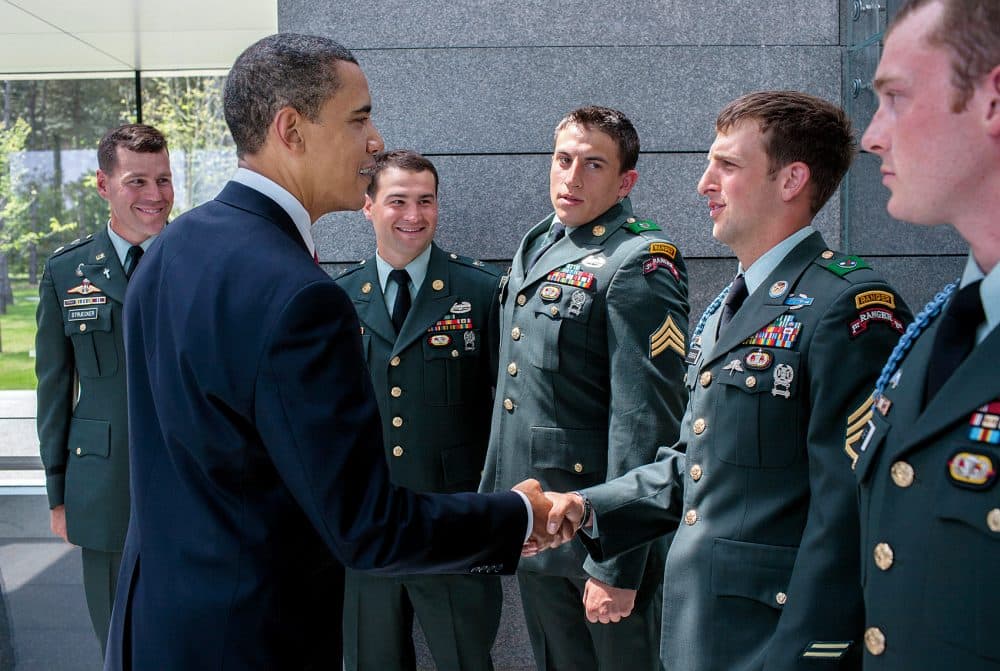 On photos of Cory Remsburg, a soldier severely injured in Afghanistan
"The president would go to Walter Reed [Army Medical Center], usually every three months — I think he went 24 or 25 times during his administration — to see injured soldiers coming back from Afghanistan or Iraq. And, in 2010, we walked into Cory's room, and here he was lying on the bed. He had just dozens of stitches across his head, the side of his head. He had been severely injured. It was hard to look at, in some ways. And, his dad was there, and his dad said, 'Well, Mr. President, you've met Cory before. You met him eight months before in Normandy on June 6, 2009. And I'm listening to this, and I'm trying to remember this, and I can't. But then Craig, his dad, had taped to the hospital wall a photo that I had taken of President Obama shaking hands with Army Ranger Cory Remsburg on June 6, 2009 in Normandy. And I'm looking at this photograph and I'm looking at Cory in the bed, and I'm thinking, like, 'Oh my gosh, this is hard to fathom, hard to take in.' It was the only time that he had met someone who then subsequently was injured like this in Afghanistan or Iraq.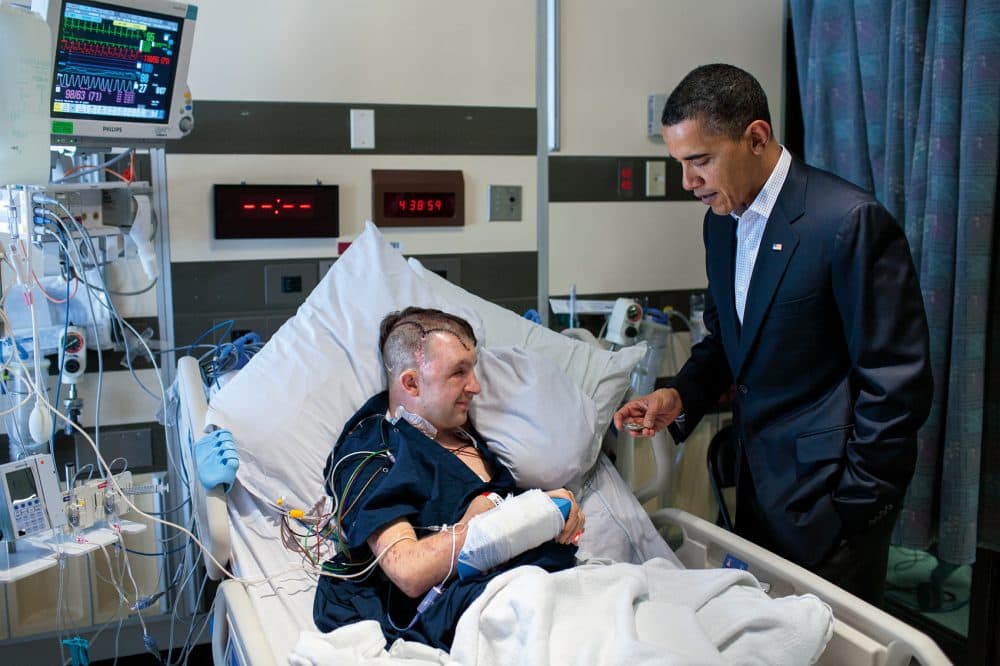 "And I, you know, I had doubts whether Cory would recover. But he did. And a couple of years later, he was invited as a guest of honor at the State of the Union address. He sat next to Michelle Obama. And a woman at The New York Times wanted to do a story about Cory, and that was the first time that we had allowed those pictures to be made public, at Cory's request. He wanted people to see the progress that he had made, and he thought he could be an example for other wounded soldiers. That no matter how bad you're injured, that you can come back. And Cory is proof of that."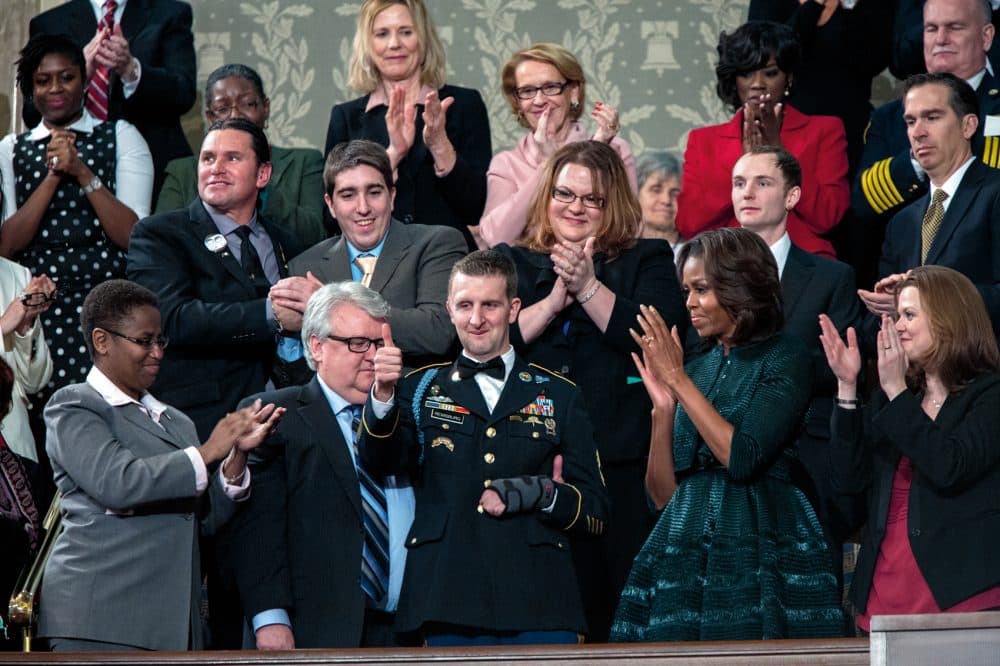 On his Instagram account
"There was no grand strategy on my part. I think actually what happened was on Jan. 20, my Instagram account became a private account, and one of the first pictures I posted was on a helicopter after we had left the Capitol, after President Trump was sworn in. And the pilot circled Washington for a little while, and he flew over the White House, and I have this picture of President Obama looking out the window, and there you see the White House out the window. And I think I captioned it something like, I think I just said, 'Farewell.'
"The response was so overwhelming, it caught me a little by surprise, to be honest with you, and it made me think, 'Oh, well, I guess I can continue to post some throwback photos of President Obama.' And, you know, things happened and just sort of, I don't know, it just kinda happened."
On concerns that his Instagram posts might be seen as unhelpful to President Trump's transition
"Are you talking about the White House that accused President Obama of a high crime? Well, I mean, I'll say this: I think I've been respectful, playful, subtle, and compared to the comments I make on Instagram, they pale in comparison to what some people write on Twitter, for instance."
On what's next
"Next year I wanna do more new photography, and not of politicians. ... I had the top job in politics for eight years, and I think I have a lot of other interests that I wanna explore. I did an assignment this summer with a musician named Brandi Carlile, she happens to be a friend of mine, and I spent a week with her taking candid photographs for her upcoming album. So I just wanna branch out and try other kinds of photography like that."
This article was originally published on November 08, 2017.
This segment aired on November 8, 2017.