3 Recipes From Resident Chef Kathy Gunst's Favorite 2017 Cookbooks
Below are recipes from three of Here & Now resident chef Kathy Gunst's favorite 2017 cookbooks. You can also read Kathy's full reviews and learn more about some of her additional picks.
---
Roasted Winter Vegetables With Herbed Buttermilk Dressing
From "Dinner: Changing the Game," by Melissa Clark and Eric Wolfinger
Several types of roasted winter vegetables get tossed together in this wonderfully textured salad. Kale leaves become crunchy and rigid, butternut squash softens into plush cubes, and potatoes split the difference between soft in the center and crispy on the outside. Then everything is coated in a garlicky, creamy yogurt dressing imbued with fresh green herbs, topped with chopped nuts for crunch. Serve this on its own for a light meal, or spoon it on top of some cooked grains — bulgur, brown rice, farro — to bulk it out. It's also tasty with some hard-boiled eggs mixed in if you're looking for more protein.
Ingredients
1 large bunch kale
Extra-virgin olive oil, as needed
Kosher salt and freshly ground black pepper to taste
2 1/2 cups diced peeled butternut squash (or beets or parsnips)
2 1/2 cups diced potatoes or sweet potatoes
1/3 cup buttermilk
3 tablespoons Greek yogurt, preferably whole-milk
2 teaspoons fresh lemon juice, plus more to taste
1 fat garlic clove, grated on a Microplane or minced
1/4 cup chopped soft fresh herbs or bitter greens, such as any combination of arugula, dill, parsley, mint, basil, and tarragon (using several kinds adds complexity but any one will work)
2 tablespoons chopped walnuts or unsalted pistachios, toasted (optional)
Total time: 50 minutes
Serves 3 or 4
Instructions
Heat the oven to 450 degrees.
Remove the center ribs of the kale and tear the leaves into large pieces. Place the leaves on a large rimmed baking sheet, drizzle generously with olive oil, and season with salt and pepper to taste. Roast until crisped, 8 to 10 minutes.
Remove the kale from the oven, and reduce the heat to 425 degrees.
Place the squash and potatoes, separately, on two large rimmed baking sheets, drizzle them generously with olive oil, and season with salt and pepper. Roast until they are tender, 30 to 40 minutes for the squash and 35 to 45 minutes for the potatoes. Set the squash and potatoes aside.
In a small bowl, combine the buttermilk, yogurt, lemon juice, 1/4 teaspoon salt, and the garlic. Whisk in 1 tablespoon of olive oil, and then whisk in the herbs.
Place the roasted kale and warm vegetables in a large bowl, and toss with enough of the dressing to coat. Just before serving, scatter the nuts, if using, over gently.
Excerpted from DINNER: CHANGING THE GAME. Copyright © 2017 by Melissa Clark. Photographs copyright © 2017 by Eric Wolfinger. Published by Clarkson Potter/Publishers, an imprint of Penguin Random House, LLC.
---
Savory Coiled Fennel & Nigella Buns (Külçe)
From "Istanbul & Beyond: Exploring the Diverse Cuisines of Turkey," by Robyn Eckhardt and David Hagerman
Flecked with fennel, nigella, and sesame seeds, these pale buns bear the teeniest whiff of cinnamon — just enough to make me wonder what I was tasting the first time I tried them at Antakya's Yıldız Fırın bakery.
The dough must be stretched paper-thin before it's rolled up and coiled, but it's an easy process because the buns are shaped on an oiled work surface (no sticking!). Do not skimp on the oil for your hands and your work space — you won't notice it in the buns, which are light, chewy, and a bit crusty.
These are the perfect breakfast bread — good enough to eat on their own but not so aggressively flavored that they don't work well with eggs, cheese, honey, or preserves. They make great dinner rolls too. To serve them in the morning, let the dough rise for 45 minutes and then place in the refrigerator overnight. Bring to room temperature before shaping the buns.
These are best the day they're made, but they freeze wonderfully.
Preparation time: 1 hour, plus 1 1/2 hours rising time
Makes 8 buns
Ingredients
1 cup water
2 teaspoons instant yeast
2 3/4 cups plus 2 tablespoons (16 ounces) bread flour
1 tablespoon plus 1/2 teaspoon nigella seeds
1 tablespoon fennel seeds
1 1/4 teaspoons untoasted sesame seeds
1/4 teaspoon ground cinnamon
1 teaspoon fine sea salt
1/4 cup whole milk
1/2 cup vegetable oil, plus more if needed
Instructions
Make the dough: Put the water in a large bowl and sprinkle the yeast over. Whisk together the flour, spices, and salt in another bowl. Stir the milk into the water. Pour the flour over the liquid mixture and use your hands or a dough scraper to mix and cut the ingredients together. Turn out onto a lightly floured work surface and knead until the dough is smooth and elastic, 8 to 10 minutes.
Transfer the dough to a lightly oiled bowl, cover with plastic wrap, and let rise until doubled in size, about 1 1/2 hours.
Place a rack in the middle of the oven and heat the oven to 425 degrees.
Turn the dough out onto a floured surface and divide it into 8 equal pieces. Roll each piece into a ball. Cover with plastic wrap and let relax for 10 minutes.
Form the buns: Put the oil into a shallow bowl or lipped plate. Generously oil your palms, fingers, and your work surface. Place one dough ball in the middle of the oiled work surface and flatten it with your hand. Use the tips of your fingers and/or the heel of your hand to stretch the dough, starting in the center and moving outward toward the edges in concentric circles. You want to stretch and push the dough into a rough circle 8 or 9 inches in diameter; re-oil your hands as necessary, and don't worry if you don't have a perfect circle, but be sure that the edges of the dough are not thicker than the center. The dough may tear; this isn't a problem as long as the tears aren't large or at the edges.
Carefully lift up the edge of the dough farthest from you from the work surface (if the dough sticks, you did not apply enough oil to your work surface). Move the dough away from and then back toward your body as you lower it onto itself in accordion-like folds to form a 1- to 1 1/2-inch-wide ribbon. Dip your thumbs and fingertips into the oil and line up your fingertips across the center of the dough ribbon. Move your hands away from each other, pressing a horizontal furrow into the dough's length as you gently stretch it. You can use your thumb to guide your fingers by keeping it pressed against the bottom edge of the dough rope. Repeat this motion two or three times — gently, you don't want to rip the dough — pressing along the same furrow. Be sure to press both ends of the dough ribbon as thin as possible.
Keeping the ribbon flat on your work surface, form it into a loose coil. The furrow you've created with your fingertips should remain at the top — do not allow the dough rope to turn onto its edge as you form the coil. And do not stretch the dough into the coil; keep it loose, so that the concentric circles of the coil just touch each other. Tuck the outer end of the dough ribbon under itself and press the coil gently. Transfer it to a baking sheet. Repeat with the remaining dough balls, placing the buns about 1 inch apart on the baking sheet and replenishing the oil in the bowl as necessary.
Bake the buns until they begin to color, 10 to 12 minutes. Flip and gently press them onto the baking sheet with a spatula, then bake until they are pale golden, 10 to 15 minutes. Serve warm.
Excerpted from ISTANBUL & BEYOND by Robyn Eckhardt. Copyright © 2017 by Robyn Eckhardt. Used by permission of Houghton Mifflin Harcourt. All rights reserved.
---
Sizzling Shrimp With Garlic And Pimentón
From "Unforgettable: The Bold Flavors of Paula Wolfert's Renegade Life," by Emily Kaiser Thelin, Andrea Nguyen, Eric Wolfinger and Toni Tajima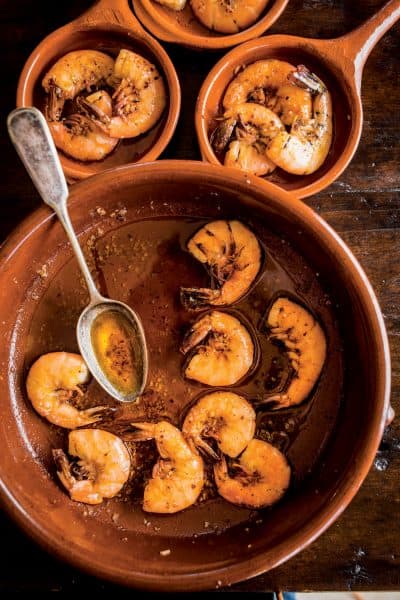 Serves 4 to 6.
Ingredients
1 cup (240 ml) extra-virgin olive oil, preferably Spanish
1 tablespoon finely chopped garlic (from 3 cloves)
1 teaspoon mild red pepper flakes, preferably Aleppo or Marash
1 pound (450 g) shrimp, preferably shell on (see note)
2 tablespoons hot water
1/2 teaspoon flaky sea salt
1/4 teaspoon sweet smoked paprika (pimentón de la Vera dulce)
Crusty bread, for serving
Instructions
In a 12-inch (30-cm) cazuela or heavy frying pan, combine the oil, garlic, and pepper flakes. Set over medium-low heat to warm slowly (on a diffuser if using a cazuela), gradually raising the heat to medium-high until the oil is hot and the garlic starts to sizzle and just turns golden, about 3 minutes.
Add the shrimp and cook, turning once, until firm and white throughout, 2 to 5 minutes; the timing depends on their size. Remove the pan from the heat. Sprinkle the shrimp with the hot water, salt, and paprika. Serve at once, directly from the cazuela or on plates. Accompany with the bread for mopping up the cooking juices.
Note: Set the shrimp out at room temperature for 10 to 15 minutes before cooking so they are not ice-cold when they hit the pan.
Excerpted from UNFORGETTABLE by Emily Kaiser Thelin. Copyright © 2017 by Emily Kaiser Thelin. Photographs copyright © 2017 by Eric Wolfinger. Reprinted with permission from Grand Central Life & Style. All rights reserved.