U.S. Should 'Aggressively' Pursue Diplomacy With North Korea, Former NATO Commander Says
09:41
Play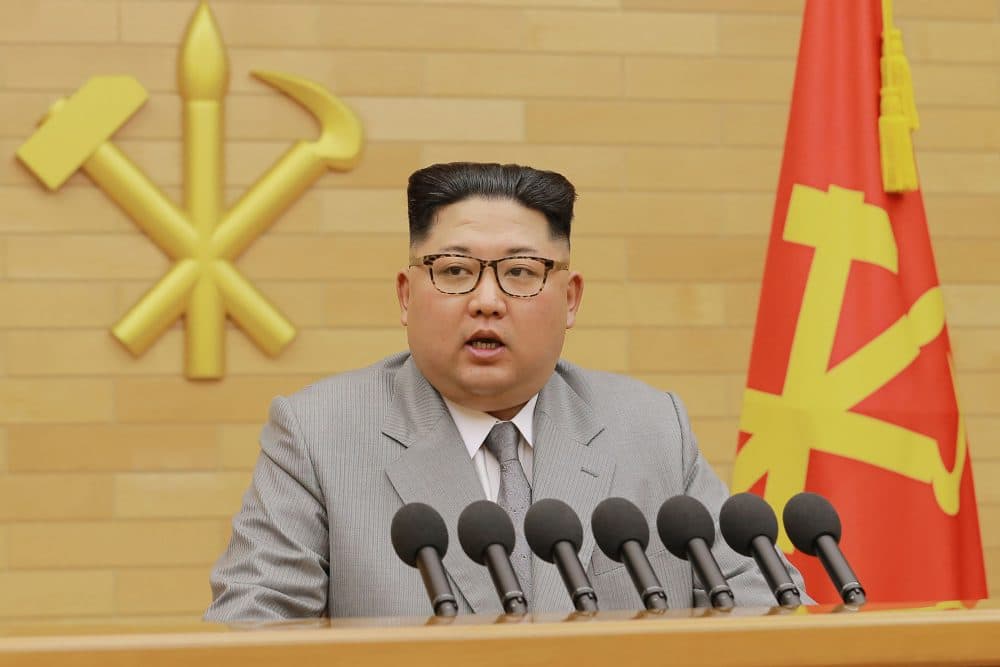 This article is more than 3 years old.
As 2018 begins there are tensions on the Korean Peninsula, protests in Iran and ongoing conflicts across the Middle East.
Here & Now's Meghna Chakrabarti speaks with retired Navy Adm. James Stavridis (@stavridisj), dean of the Fletcher School of Law and Diplomacy at Tufts University.
Interview Highlights
On Kim Jong Un's statement that "the button for nuclear weapons is on my table," and indications the North is open to direct talks with South Korea
"First of all, I'm just trying to picture that big red button on his desk. But I assure you he does not have the capability at this moment to use an intercontinental ballistic missile with a nuclear weapon to reach the continental United States. He is certainly moving in that direction. But let's focus on the positive here, and that is a real opening, and we ought to seize it, and the United States and China could have a role to play, we could expand this to four-party talks. But let's start small. Let the two Koreas have the conversation, and hope diplomacy prevails."
On whether the North or South would want the U.S. involved in talks
"I'd say at this moment, probably not. And I would say that we have compromised our ability, but we haven't fatally ended it. And I think there's still time for the United States to play a positive diplomatic role here. And this gets us into the discombobulation in the Trump administration where we have the president tweeting, talking about 'diplomacy won't work,' and yet we have a secretary of state saying, 'Of course we need to try diplomacy,' and a secretary of defense somewhere in the middle. The administration has to get its messaging straight. If it does, we have a role to play here."
On retired Navy Adm. Mike Mullen saying the U.S. is closer to nuclear war with North Korea "than we have ever been"
"I disagree with his view that we do not have a diplomatic option here. I will say this: I agree that we are closer to a war than we have been certainly in my career stretching back four decades. I'd say the chances of a full-on war are about 20 percent. But I think there's still a 70, 80 percent chance that diplomacy can work this thing out, and we ought to, again, seize on this tiny opening we're seeing from Kim Jong Un."
"The administration has to get its messaging straight. If it does, we have a role to play here."

James Stavridis, on diplomacy between the U.S. and North Korea
On how President Trump and his administration are approaching North Korea
"We have certainly his tweetstorms on display, but let us hope that the cadre around him — Gen. John Kelly, chief of staff, [Secretary of Defense] Gen. Jim Mattis over in the Pentagon, Secretary of State Tillerson — will move him off of this aggressive rhetoric and move us toward openings. Meanwhile, what we should be doing is increasing our intelligence, working closely with our South Korean partners to learn more about what's really happening in the North, increasing our missile defense, upping our cyber options. We have a lot we can do, and I would throw into the mix a maritime interception operation to really enforce this new round of sanctions. All of those are measures short of war that we ought to be pursuing."
On the Iran protests
"The protests I would say represent both an opportunity and a danger. The opportunity is that if we play our hand of cards well, and are relatively in the background on this, there is a real chance here of exchanging the regime in Tehran. On the other hand, the danger is if we get too aggressive we'll make the story not about the protests, but about us, as 'the Great Satan' we will become a rallying cry within Iran. And that would be disastrous and would set back the possibilities of a real regime change. So my argument is, yes, let's be involved in this, let's however do it through our allies, let's work through the Saudis, the Jordanians. But overtly pounding the table and calling out the regime at this minute is gonna lead to an explosive turn within the country against the United States, and that will hurt this resistance. So we have to play our cards very carefully."
On whether the U.S. has hobbled its ability to exert influence during moments like the protests
"Let's face it, the uber-story in all of this — North Korea, Iran, the Islamic State, what happens in Syria, how to confront Russia for intrusion in our election — the uber-story here is the United States withdrawing from positions of leadership around the world. So that when we do have an opportunity like we do at the moment in Tehran, or a diplomatic opportunity in North Korea, we have reduced our own ability to engage — not only with our domestic policies ... but also our overt sense of withdrawal, say from the [Paris] climate agreement, or from the Trans-Pacific Partnership. All of these are signals to the world that the United States doesn't want to lead. Then when we have an opportunity like this, we have much less ability to engage."
"Overtly pounding the table and calling out the regime at this minute is gonna lead to an explosive turn within the country against the United States, and that will hurt this resistance."

James Stavridis, on the Iran protests
On the prospect of China filling a global leadership void left by the U.S.
"The most important speech of 2017 was not made in Washington, D.C. It was made in Beijing by Xi Jinping, the leader of China, talking about, now is the time for China's emergence as a global power. And that doesn't mean the United States and China must go to war or will go to war, but it means we have serious competition in the world, and our value system — democracy, liberty, freedom of speech, human rights, gender equality — we executed imperfectly but it's the right set of values, and we will be challenged by a very different system from China. They are willing, ready and able to step into these leadership voids we are creating."
This article was originally published on January 02, 2018.
This segment aired on January 2, 2018.