At Her 4th And Final Olympics, Luger Erin Hamlin Wants To Leave It 'All On The Ice'
07:36
Play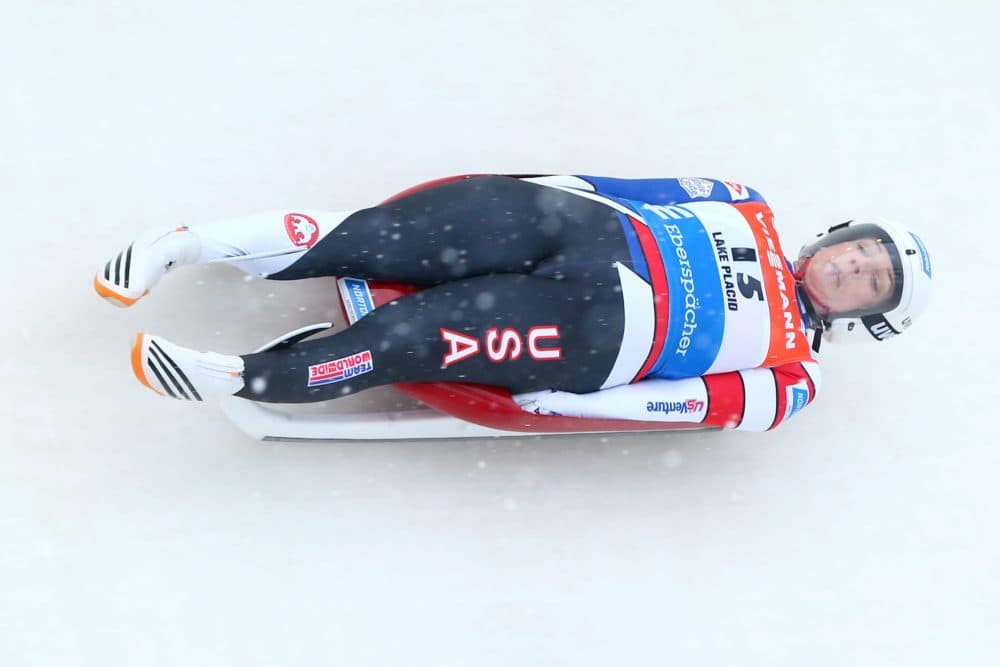 This article is more than 3 years old.
Erin Hamlin has been riding the luge since she was 12 years old. Now, almost 20 years later, she is set to compete in South Korea at her fourth and final Winter Olympics.
Hamlin, who carried the American flag and led the U.S. Olympic team into Pyeongchang Olympic Stadium during the opening ceremony, became the first American female luger to medal at any Winter Games when she won a bronze in Sochi in 2014.
"It's been a long, fun, exciting road," Hamlin (@erinhamlin) told Here & Now's Robin Young in January, after a World Cup race in Germany. "But while I'm still healthy and young-ish and ambitious, I wanna take that and put it towards other fun adventures and things."
Interview Highlights
On whether growing up near Lake Placid, New York, site of two Winter Olympics, inspired her to take up luge
"You know, it's funny, I didn't because I was close. It made it a lot easier to continue on in this sport. They do a series called the Slider Search, when I was a kid it was the Verizon Slider Search, and they basically put kids on a really basic sled with Rollerblade wheels, at like a city park or just down a city street. And they do these clinics all over the U.S. And so they did one of those in Syracuse, New York. My dad worked for Verizon at the time, so had seen an ad in a company newsletter.
"And then once I showed potential, from there, I got invited to go to Lake Placid. And being close made it very possible for me to continue on, because some kids would have to fly every time, and that wouldn't have been something my family would have been able to do. So thankfully I was conveniently located to the track. I think I had seen the sport before, but didn't really know much about it, and really didn't know what I was getting myself into when I tried out."
"There is essentially an ideal line that's imaginary that goes from point A to point B, start to finish, down the track. And our goal is to be within an inch of that."

Erin Hamlin
On keeping control over the sled during a run
"Luge is pretty unique in that there's really no other sport or activity that you can take the skills from and put them into being a really successful luge athlete. That's one reason why we start kids so young. There's a lot of intricate details, and learning a lot of basic physics on the track — going down and the way that gravity pulls you through different corners. There is essentially an ideal line that's imaginary that goes from point A to point B, start to finish, down the track. And our goal is to be within an inch of that. And using the corners and the pressure in the corners from gravity and everything to try and steer as little as possible, because every time we steer, it's digging the runners of ice, and it does cause more friction, slows us down a little bit. And we're doing all that while laying back and mostly not looking, and trying to be as relaxed as possible."
On remaining calm at such high speeds
"Some days you can definitely tell how fast you're going. A lot of times when you get off line and you make a couple mistakes, it's way more apparent. But oddly enough, your body and your brain kind of get used to it and can be comfortable. It takes a long, long time, it took me I feel like until maybe five or six years ago. But that's when you can start to relax more and have better position, better aerodynamic position on a sled, which will mean you're going blind a lot. But it's definitely harder some days than others."
On the importance of strength training
"There's definitely a strength component. At our start, we're actually seated, and we pull off of a set of handles, and then paddle with spiked gloves on the ice, anywhere from three to five or six times. And so that's kind of where our strength training is focused around — a lot of upper body, core and then when we're going down the track, we do a lot of neck strengthening, because sometimes we're hitting up to five or six Gs in corners, so we have to be able to hold our heads up, which we can't always do. There are some times where, we call it 'losing your head,' which is a little not-too-pleasant sounding. It's basically just when the G-forces get too strong and our heads get pulled back, so we can't see anything."
On whether she approaches the games thinking about medals
"It's pretty interesting. You know, it's I think impossible for an athlete ... especially week in and week out, when I know if I slide as best I can and to what I'm capable of, I can compete for a medal, like, that's something that's realistic. It's just a matter of doing it when it counts, and having two good runs, and for the Olympics four good runs on the day of. So for me, at this point, I've already accomplished more than I ever imagined I would. I've been in this for longer than I thought I would. So, yeah, obviously I'm gonna gun for a medal, I'm going for it. But it's not gonna make or break my career, whether or not I walk away with one from this Olympics. But yeah, it's just ... I wanna go and enjoy it and know that I left it all on the ice, and in my career I did that, and I just have fun. That's the biggest thing for me."
This article was originally published on January 15, 2018.
This segment aired on January 15, 2018.