Put Your Preconceived Pork Notions Aside For These Recipes
06:47
Play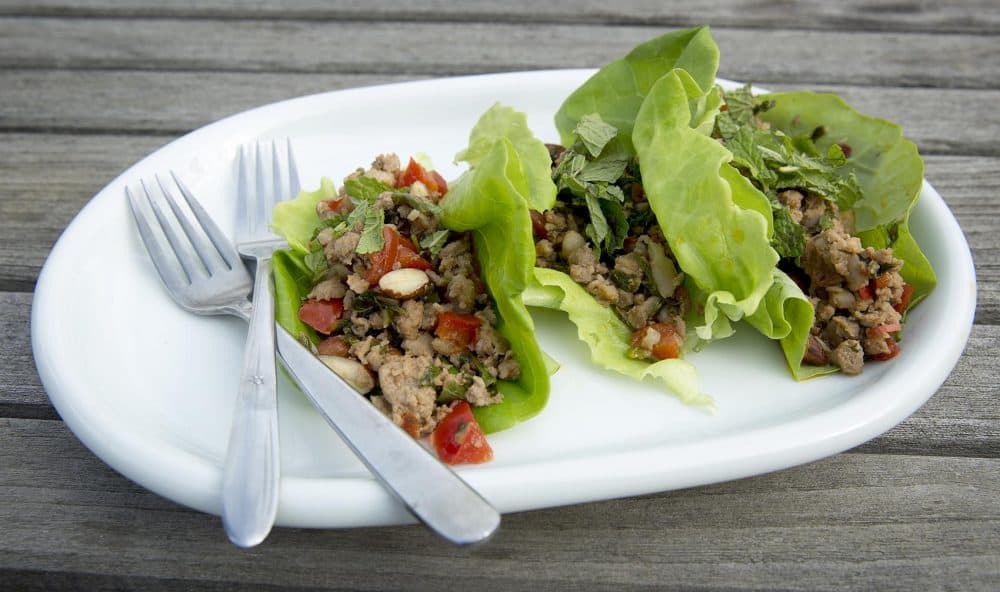 This article is more than 3 years old.
Pork can be so much more than the dry, flavorless meat many of us might remember. Here & Now resident chef Kathy Gunst joins host Jeremy Hobson with recipes and tips for cooking pork.
---
Ground Pork Wrapped In Lettuce Leaves
This is an incredibly easy dish that comes off as being quite sophisticated and full of flavor. Ground pork is mixed with red pepper, garlic, ginger and sesame oil and then sauteed with peanuts, mint and cilantro.
To serve, you wrap the mixture in crunchy fresh lettuce leaves and eat with your hands. You could also serve the dish with a pot of rice. Serves 4.
Ingredients
1 pound ground pork
1 cup finely chopped sweet red pepper
1 tablespoon minced garlic
1 1/2 tablespoons minced fresh ginger
1 tablespoon chile paste or Chinese chile-garlic paste, or hot pepper sauce*
1 tablespoon fish sauce*
1 teaspoon sesame oil*
2 teaspoons safflower or grape seed oil
1/3 cup chopped peanuts
1/2 cup scallions, cut into 1/2-inch pieces
1 1/2 tablespoons oyster sauce*
1/4 cup chopped fresh mint
1/4 cup chopped fresh cilantro
About 12 Boston lettuce leaves, about 1 large head lettuce
*Available in the Asian section of most supermarkets
Instructions
In a medium bowl combine the pork, red pepper, garlic, ginger, chile paste, fish sauce, sesame oil and 1 teaspoon of the safflower oil. Using your hands or a spoon, mix everything so it's all evenly distributed into the meat.
In a large skillet or wok, heat the remaining teaspoon of safflower oil over high heat. Add the pork mixture and cook, stirring, until golden brown and almost cooked through, about six minutes. There should be no signs of pink meat. Add the peanuts, scallions, oyster sauce, half the mint and half the cilantro and cook another two minutes.
To serve: Place the cooked pork mixture onto a serving plate and serve the lettuce leaves, remaining mint and cilantro on the side. Everyone takes a lettuce leaf, mounds some pork in the middle, scatters some mint and cilantro on top and rolls it up themselves.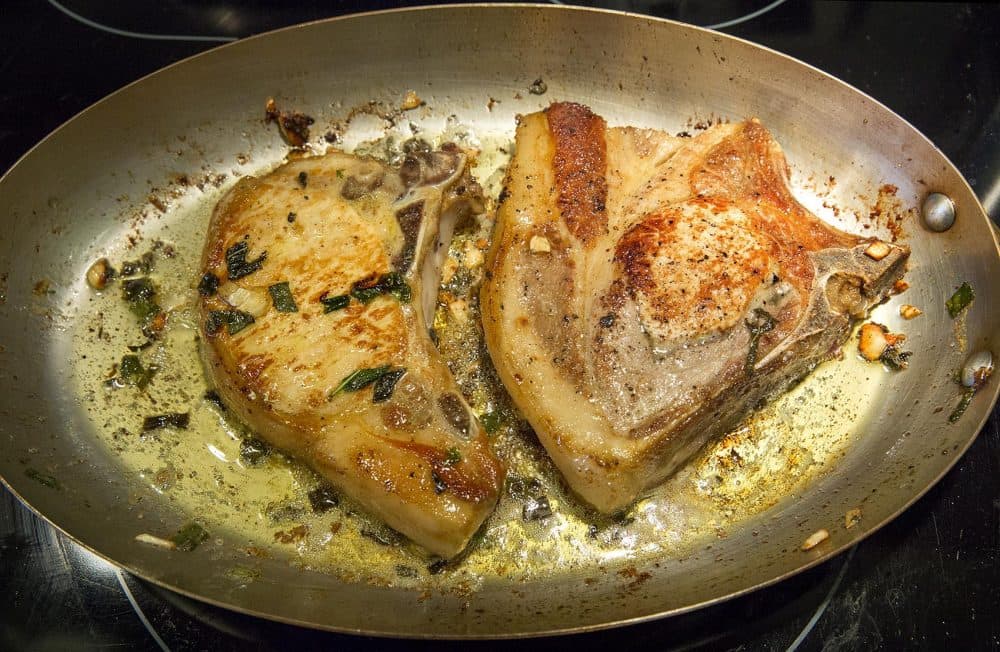 Pan Roasted Pork Chops With Garlic-Sage Butter
You can brine the pork chops — you'll want to if they are supermarket pork chops that look dry without a good layer of fat — or skip the brining if you have good, locally raised pork that is well marbled.
You can use shoulder chops or center cut. Shoulder chops are like a rib-eye steak cut from the shoulder and are exceptionally tender. Center-cut pork chops are thicker, leaner, come from the middle loin and are more like a strip steak. Serves 2.
Brine Ingredients
1/3 cup Kosher salt
1/3 cup sugar
1 bay leaf
1 dried red chile
1 garlic clove, cut into quarters
1 tablespoon fresh sage
3 cups water
Pork Chops And Sauce Ingredients
2 center-cut or shoulder pork chops, about 3/4-inch thick, about 1 1/4 pounds
1 tablespoon olive oil
Salt and freshly ground black pepper
1 tablespoon butter
2 cloves garlic, finely chopped
1 1/2 tablespoons fresh sage, chopped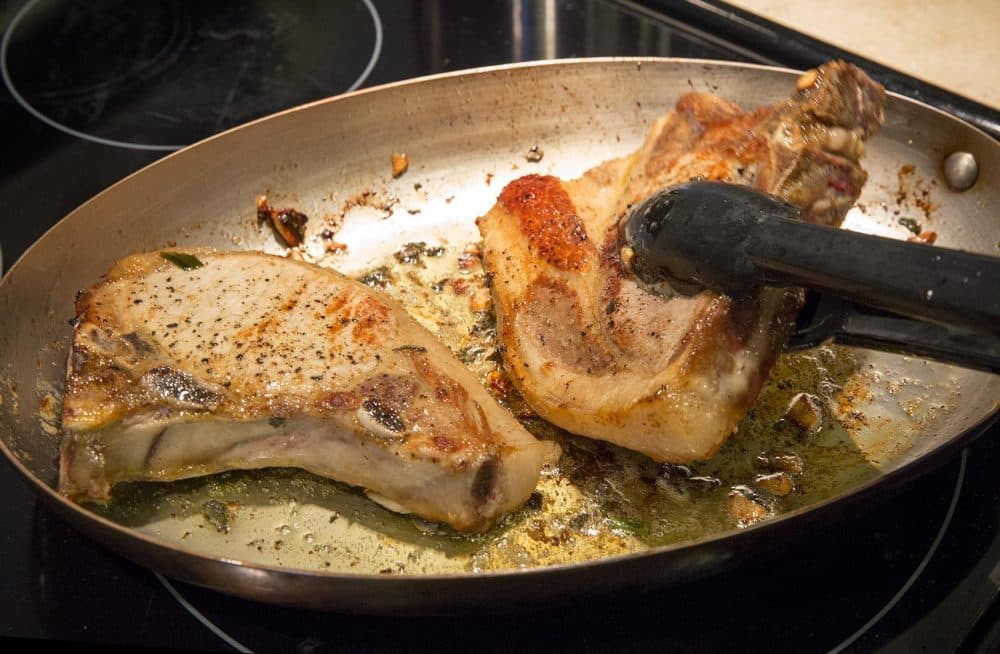 Instructions
If you choose to brine the pork:
Place all the ingredients for the brine in a large pot and bring to a boil. Remove from the heat and add 1 cup cold water. Let the brine cool thoroughly. Place the pork chops in a large bowl and cover with the brine. Cover and refrigerate for at least four hours and preferably overnight.
Remove the pork from the brine and rinse thoroughly under cold running water, making sure to remove all the salt and spices. Dry thoroughly.
If you're not brining, begin here:
Heat the oven to 425 degrees.
In a large ovenproof skillet, heat the oil over moderately high heat. Brown the pork chops for three to four minutes per side, seasoning with just a touch of salt (or no salt if you have brined them) and a generous amount of pepper. Remove from the heat and place in the preheated oven for five minutes; flip the chop over and roast another three to five minutes, or until an instant thermometer reads 135 degrees in the center. The pork will continue to cook as it rests. Place the pork chops on a serving plate and cover loosely with foil. Remove almost all the fat from the skillet.
Working over moderate heat, melt the butter. Add the garlic and sage and cook two to three minutes, or until garlic is tender. Place the chops back in the skillet and, tipping the skillet to the side, spoon the hot garlic butter over the chops and cook one minute, basting the meat continually. Season to taste, being careful not to add too much salt.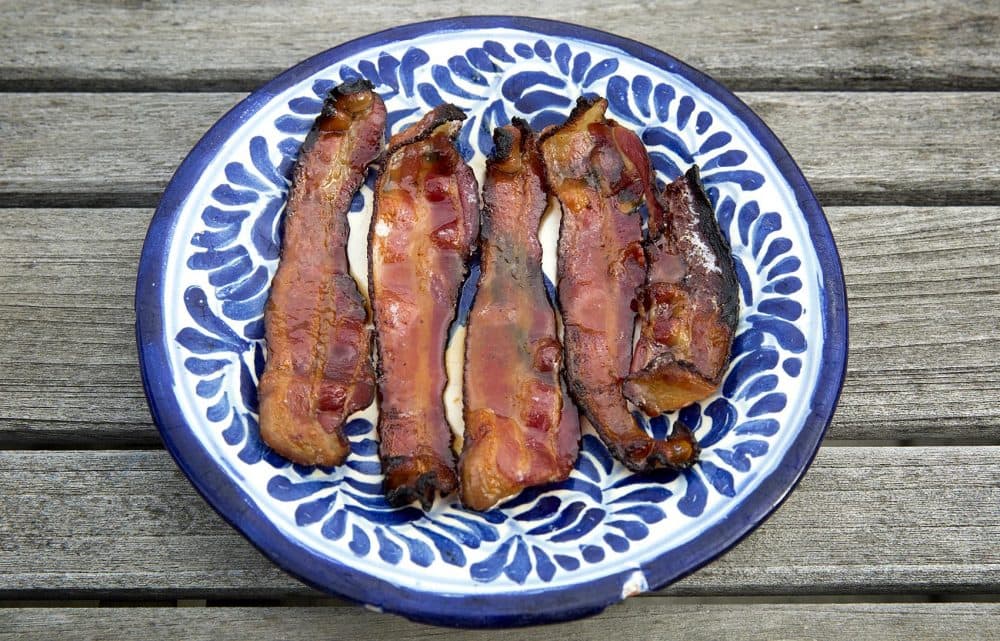 Broiled Maple-Glazed Bacon
This is grown-up candy: thick strips of bacon glazed with maple syrup.
This sweet, meaty treat is at home at breakfast (with eggs, toast, etc.) or on top of a salad (egg salad, chicken salad or a green salad), crumbled into soups and stews or served as a strange, delicious dessert. Serves 2 to 4.
Ingredients
6 to 8 thick strips country bacon
4 tablespoons maple syrup
Instructions
Heat the broiler.
Place the bacon on a cookie sheet or broiling pan with low sides. Place under the broiler for five minutes. Remove and discard all the fat. Using a pastry brush or the back of a kitchen spoon, brush on 2 tablespoons of the maple syrup and broil another two to three minutes. Gently flip the bacon over and broil three minutes. Remove and discard all fat. Add the remaining 2 tablespoons maple syrup and broil until crisp about one more minute; flip and broil another minute on the other side to crisp it up on both sides.
Serve warm. Spread any gooey bits of maple syrup from bottom of the pan on top.
This segment aired on January 16, 2018.
More From Our Resident Chef: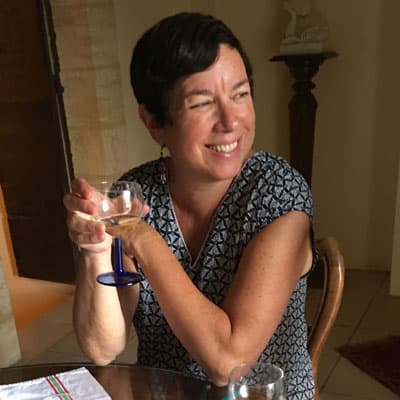 Kathy Gunst Here & Now Resident Chef
Kathy Gunst is a James Beard Award-winning journalist and the author of 15 cookbooks.