Resurrecting The Political, Avant-Garde Music Of Julius Eastman
Resume
Editor's Note: This segment contains audio that some listeners may find disturbing or offensive.
---
Composer Julius Eastman died homeless in 1990. Just 49 years old, he represented a promising future in avant-garde, minimalist classical music. As a black, openly gay man, he stood out from his largely white peers. He wrote challenging, political music with provocative titles. Much of that work was lost after he died, but historians have been piecing it back together.
Here & Now's Robin Young speaks with Tiona Nekkia McClodden, co-curator of the new exhibit "Julius Eastman: That Which Is Fundamental," now on view at The Kitchen gallery in New York.
Interview Highlights
On who Julius Eastman was
"Julius was a product of a family that had a piano in the house. And an older brother to a younger brother who later in his life went on to a jazz background. But Julius, you know, he learned to play piano by ear around, like, 3, and from there was given an opportunity to have a personal teacher."
On his time at the Curtis Institute of Music in Philadelphia
"Definitely not a lot of black students at Curtis Music Institute, which, because of — Curtis Music Institute, at the time, didn't have a proper campus, so the students would come in and they would be placed with families. No one would take Julius, so he actually had to stay at the local YMCA during his entire run there."
On his piece "Femenine"
"It slowly builds. He had this idea around organic music and music that progressed over time. So a lot of his work is durational in form, and this particular piece, we're looking at well over an hour and it just slowly, gradually changes and changes and changes. To listen to it, you kind of go through a lot of different pain thresholds to come out to the end. But it's a stunning piece. It's one of my favorite pieces of his."
On his performance of Peter Maxwell Davies' "Eight Songs for a Mad King," and whether he was mad
"I think he was definitely affected by a lot of things of the time. I will say, for instance, Julius went into Attica [Correctional Facility], after the Attica uprisings, at the prison in upstate New York, and performed several times. So he was affected and was well aware about these different things that were happening at this time and how that would manifest in regards to his person, primarily as a black man in a predominately white space. So I think there's a part that is, there's madness — or mad — but then there's also this element of like, you know, him just moving through things and wanting to be free of a lot of the traditional standards of what you would think a person would desire."
On how "Evil Nigger," one of his most controversial series, was received
"Pretty rough, the first presentation. The black student union completely tried to stage a protest which led to the prompt of him actually doing the introduction that precedes 'Crazy Nigger,' where he talks about his conceptual framework behind the actual piece, in dealing with labor, capitalism in this country and black bodies. It's something that over time has been something that people shy away from because it is one of the works that, actually, we do have a score for. But at other times you have people kind of really exploiting and pushing that to the forefront without acknowledging the conceptual framework behind it."
On his living conditions near the end of his life, and how homelessness, drugs and alcohol may have factored in
"If you take into consideration, I think the downtown scene, I think he got swooped up in a lot of the elements, so I wouldn't say it's entirely one over the other. We have one of the last interviews with him featured in the actual exhibition, where he talks about liking to be homeless and liking to give his money away to homeless people — because he actually made money up until his death — and liking to be a free spirit that wandered around. So there's part of it that is part of the system of how people received him and related with him, but the way that he moved with music was just with full force."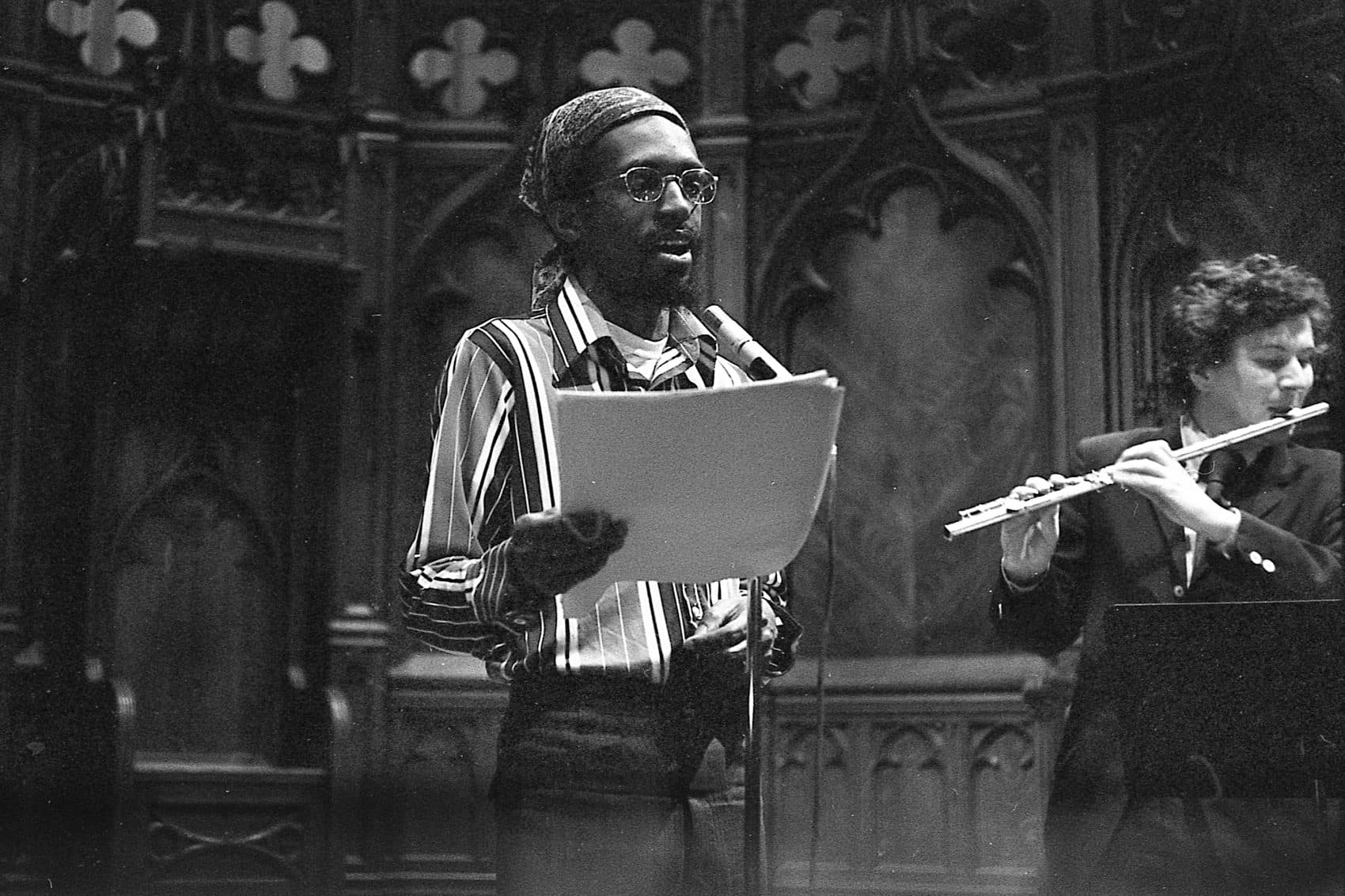 On why his music is being resurrected right now
"For me, I was very interested in the fact of how someone could be obscured or taken off the map, so my whole interest in Julius' legacy is to make sure his personhood isn't separated from his music. Because the music is being resurrected, played, exploited in all different forms, but I think there has been a severe neglect on his personhood."
On what people should listen for with his music
"I think you just have to sit through it and quiet yourself and listen to his music — after a while you can notice the changes. It has a very haptic feel to it, so it actually shifts the way your body feels. So I usually tell people to give it a shot, play it and just feel the changes, and so then you can get an understanding of what I think he was working at."
This article was originally published on February 05, 2018.
This segment aired on February 5, 2018.