'The Band's Visit' Puts Egyptians And Israelis Together For 24 Hours — And No Politics Ensue
Resume
6/11 Update: "The Band's Visit" took home 10 wins at the 2018 Tony Awards, including Best Musical, Best Original Score, Best Actor and Actress in a Musical and Best Director. You can listen to an updated version of this segment here.
---
Broadway's new hit "The Band's Visit" is remarkable for what doesn't happen.
The plot revolves around an Egyptian police band's arrival in a tiny Israeli desert village — instead of the thriving cultural center that bears a similar name. But instead of the political debacle the audience might expect, the show is about human interaction, loneliness, the power of music and, ultimately, what makes people similar.
The show stars veteran actor Tony Shalhoub and Broadway's Katrina Lenk (@TheKatrinaLenk), who join director David Cromer to talk with Here & Now's Robin Young about what it means to audiences.
Interview Highlights
On how the show approaches politics, and uses music to bridge divides between Arabs and Israelis
Katrina Lenk: "It's not about politics. It's about people just being people, and having basic human needs: love, food, joy, music. And music is a big connecting tool, I think, when you don't speak the same language."
David Cromer: "It's a pretty obvious way for people to talk. Now when we talk about the politics, the thing that I always think is interesting is there's a moment anytime you confront someone who is an other to you. We might feel tension, we might be mad, but I don't immediately start saying like, you know, 'In 1967, you ... ' You know what I mean? We don't really do that. So when these characters — very ordinary people, in a situation — are confronted with each other, there's a little switch in everyone's head, which is, 'I can either freeze up, or just say, we don't serve your kind around here, or something,' or we just say, 'Oh well, yeah, well, you can sit here, you can stay here for a little while.' What do people talk about? We talk about food and music. We're just saying it's just a way to fill the silence."
Tony Shalhoub: "[Music] is that very wide door that opens, and everybody begins to flow in both directions."
"It's not about politics. It's about people just being people, and having basic human needs: love, food, joy, music."

Katrina Lenk
On traveling to Israel
KL: "So many times as actors you do all kinds of research and read things and imagine, imagine, and we didn't have to imagine anymore what it was like to be in this town. We could go and stand there on that sand and feel the wind. Just to get a sense of a place is ... what a gift, what a gift. And there is something similar I think to all small towns everywhere — the sense of obviously of community, and tight knit-ness, but also like the feeling of, 'Oh this is all there is, is there more? Should I leave? Should I stay?' The similarities between all kinds of small towns and all kinds of people who feel stuck, or people who are lost, really was instantly relatable, and I think is relatable to a lot of people who come to see the show."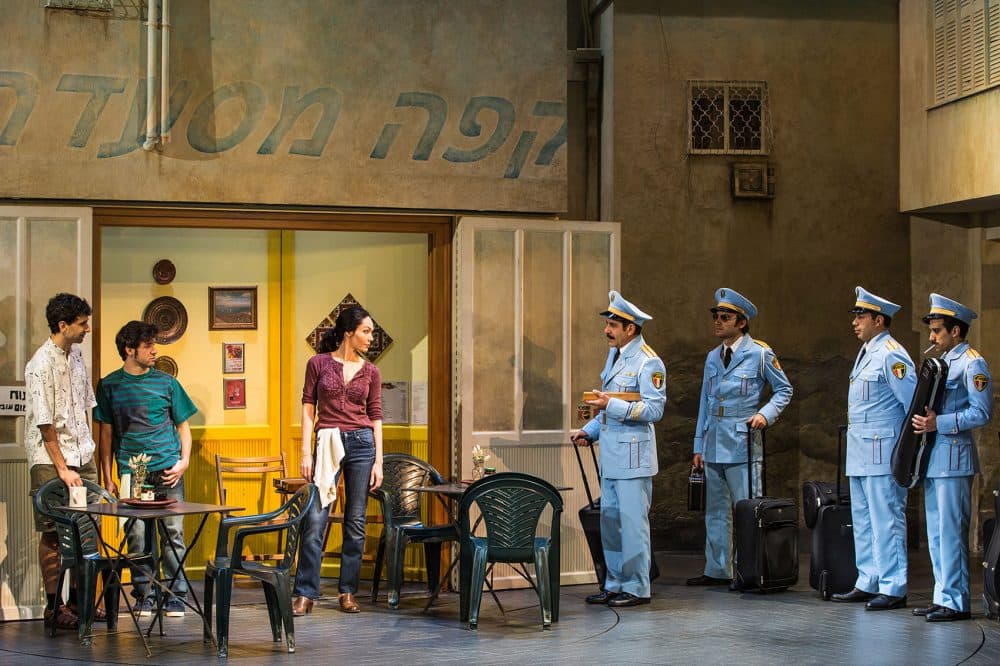 Shalhoub, on growing up with Lebanese parents, and how his role relates to his family
TS: "Well my father was from Lebanon, my mother was born here, but her parents were from Lebanon. I've always had that sort of connection. But I agree that [the show] isn't really just about the Middle East. I got a letter recently from someone, they live in Ireland, about how they related to conflicts there within their country in small towns, and how people are hesitant to move into certain other areas, and how beautiful this was to them and how relatable it was. My parents spoke Arabic, and my grandparents did and my grandfather, when he was a boy, he sang in the choir in Lebanon in the church. We would go to visit them, they lived near us. He would be singing these songs in Arabic — some were hymns, some were not — and it was beautiful and haunting and completely ... for us, I grew up in Green Bay, for God's sake. I mean it was sort of mesmerizing, and [composer and lyricist David] Yazbek music really evokes all of that.
"There's so much of this character, of Tewfiq, that seems like facets of my own father, and my grandfather. He seems like an amalgam of all of these Arab men."
On challenges performing in a musical
TS: "I don't gravitate to the musicals, usually. I had to overcome my fear. It was a real ... it was just an experience of going way outside my comfort zone. And I'm so glad I did it. To be frank, I'm still nervous every night when I have to sing a cappella."
KL: "He has to do one of the hardest things ever at any point, even for anyone who does music theater all the time, which is get a note out of the ether and sing a cappella with no support whatsoever, and end on a perfect note. It's an impossible task for anyone."
"This piece feels like — and people have mentioned this to us — that it's just a respite from all of the noise and nonsense that's occurring out there right now."

Tony Shalhoub
On Middle Eastern actors and performers who have roles in the show
DC: "Ossama Farouk, who's our percussionist, who's brilliant. The most dazzling performance in the show, George Abud, is the fiddler, and George Abud especially is both an actor and has also spent his life playing Arabic music, since he was a little boy. So there's been a lot of talk about young people ... who really said, 'It never occurred to me I would hear that kinda music in a show, that I would see people from my culture just being nice people in the story who are looking for a friend or looking for love or looking to get out of the whole area.' It's an honor and it's kinda scary. You think about that, when we first start being able to see stories about gay people or anything, like any representation where you're anyone who's treated as the other in a culture. I don't want to say it's important, but it's necessary."
On how the show has been embraced
TS: "First of all, [it's] just so gratifying to play to full houses every performance, and there's a sort of a quietness, a stillness that we sense from the audience, which is very unlike a Broadway musical audience. At the end, where out of this silence comes this explosion in their response. So it is pretty unusual, pretty satisfying."
KL: "I have heard from people afterwards, people that live in Israel or are Jewish or have Hebrew culture in their families, that they're like, 'Oh, my God, this is ... I'm so glad there's a story about us, now especially, because of all the political stuff that's happening, even here in the States.' "
TS: "This piece feels like — and people have mentioned this to us — that it's just a respite from all of the noise and nonsense that's occurring out there right now. They feel transported to this little desert town, and they kinda don't wanna leave it."
This article was originally published on February 06, 2018.
This segment aired on February 6, 2018.