'Our Pain Has Made Us Like Family': Chicago Student On Gun Violence After Parkland
Play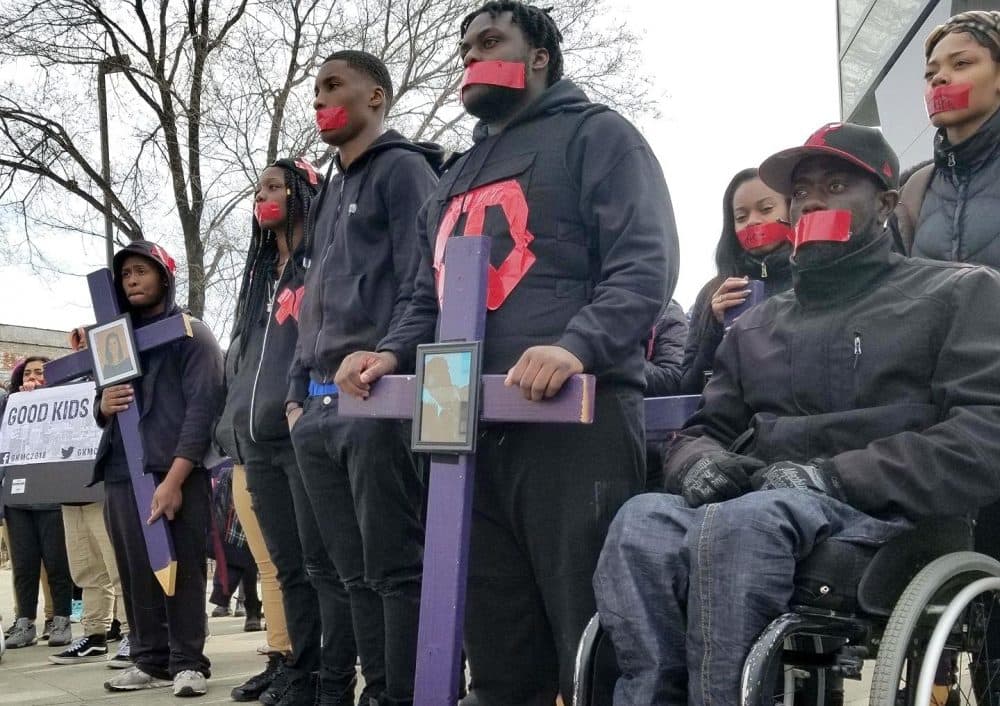 This article is more than 4 years old.
Students nationwide marked one month since the shooting at Marjory Stoneman Douglas High School on Wednesday by staging walkouts to push for gun law changes.
Here & Now's Robin Young speaks with Alex King, a senior at Chicago's North Lawndale College Prep High School, about the Parkland shooting and his efforts to call attention to Chicago gun violence.
King's nephew was killed in a drive-by shooting in 2017.
"I had a lot of sympathy for the [Parkland] kids, because I know how it feels to lose someone," he says.
Interview Highlights
On his reaction to the Parkland shooting
"When I saw what happened, it automatically hurt me as well as it hurt the Parkland students, because no one's life should be lost, especially in a place, an environment, where you think that you are the safest — in school."
"Trauma is nationwide, pain is nationwide, gun violence is nationwide."

Alex King
On gun violence in Chicago
"Well, what's been going on in Chicago for years is just shootings after shootings after shootings. No, it's really not school shootings that are happening in Chicago. But still, gun violence is gun violence. That weekend of the Parkland, Florida, shooting, six were killed and 22 were wounded in Chicago [in shootings]."
On wearing red tape across his mouth during Wednesday's protest
"When someone dies and the police identify that out on the streets, they put red tape around the neighborhood. So we put red tape around our mouths to show that. We had to be silent about it, even though we weren't trying to be silent about it. We just weren't being heard."
On connecting with Parkland students
"I actually took a trip down to Florida. I actually already have talked to some of the Parkland kids. We talked about how our pain has made us like family. Our pain is what brought us together, our trauma is what brought us together, and how this isn't a color thing, this isn't a social status thing, this isn't a division between anything, because trauma is nationwide, pain is nationwide, gun violence is nationwide."
This article was originally published on March 15, 2018.
This segment aired on March 15, 2018.