Bricks, Two-By-Fours And Sharp Edges: Should Playgrounds Be Riskier For Kids?
Play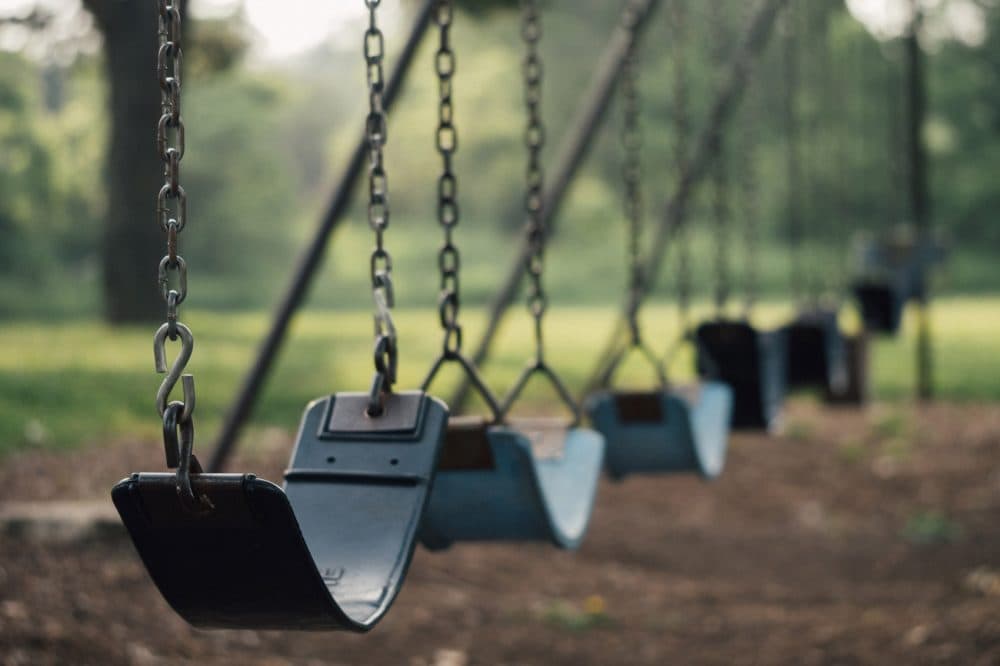 This article is more than 4 years old.
There's a growing movement to build playgrounds that are less safe, and more risky, for kids. Advocates say it's beneficial for kids to learn how to handle risks at a young age.
Here & Now's Robin Young speaks with Bambi Yost (@BambiLYost), a researcher who's been helping schools incorporate this idea and an associate professor of landscape architecture at Iowa State University.
Interview Highlights
On concerns surrounding play becoming less risky for kids
"I would say one of the concerns is that children aren't necessarily pushing themselves as much as they could be. Some of that's because of overprotective parents, some of it's because of regulations or restrictions in school settings. Some of it's because they don't necessarily know how to challenge themselves in fun, risk-taking ways that can lead to really positive outcomes for them as adults, where they're more innovative and creative and more likely to take risks alone or with others."
On the value of kids learning about consequences at a young age
"We don't necessarily wanna encourage them to potentially harm themselves. But the beauty is that kids are incredibly good, you know, they fall down, they get back up and they continue to do that sort of thing over and over again. And those are all really big skills that they need to learn at a very young age, especially with balance, for example, so that they're better balanced later in life."
"Very few children today are considered free-range, meaning that they can just go and do what they want to and have full autonomy. And with that autonomy comes self-regulation."

Bambi Yost
On what fellow landscape designer Meghan Talarowski found gathering data on riskier playgrounds in London
"Meghan has done extensive research in the U.K., and I work with her in Philadelphia. She's a director of Studio Ludo. Most of the play environments that she saw there, their kids are being exposed to much more opportunities for challenging environments than what we have here. They can play with sand, they can run around with tools, pieces of wood, they can build things. In the United States, we're so risk averse, and it's such a litigious society, that we tend to shift away from things like that, unless it's a privately run organization or a place that has a lot of monitoring and supervision."
On exposing kids to things like mud pits and shovels
"I mean, that's the thing that I see the most in an urban area in particular, is that kids don't necessarily understand how the world works in terms of ecosystems, digging, having that freedom to explore the physical earth around us. I grew up in a rural setting. I took for granted the fact that I was able to go to a creek, build a dam, catch frogs, do whatever I wanted all day long and then come home for dinner. Kids rarely get to do that anymore. Very few children today are considered free-range, meaning that they can just go and do what they want to and have full autonomy. And with that autonomy comes self-regulation — you take more risks, but you can also then incrementally challenge yourself. So kids that are in a highly urbanized setting with limited natural or naturalized areas really don't have exposure to that unless we provide it for them."
On moving toward rubber playground surfaces, instead of asphalt or mulch
"I say, it's expensive. It is wonderful in the sense that kids are not falling and injuring themselves at the same rate, necessarily, and poured-in-place rubber is awesome because you can add color and it looks cool and it's a bouncy surface, and it does in fact encourage kids to roll and tumble a little bit more on those surfaces. But at the same time, it's not a 100 percent guarantee that your child won't break an arm, and it's also, again, limiting them to understand what it's like to scrape your knee, to know that not all surfaces when you fall out of them are in fact safe and soft. Kids who grow up with grass underneath a swing set, for example, learn pretty quickly that if they jump off of that swing set, they in fact will injure themselves. Kids who've only been on a poured-in-place rubber surface that jump off are less likely to injure themselves. But then if they go to another parklike setting, or somebody's backyard, and they do the same thing, they're more likely to injure themselves there. And so what we've seen is you have higher rates of injury, actually, in your neighbor's backyard than you would at any public park or public schoolyard."
This article was originally published on March 21, 2018.
This segment aired on March 21, 2018.