One Mediator's View Of How To Compromise In Times Of Division
09:42
Play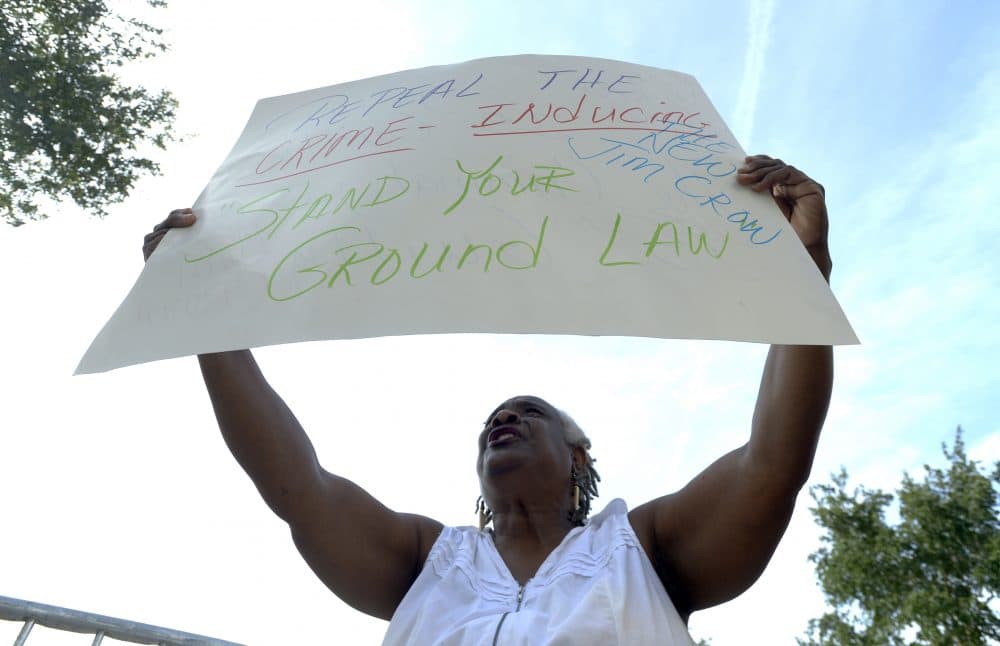 This article is more than 3 years old.
In a time of deep divisions, changes are being proposed at one federal agency that aims to heal those divisions and broker compromise: the Community Relations Service, an agency within the Department of Justice.
President Trump's latest budget proposal calls for it to be transferred within the DOJ, and its former director under President Obama, Grande Lum, says that would gut the agency.
Here & Now's Robin Young speaks with Lum (@GrandeLum) about his concerns about the agency's future, and what it takes to reach compromise and heal divisions.
Interview Highlights
On problems with transferring the Community Relations Service to the Justice Department's civil rights division
"The civil rights division has a very specific course of action: Their job is to prosecute. For the Community Relations Service as it was created by the 1964 Civil Rights Act, there's no litigation, there's no prosecution, it does not do any interrogation. So what's important is that for parties to be willing to come to the table, they need to be comfortable that whatever is said is held confidential, and that they are not at any potential danger of being prosecuted here. So moving it, the function, to the civil rights division would effectively end its function."
"I've talked about listening as a superpower."

Grande Lum
On working with local leaders and protesters in Sanford, Florida, in 2012 in the wake of the Trayvon Martin shooting
"Sanford's a very small community, they were not accustomed to having thousands of protesters coming to their city. And what [Mayor Jeff Triplett] learned very quickly was that, the Community Relations Service, we've been working with law enforcement, with protesters all around the country. And he listened to our advice. He was reluctant, he made a decision that it made sense and he called it a huge turning point in terms of rebuilding community trust. There were dozens of protests, but there was not a single arrest, not a single glass bottle thrown. We were able to have both free speech, and we were able to maintain public safety."
On skills that Community Relations Service mediators bring to these tense situations
"I think one thing you really wanna do is just to listen. Secondly, these wonderful Community Relations Service conciliators and mediators, they know the numerous stakeholders here. One other thing that the Community Relations Service [did that] was helpful to Sanford was just bringing the parties to the table earlier than they would've otherwise to begin talking about, what were the rules of engagement. Sanford did a really amazing job — their city manager, their mayor — even welcoming the protesters and making it easier for them, 'Here's where to park, here's how to handle the overflow.' So that I think also made a big difference.
"The other thing was being the convening party of black and white pastors in the Sanford area, working with them to help keep the peace in Sanford. Throughout the trial, the Community Relations Service worked with them and brought them to the trial each and every day, so that when those pastors returned to their congregations, they were reducing the rumors. They were saying, 'Here's what's going on,' and it really helped bring the community together as well."
On advice for working through conflicts
"I've talked about listening as a superpower. Terrence Cunningham, who is the president of the International Association of Chiefs of Police, he apologized for the mistreatment of minorities. That's the type of thing that I think needs to happen."
On the role and importance of listening amid the national gun debate
"The ownership of a gun is an emotional and a personal identity. It's hard to come to agreements when there's that sort of potential loss of identity. When you can help people move beyond that, then you can create movement, because there is shared interests. We do know that 96 percent of people want universal background checks. We do know that 75 percent of people are in favor of a 30-day waiting period."
On what he means when he says to "tell the third story"
"It's the ability to focus first what matters — 'OK, I wanna hear your story, I have my story. But what's a story that we can both agree to?' In gun control, we wanna prevent tragedies. That's the third story."
This article was originally published on March 26, 2018.
This segment aired on March 26, 2018.