Patton Oswalt On His Late Wife's Mission To Find The 'Golden State Killer'
Play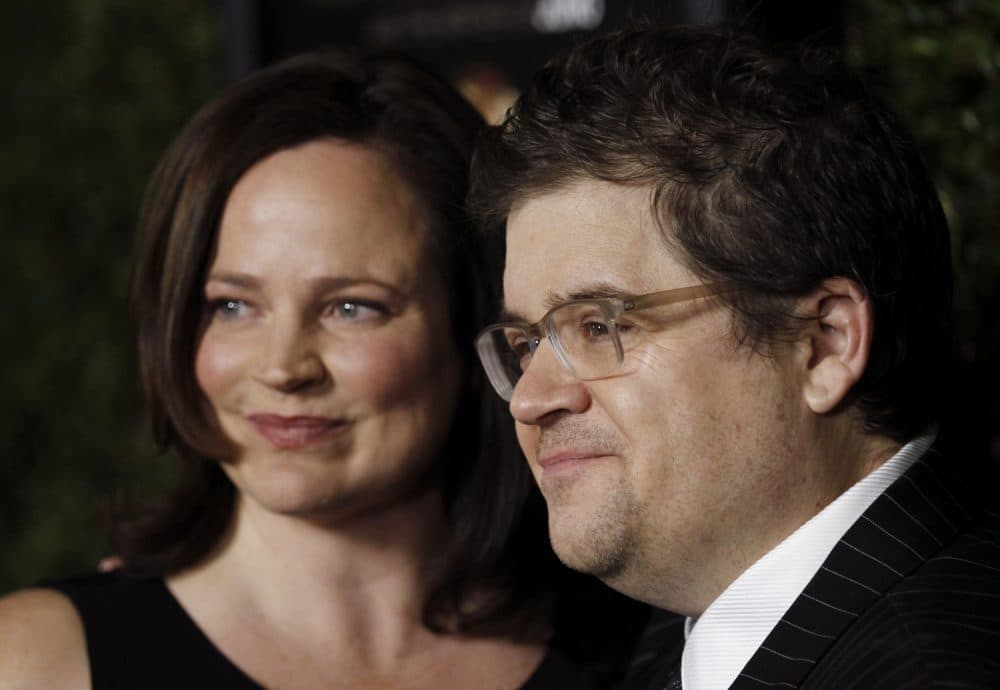 This article is more than 4 years old.
Editor's Note: This segment discusses violence and rape, and contains audio that some listeners may find disturbing or offensive.
---
At the time of her death in 2016, true crime journalist Michelle McNamara had been researching a serial rapist and murderer she dubbed the "Golden State Killer." Now the book she had been working on — "I'll Be Gone in the Dark: One Woman's Obsessive Search for the Golden State Killer" — has been published.
McNamara's husband, comedian and actor Patton Oswalt (@pattonoswalt), joins Here & Now's Robin Young to talk about the book.
Interview Highlights
On the Golden State Killer and the nature of his crimes
"I mean, he shook up the idea that a locked door, a bolted window kept you safe. And that can really spread like a virus and an infection through a community. That's the whole point of a community, is people getting together to feel safer. Now suddenly he was directly attacking that idea.
"It was ... the husband was made to lie face down on the floor. He would stack cups and plates on his back. He goes, 'If I hear any these at the floor, I'll kill both of you.' It's an attack on the woman, it's an attack on the idea of a man protecting a woman, it's an attack on two people that are, you know, in love and pledged to one another. It's just all — every single aspect of security and kind of light that he could attack, he would attack if he was given the chance."
On the detectives and others who were working to solve the case
"We had a big summit dinner for all of them to hopefully get them to maybe share some information ... You know, these are people that their calling in life was to bring justice, and right the scales, and to go through life knowing there's this massive injustice that happened and you weren't able to right those scales can really, really eat away at these these guys. And it's heroic how they they just keep going back into it."
"He shook up the idea that a locked door, a bolted window kept you safe. And that can really spread like a virus and an infection through a community."

Patton Oswalt
On the toll the investigative work took on Michelle
"I mean it was definitely affecting her sleep, it was affecting her waking life. You know, she got a fast-forward version of the kind of toll that it took on these detectives, over the span of decades, in the space of a couple of years, so it was pretty intense.
"She has a line in her book where she's like, 'The same drive that's pulling us to capture him is the same, is very similar fuel to what's making him go out and commit these disgusting crimes.' So, you know, there's that moment of realization that, it's hard to look at, but it's true.
"She went to so many weird twists and turns, following down just a possible lead in wherever — you know, does it lead to some kind of link? You can't control what lead you'll be given, what clues you'll be given and where they'll take you. So yeah, she she did that a lot and hit a lot of walls."
On the letter she wrote to the killer, and how she believed folks on the internet would pick up where she left off
" 'There's more electronic windows opening up around you than windows you ever peeped in, and I'm just trying to open as many of those as I can.' "
On his hope
"That's the deepest rebuke you can give to an insect like this, is to try to live in the light as much as you can.
"Everyone that's obsessed with this guy, we're all hoping to bring him to justice.
"I was the guy who called on help to make sure that [the book] came out, but, you know, her work is not complete until he's caught."
Book Excerpt: 'I'll Be Gone In The Dark'
by Michelle McNamara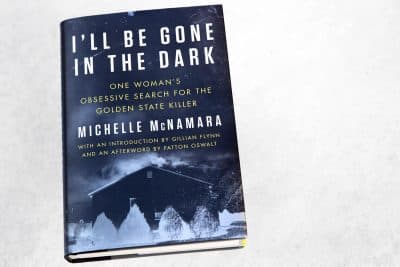 That summer I hunted the serial killer at night from my daughter's playroom. For the most part I mimicked the bedtime routine of a normal person. Teeth brushed. Pajamas on. But after my husband and daughter fell asleep, I'd retreat to my makeshift workspace and boot up my laptop, that fifteen-inch-wide hatch of endless possibilities. Our neighborhood northwest of downtown Los Angeles is remarkably quiet at night. Sometimes the only sound was the click as I tapped ever closer down the driveways of men I didn't know using Google Street View. I rarely moved but I leaped decades with a few keystrokes. Yearbooks. Marriage certificates. Mug shots. I scoured thousands of pages of 1970s-era police files. I pored over autopsy reports. That I should do this surrounded by a half-dozen stuffed animals and a set of miniature pink bongos didn't strike me as unusual. I'd found my searching place, as private as a rat's maze. Every obsession needs a room of its own. Mine was strewn with coloring paper on which I'd scribbled down California penal codes in crayon.
It was around midnight on July 3, 2012, when I opened a document I'd compiled listing all the unique items he'd stolen over the years. I'd bolded a little over half the list: dead ends. The next item to search for was a pair of cuff links taken in Stockton in September 1977. At that time the Golden State Killer, as I'd come to call him, hadn't yet graduated to murder. He was a serial rapist, known as the East Area Rapist, who was attacking women and girls in their bedrooms, first in east Sacramento County, then snaking out to communities in the Central Valley and around San Francisco's East Bay. He was young—anywhere from eighteen to thirty— Caucasian and athletic, capable of eluding capture by vaulting tall fences. A single-story house second from the corner in a quiet, middle-class neighborhood was his preferred target. He always wore a mask.
Precision and self-preservation were his identifying features. When he zeroed in on a victim, he often entered the home beforehand when no one was there, studying family pictures, learning the layout. He disabled porch lights and unlocked sliding glass doors. He emptied bullets from guns. Unworried homeowners' closed gates were left open; pictures he moved were put back, chalked up to the disorder of daily life. The victims slept untroubled until the flashlight's blaze forced open their eyes. Blindness disoriented them. Sleepy minds lumbered, then raced. A figure they couldn't see wielded the light, but who, and why? Their fear found direction when they heard the voice, described as a guttural whisper through clenched teeth, abrupt and threatening, though some detected an occasional lapse into a higher pitch, a tremble, a stutter, as if the masked stranger in the dark was hiding not only his face but also a raw unsteadiness he couldn't always disguise.
The Stockton case in September 1977 in which he'd stolen the cuff links was his twenty-third attack and came after a perfectly bracketed summer break. Drapery hooks scraping against a curtain rod awakened a twenty-nine-year-old woman in her bedroom in northwest Stockton. She rose from her pillow. Outside patio lights framed a silhouette in the doorway. The image vaporized as a flashlight found her face and blinded her; a force of energy rushed toward the bed. His last attack had been Memorial Day weekend. It was 1:30 a.m. on the Tuesday after Labor Day. Summer was over. He was back.
He was after couples now. The female victim had tried to explain the foul odor of her attacker to the reporting officer. She struggled to identify the smell. Bad hygiene wouldn't account for it, she said. It didn't come from his underarms, or his breath. The best the victim could say, the officer noted in his report, was that it seemed like a nervous scent that emanated not from a particular area on his body, but from his every pore. The officer asked if she could be more specific. She couldn't. The thing was, it wasn't like anything she'd ever smelled before.
As in other cases in Stockton he ranted about needing money but ignored cash when it was right in front of him. What he wanted was items of personal value from those he violated: engraved wedding bands, driver's licenses, souvenir coins. The cuff links, a family heirloom, were an unusual 1950s style and monogrammed with the initials N.R. The reporting officer had made a rough drawing of them in the margin of the police report. I was curious about how unique they were. From an Internet search I learned that boys' names beginning in N were relatively rare, appearing only once in the top one hundred names of the 1930s and '40s, when the original owner of the cuff links was likely born. I Googled a description of the cuff links and hit the return key on my laptop.
It takes hubris to think you can crack a complex serial murder case that a task force representing five California jurisdictions, with input from the FBI, hasn't been able to solve, especially when your detective work is, like mine, DIY. My interest in crime has personal roots. The unsolved murder of a neighbor when I was fourteen sparked a fascination with cold cases. The advent of the Internet transformed my interest into an active pursuit. Once public records came online and sophisticated search engines were invented, I recognized how a head full of crime details could intersect with an empty search bar, and in 2006 I launched a website called True Crime Diary. When my family goes to sleep, I time travel and reframe stale evidence using twenty-first-century technology. I start clicking, scouring the Internet for digital clues authorities may have overlooked, combing digitized phone books, yearbooks, and Google Earth views of crime scenes: a bottomless pit of potential leads for the laptop investigator who now exists in the virtual world. I share my theories with the loyal regulars who read my blog.
I've written about hundreds of unsolved crimes, from chloroform murderers to killer priests. The Golden State Killer, though, has consumed me the most. In addition to fifty sexual assaults in Northern California, he was responsible for ten sadistic murders in Southern California. Here was a case that spanned a decade and ultimately changed DNA law in the state. Neither the Zodiac Killer, who terrorized San Francisco in the late 1960s and early '70s, nor the Night Stalker, who had Southern Californians locking their windows in the '80s, were as active. Yet the Golden State Killer has little recognition. He didn't have a catchy name until I coined one. He attacked in different jurisdictions across California that didn't always share information or communicate well with each other. By the time DNA testing revealed that crimes previously thought to be unrelated were the work of one man, more than a decade had passed since his last known murder, and his capture wasn't a priority. He flew under the radar, at large and unidentified.
But still terrorizing his victims. In 2001 a woman in Sacramento answered her phone in the same house where she'd been attacked twenty-four years earlier. "Remember when we played?" a man whispered. She recognized the voice immediately. His words echo something he said in Stockton, when the couple's six-year-old daughter got up to use the bathroom and encountered him in the hallway. He was about twenty feet away, a man in a brown ski mask and black knit mittens who was wearing no pants. He had a belt on with some kind of sword in it. "I'm playing tricks with your mom and dad," he said. "Come watch me."
The hook for me was that the case seemed solvable. His debris field was both too big and too small; he'd left behind so many victims and abundant clues, but in relatively contained communities, making data mining potential suspects easier. The case dragged me under quickly. Curiosity turned to clawing hunger. I was on the hunt, absorbed by a click-fever that connected my propulsive tapping with a dopamine rush. I wasn't alone. I found a group of hardcore seekers who congregated on an online message board and exchanged clues and theories on the case. I set aside any judgments I might have had and followed their chatter, all twenty thousand posts and counting. I filtered out creeps with iffy motives and concentrated on the true pursuers. Occasionally a clue, like the image of a decal from a suspicious vehicle seen near an attack, would appear on the message board, a bit of crowdsourcing by overworked detectives who were still trying to solve the case.
I didn't consider him a ghost. My faith was in human error.
He made a mistake somewhere along the line, I reasoned.
On the summer night I searched for the cuff links, I'd been obsessed with the case for nearly a year. I favor yellow legal pads, especially the first ten or so pages when everything looks smooth and hopeful. My daughter's playroom was littered with partially used pads, a wasteful habit and one that reflected my state of mind. Each pad was a thread that started and stalled. For advice I turned to the retired detectives who'd worked on the case, many of whom I'd come to consider friends. The hubris had been drained from them, but that didn't stop them from encouraging mine. The hunt to find the Golden State Killer, spanning nearly four decades, felt less like a relay race than a group of fanatics tethered together climbing an impossible mountain. The old guys had to stop, but they insisted I go on. I lamented to one of them that I felt I was grasping at straws.
"My advice? Grasp a straw," he said. "Work it to dust."
The stolen items were my latest straw. I wasn't in an optimistic mood. My family and I were headed to Santa Monica for Fourth of July weekend. I hadn't packed. The weather forecast was lousy. Then I saw it, a single image out of hundreds loading on my laptop screen, the same style of cuff links as sketched out in the police file, with the same initials. I checked and rechecked the cop's crude drawing against the image on my computer. They were going for $8 at a vintage store in a small town in Oregon. I bought them immediately, paying $40 for overnight delivery. I walked down the hallway to my bedroom. My husband was on his side, sleeping. I sat on the edge of the bed and stared at him until he opened his eyes.
"I think I found him," I said. My husband didn't have to ask who "him" was.
From the book I'LL BE GONE IN THE DARK: One Woman's Obsessive Search for the Golden State Killer by Michelle McNamara. Copyright © 2018 by Michelle McNamara. Published by Harper, an imprint of HarperCollins Publishers. Reprinted by permission.
This article was originally published on March 26, 2018.
This segment aired on March 26, 2018.