How Will U.S. Respond To Another Chemical Weapons Attack In Syria?
04:30
Play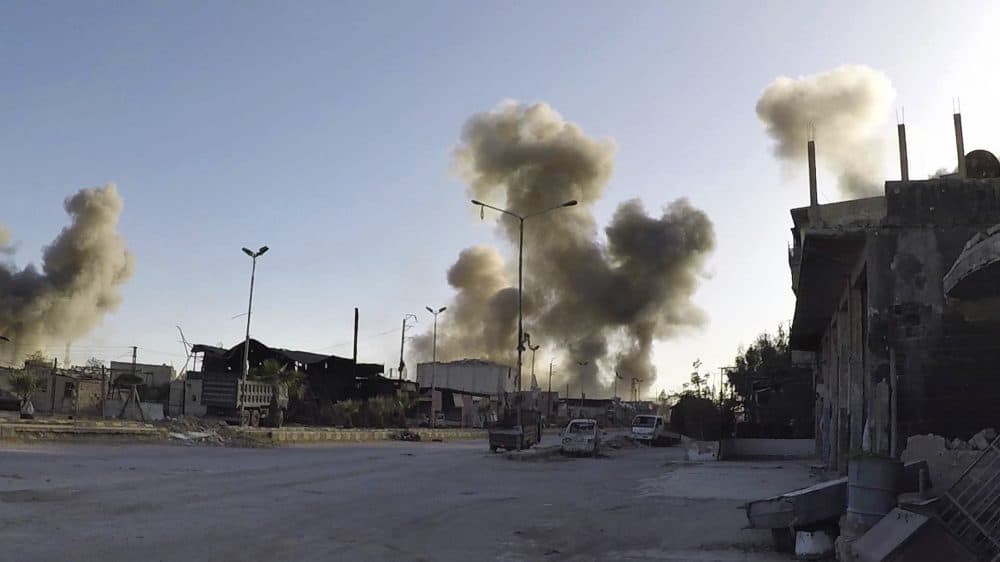 This article is more than 3 years old.
President Trump on Monday told members of cabinet he plans to make a decision on Syria in the next 24 to 48 hours, following another chemical weapons attack the administration says President Bashar Assad carried out on his own people.
Here & Now's Peter O'Dowd speaks with Here & Now security analyst Jim Walsh (@DrJimWalshMIT) about how Trump might respond. The president will also meet with his senior military team on Monday to talk about Syria.
"I think he's going to have a strike. Now, how big a strike remains to be seen," Walsh says. But the U.S. faces "a new limitation that they hadn't previously: There are 2,000 U.S. troops on the ground. So presumably, if we go after Syria, there's a chance those 2,000 troops will be targeted."
Interview Highlights
On the nature of the attack
"There's really not much doubt in my mind that it was a chemical weapons attack and that Assad is responsible, and there are several things that would point to this. The first is the track record here. Independent U.N. investigators have looked at some 33 different chemical attacks in Syria during this war and have attributed 27 of the 33 to Assad. It seems unlikely that the rebels would bomb themselves with gas. And finally, the agent that was used may give us a clue. The initial reporting was that it was chlorine gas, which is fairly easy to make. But today you're starting to get some reports that it was actually a nerve agent, and if in fact it was a nerve agent, then it could only be Syria since you really have to have a government's capability to be able to produce that advanced chemical weapon."
On how the U.S. could deter Assad from striking again
"It would have to be really big, and it would have to go at his core military assets. I think at the end of the day the only real possible way to deter this — and it would be very difficult in any case — is not so much sending a message to Assad as much it is sending a message to the Russians or the Iranians and saying, you know, 'You guys need to go and read him the riot act here.' In other words, it would be his allies that would go in and enforce this. This is very embarrassing for Iran. I know having been in Iran, Iran was a victim of chemical attacks during the Iraq-Iran War. I can't believe their population is in favor of cozying up to a guy who uses chemical weapons. So in some ways an attack might really ... the way it would work is to put pressure on Iran and Russia to go to Assad and say, 'Are you kidding me? Why are you doing this?' "
"There's really not much doubt in my mind that it was a chemical weapons attack and that Assad is responsible."

Jim Walsh
On how a military strike would further entrench the U.S. in Syria
"There are different objectives here, and we have to keep them separate. So one objective, the original objective for President Trump was defeating ISIS. That's one thing, and frankly, it was, you know, Obama did it, the lion's share of it. President Trump has continued that, and I think it's been quite effective at sort of sending a signal that weapons of mass destruction are unacceptable. That's a wholly separate objective, completely different. And so I don't think they have to be linked. Just because Assad has used chem weapons doesn't mean we have to put thousands of troops in Syria fighting what? I mean, what would be the objective as it is related to chemical weapons? That wouldn't make any sense, so I think these need to be treated as [separate]."
On the likely impact of new national security adviser John Bolton
"Well, obviously we've had a change in the national security leadership team, and they're going to be giving very different advice. [CIA Director Mike] Pompeo and Mr. Bolton will be encouraging the president's instincts to strike out adversaries, but they may learn what the previous set of national security advisers learned, which is if you try to push against Mr. Trump's instincts, try to get him to do something he doesn't want to do, he'll show you the door. So it remains to be seen. Bolton is known as a skillful interpersonal player, able to suck up and cozy next to leadership, but I think if he pushes Trump too hard, we'll see how long he lasts."
This article was originally published on April 09, 2018.
This segment aired on April 9, 2018.