Indian Government's Slow Response To Rapes Poses 'Existential Crisis,' Activist Says
Play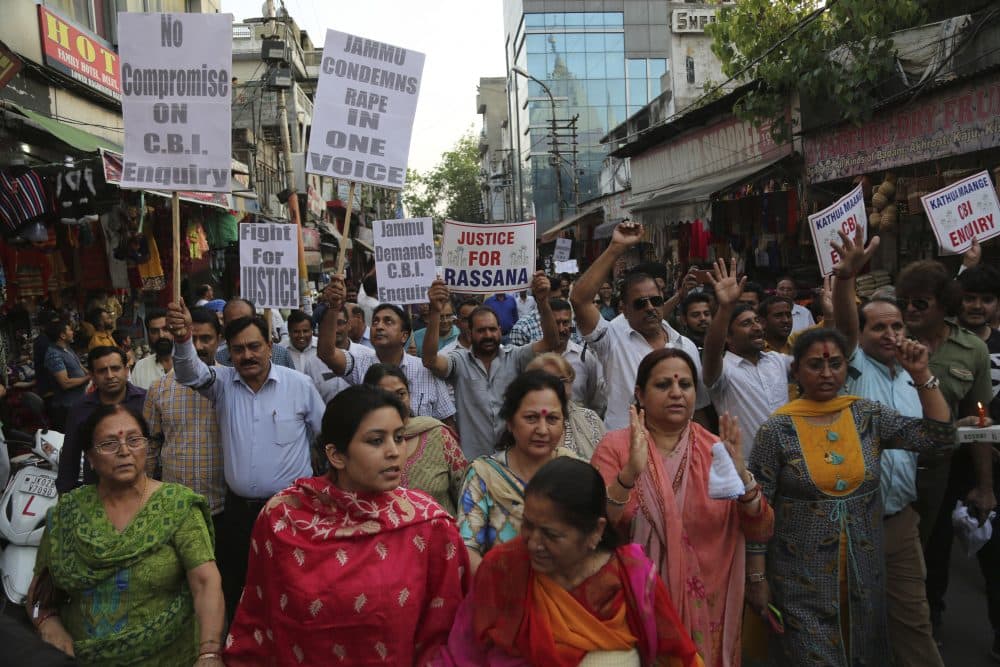 This article is more than 4 years old.
Editor's Note: This segment discusses rape and sexual violence, and contains audio that some listeners may find disturbing or offensive.
---
There have been protests in northern India this week over the rape and murder of an 8-year-old Muslim girl in January. The case has taken a political turn, because two officials from Prime Minister Narendra Modi's party protested in favor of the accused men, who are Hindus. Those officials resigned last week.
And another rape has been roiling India: A member of Modi's party is accused of raping a 16-year-old last June, and he was only arrested earlier this month.
Here & Now's Eric Westervelt (@Ericnpr) speaks with Indian activist and former civil servant Aruna Roy, one of many who wrote a letter to Modi calling his government's response "feeble and inadequate."
Modi addressed the controversy Wednesday while on a trip to London, saying, "A rape is a rape. How can we tolerate this torture with our daughters? You are always questioning your daughters, why don't you ask the same questions to your sons?"
Roy says Modi's comments are "too late," and that the Indian government should have put a stop to what she calls the Hindu right wing, which she says transformed the rape into a Hindu/Muslim issue. She says the issue is not religion, but rather security for "young girls across all castes, communities."
This article was originally published on April 19, 2018.
This segment aired on April 19, 2018.