Relative Of Lynching Victim Reflects On Meaning Behind New Memorial
Play
This article is more than 5 years old.
A national memorial for victims of lynching opens Thursday in Montgomery, Alabama. The Equal Justice Initiative, the group behind the memorial, has identified 4,400 victims of lynching between 1877 and 1950 and engraved their names on blocks of rusted steel that hang from the ceiling of a large pavilion.
One of those names is Wes Johnson. He was lynched in Tumbleton, Alabama, in 1937.
Here & Now's Robin Young speaks with Faye Walker Howell, a distant cousin of Johnson's who spent years reconstructing the story of his death for a new film called "Tumbleton Road."
Interview Highlights
On how she found out her distant cousin was lynched
"I had started out doing some research on my family history. I had to interview many of my relatives that were back there in that era around the 1920s, '30s and into the '40s. They were telling me stories about how they grew up as sharecroppers or tenant farmers out in the rural areas right outside of Dothan, Alabama. And these stories led me to many incidents that happened, as with my distant cousin Wes Johnson, where he allegedly had raped this white girl."
On the allegation that led to Johnson being lynched
"The mob took it upon themselves to be the judge and the jury. The sheriff said the mob came in and overpowered them and broke him out of jail the night that he was arrested. And they put him into cars that [were] waiting outside, and they took him back down to right across from where the alleged rape took place. And that's when they shot him, after this alleged victim pointed him out and said, 'Yes, he was the one that raped her.' And after that, I was told by my relatives that the husband of this white girl, he took the first shot.
"They shot him with pistols and shotguns. They shot him in a ditch, and then they drug his body up, and they hung him from the tree. He was just held on display for the other blacks in the community. It was just a warning for them to stay in their place, or this could happen to you. And the people were terrified. They wouldn't come outside of their houses. They would walk in groups even to church or to the store. They were just terrified."
On whether she was able to find any people who were there in 1937
"One of the persons I interviewed, when they finally had a chance to go remove lynched bodies from the tree, he was there as a 5- or 6-year-old. And he said that it still disturbed him as of that day that I interviewed him."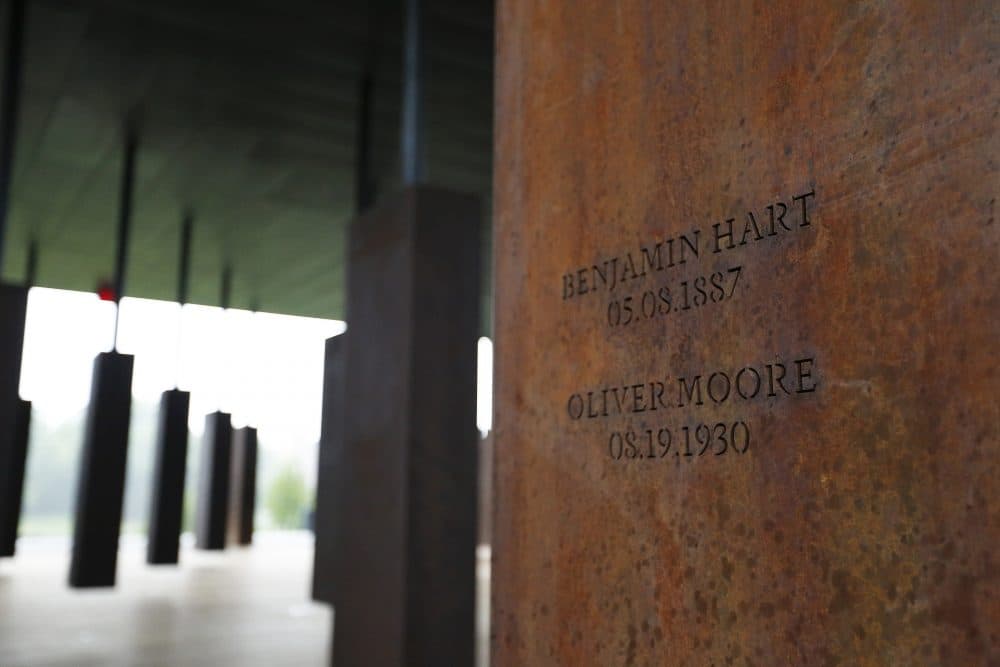 On her thoughts on seeing the memorial
"I'm excited to see it, No. 1, because these hangings that happened back when they did, this is something like a memorial for them. They're being recognized, and they had been forgotten about, and so this memorial will bring it to the public attention: 'OK, this did happen. This happened to Wes Johnson. This happened to the next person,' and it's visual. You can see it. And you know, I have my reminder because I can look at Wes's photo whenever I want to, and to see him hanging from the tree, and then his name is being displayed on one of those columns, it means a lot. It means that the world knows about Wes in a good way, because they can see that he's actually being recognized for a crime that he didn't commit."
On Johnson being buried in an unmarked grave, and her efforts to memorialize him
"They put them into the ground the exact day that they took him down out of the tree, so the mob would not be able to find his body. And one of the local businessmen here in Dothan, he donated a headstone for Wes. Now Wes [has] a headstone. I gave him a verse, John 8:32, which states, 'And ye shall know the truth, and the truth shall make you free.' And I think that was fitting for Wes, because he did die in vain. But he also, he's free, because everyone knows that the Wes did not even touch this girl. She confessed before she died that Wes not put a hand on her."
This article was originally published on April 25, 2018.
This segment aired on April 25, 2018.