As U.S. Grapples With Another School Shooting, Oregon Town Marks 20 Years Since Its Own
Play
This article is more than 5 years old.
Before names like Columbine, Sandy Hook, Parkland and Santa Fe took hold in the public consciousness, there was the Thurston High School shooting on May 21, 1998.
Outside the school's campus in Springfield, Oregon, stands a brick-and-tile wall, along with benches, a plaque and trees. The Thurston memorial features 25 white tiles, symbolizing students wounded in the shooting.
Two black tiles represent students Mikael Nickolauson and Ben Walker, who died that day.
"I've probably been out here for a half dozen times for different events, and maybe a half dozen other times for just my own thoughts and memories," says Tony McCown, 35, watching as students mill on and off the campus much like he did when he went there.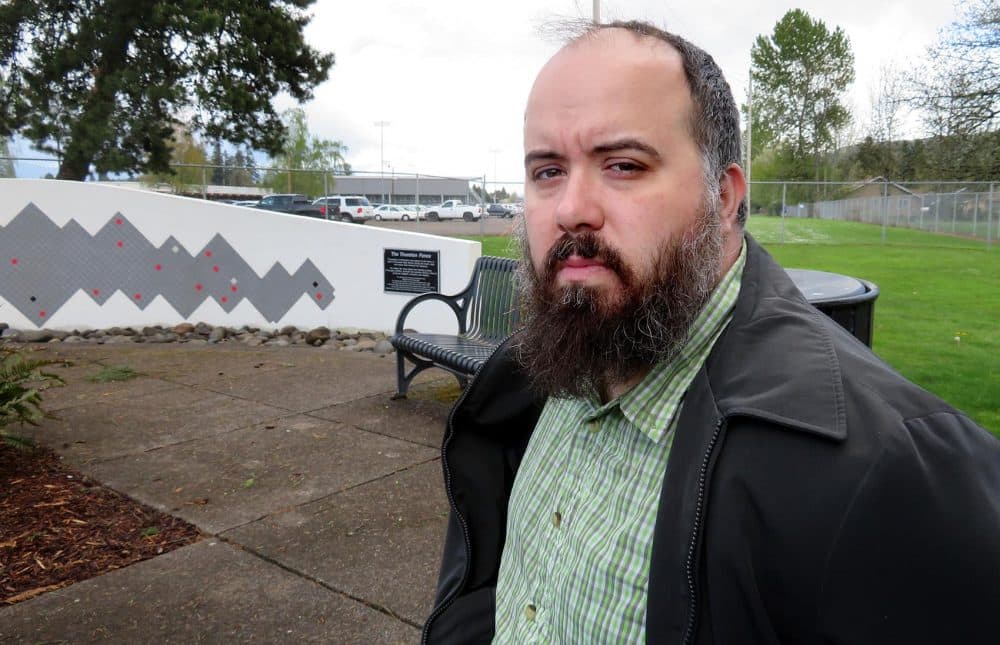 McCown was gunman Kip Kinkel's best friend. He wrestles with not being able to foresee the violence that came to his school.
He recalls the day before, when Kinkel was escorted off campus by Springfield Police for having a .32-caliber gun in his locker. Kinkel bought the weapon from another classmate, and was released to his father that same afternoon.
"Maybe there'd be another trigger, but I honestly believe had he not been caught with a gun that day, that we would not have had May 21," McCown says. "Was he a ticking time bomb? Possibly, it's so hard to say."
The night before the shooting, McCown talked with Kinkel on the phone about his pending expulsion. What McCown didn't know was that Kinkel had already murdered his father, Bill Kinkel, with a shot to the head with a .22-caliber rifle. Kip's mother, Faith, would be shot to death a few hours later and left in the garage.
"Was he a ticking time bomb? Possibly, it's so hard to say."

Tony McCown
In a recorded confession with a Springfield Police detective, Kinkel described hearing voices, and his head not being "right."
Kinkel drove himself the next day to Thurston High. Clad in a trenchcoat and a Nine Inch Nails cap, he brought a .22-caliber rifle, two pistols, a knife and more than 1,000 rounds of ammunition. Outside the cafeteria, he shot two students, Ben Walker and Ryan Atteberry. He then entered the cafeteria, and opened fire.
Betina Lynn recalls hearing popping sounds, and thought some classmates had set off fireworks.
"And I felt something impact me from behind, in my back. I had no idea what it was. Possibly it was a firework. But it was a really powerful impact," Lynn says. "At this point I was very angry, 'Who's doing this prank that's putting us all in danger?' I turned around, and the moment the second bullet hit my foot, I noticed the gun."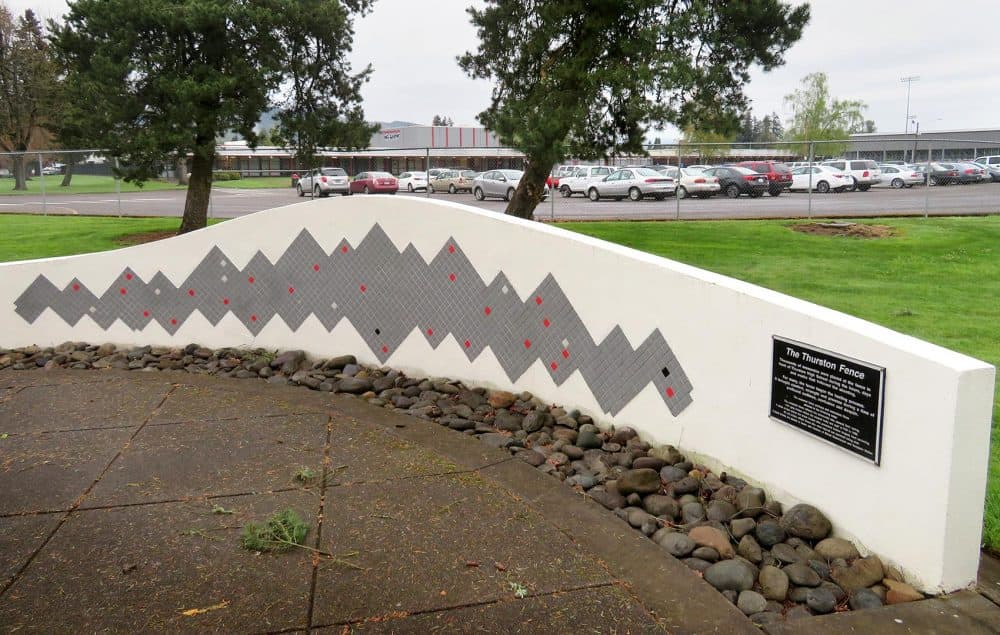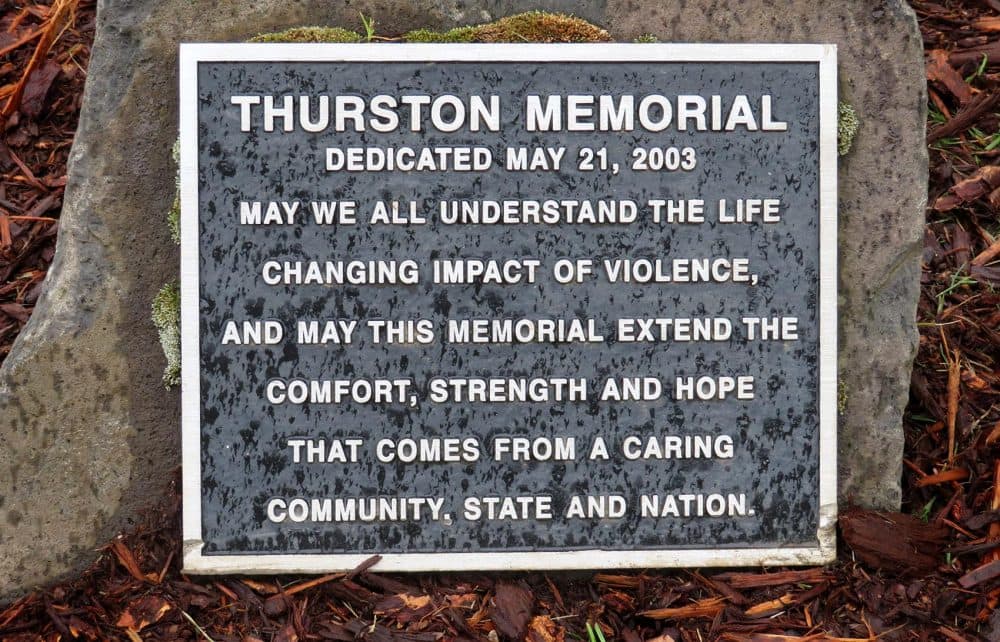 Before being tackled by a group of students, Kinkel managed to shoot one classmate, 17-year-old Mikael Nickolauson, in the head at point-blank range. The boy died on the scene. Ben Walker, the 16-year-old shot in the breezeway, would die within the day.
Days later, President Bill Clinton spoke of the tragedy in a Memorial Day address.
'A Second Chance At Life'
A year later, Kinkel — despite previous references to voices in his head — dropped his insanity plea and pleaded guilty to four counts of murder and 26 counts of attempted murder. He's serving 112 years at the Oregon State Correctional Institution.
Back at Thurston High, junior Rio Samaniego says the school and community have largely forgotten about the tragedy. But he says the event spurred him to join the March For Our Lives movement.
"It definitely is a driving force behind my activism," Samaniego says. "Just the fact that it happened in this community, and I know people whose lives changed that day. And it scares me personally. Because my life could be in danger."
Another survivor who was almost written off as dead managed to come off the operating table, rise to his feet — and reach for the stars.
Tony Case lives in Massachusetts now, and works at the Harvard-Smithsonian Center for Astrophysics, building scientific instruments for spacecraft. He's seen many of his projects launch from Cape Canaveral, and is currently a team member on the Parker Solar Probe, which launches in July.
Case says he doesn't dwell much on the Thurston shooting. But he does mark the occasion with those who helped him survive.
"I've actually become really good friends with the surgeon and anesthesiologist that worked on me," he says. "And every May 21, we at least send around an email between my parents, me, my doctors, all of us just sort of saying thank you to the doctors mostly, for giving me a second chance at life."
As for Kip Kinkel, his defense has tried several times to get his time reduced. Earlier this month, the Oregon Supreme Court upheld his 112-year sentence, rejecting arguments that a life sentence for a juvenile violated his constitutional rights against cruel and unusual punishment.
Meanwhile, Thurston High student Rio Samaniego says there'll be a ceremony Monday night at the memorial, followed by a candlelight vigil at a local park.
---
Brian Bull is a reporter and announcer for KLCC in Eugene, Oregon. He tweets @bcbull.
This segment aired on May 21, 2018.