Increased Border Security 'Absolutely Has To Happen,' Colorado Sheriff Says
10:52
Play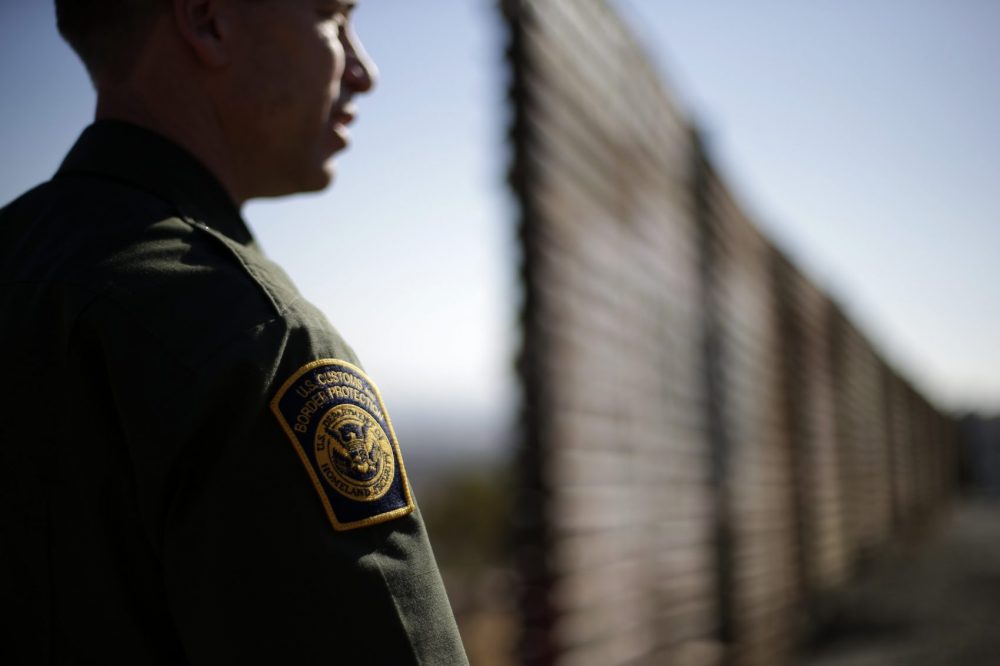 This article is more than 2 years old.
House leaders are promising to bring up legislation on immigration next month.
Here & Now's Jeremy Hobson speaks with Colorado's Larimer County Sheriff Justin Smith (@Sheriff_Smith) about what he's hoping for out of Washington.
"The concern that we have oftentimes in our local communities [is] without sufficient border security, we see crime that comes across the border and ends up in our communities. And we recognize that we just need a more secure border," Smith says. "We've got enough problems at home without the issues of human trafficking and drugs coming across our border. So we're looking for some solutions because that really is going to take the federal government. That's not something local communities can can address adequately."
Interview Highlights
On the prospect of a compromise that would include tighter security but also a path to citizenship
"For me, that's really not down my alley as far as where my concerns are. My big issue is that we need to assure that there is a better multilayered approach on those borders. And so, you know, how they get there really isn't something that I put a specific path on. It's the fact that we have to get to a point that the borders are much more secure than we see today.
"I'm just not taking a position on that part. I certainly understand those in Congress who are concerned that there is an 'amnesty today, border security tomorrow' approach that they're not willing to go to, and I certainly understand those concerns."
On addressing those already in the U.S. illegally
"Obviously those issues are almost exclusively a federal responsibility, under federal authority. It's a discussion that we have as sheriffs, and we get pushed by folks that want us to do the job of immigration officials. Now, I think there's a big difference, that we cooperate with our federal partners in a variety of areas, certainly immigration is one of those, but we have no authority to enforce immigration laws. So there's a lot of areas that need to be addressed. Certainly, one of the big pushes we hear, as we talk about the DACA recipients is we can't break up families. But in fairness, those families broke up oftentimes to come over here. And so that argument actually goes both ways."
"It's somewhat of a tough love to say, 'You know what? We've been pretty lax on our borders for quite some time and it has not solved the problem.' "

Justin Smith
On Attorney General Jeff Sessions' announcement that everyone entering the U.S. illegally will be criminally prosecuted, which could lead to splitting up families
"Here's what I know. I know now, talking to the border sheriffs that I work with on a regular basis, and doing my own research, that the number of children who are abused as they're brought across that border, the number of women that are raped, the number of individuals who essentially are exploited coming across the border, is outrageous when you really research that. And so I think the attorney general is looking at that issue. It's somewhat of a tough love to say, 'You know what? We've been pretty lax on our borders for quite some time and it has not solved the problem.' It can sound a little difficult to say we're going to enforce the laws that are there, but nothing of what I heard from [Attorney] General Sessions says that he's going to go beyond the laws that are authorized. But, I think when we have these discussions, we certainly have to understand the consequences of allowing this to go on. And you have the coyotes bringing people across who are doing terrible things to these individuals. And if it takes a little tough love to put a stop to that, it certainly may be something this country needs to look at."
On the resolution in Fort Collins, Colorado, to clarify that police cannot ask residents about their immigration status unless that information is required by law
"It's very bizarre, because in there, the city still allows employees who are in charge of giving out some sort of a benefit to ask those questions. But a police officer is forbidden. And if you read what they put into their rules, it said in there if they believe a police officer, without authorization, asked that question, they could be disciplined up to and including termination. I think that's absolutely outrageous. The reality is when you're investigating things like human trafficking, there's times you're going to pose that question when a witness or a victim is not cooperating, or maybe has given you some bad information. It may be very legitimate to pose the question about their status because that could explain at times why the individual is not being forthcoming. And it also provides the opportunity for that individual to learn about U visas and T visas that can protect victims of certain classes of crime. So again, the city of Fort Collins chose to politicize something that I think is actually ... runs the risk of backfiring and creating more victims of local crime because of that decision."
On individuals' fear of reporting crimes because they thought they were going to be asked about their immigration status
"Again, I know that to be a false narrative. The people who are actually planting that fear, interestingly enough, are those who pose as immigration advocates. They are the individuals — I've talked to them — they run out to the community and tell the citizens, 'Be afraid of the police. Be afraid to call, because they're going to have you deported.' The reality is — I've challenged them. 'You know about U visas. You know about T visas. If you want to be an advocate, explain that to individuals. And also, face the reality of when was the last time a victim or a witness to a local crime was deported based on their cooperation with the local police?' So, I think they do a great disservice. They're politicizing this issue with a vulnerable group."
This article was originally published on May 23, 2018.
This segment aired on May 23, 2018.