For Mother Of Marine Killed In Afghanistan, Memorial Day 'Has A Very Special Significance'
10:54
Play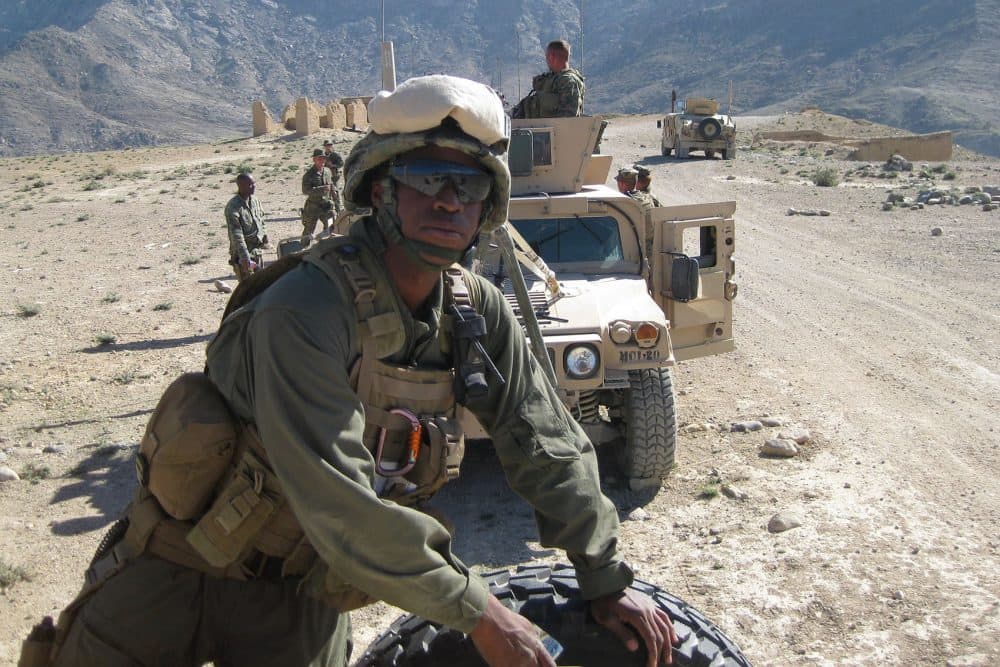 This article is more than 2 years old.
Janice Chance lost her son, Marine Capt. Jesse Melton, in the war in Afghanistan in September 2008. He was killed when the Humvee he was riding in hit a roadside bomb. The blast also killed another Marine, a Navy corpsman and an Afghan interpreter.
Before deploying to Afghanistan, Melton had served a tour in Iraq in 2005, and had also been stationed in Okinawa, Japan. He's buried at Arlington National Cemetery.
Here & Now's Jeremy Hobson talks with Chance, president of Maryland Gold Star Mothers, about her son's life and service, and how she plans to remember him on Memorial Day.
Interview Highlights
On what Memorial Day means to her
"My Memorial Day has a very special significance, because it's a day of national awareness and reverence, honoring, remembering our earthly heroes who made the ultimate sacrifice. And I want people to know that freedom is not free. That it's bought with a price. And that people have made the sacrifice — they put themselves, their lives, on the line, in harm's way, on behalf of the citizens of the United States and abroad. And we need to take the time to honor and remember."
On her son Jesse
"My son was a very special man. As a child he was always caring, compassionate. He loved sports, and he loved helping other people. He was very involved with our church, he loved the youth group, he would go on mission trips. He was always serving within the community. He was an avid reader. He read all the time, and he was always concerned about his family. So he had an impact. He was a person that kind of drew people to himself. I would call him a 'quiet storm.' And as he grew older and developed and began to network and do things for the community ... he had a love of helping others.
"He knew what it was like to struggle. He persevered through a lot of things. Unfortunately, Jesse's dad left the home when [Jesse] was 10 years old. I was married for 11 years, and his dad left the home, and so Jesse was determined, he said, 'Mom I'm going to become the man of the house, and I'm going to take care of you and my siblings.' And he made that a commitment. His life was really one that inspired his sister, because she decided to join the military because of her brother, the changes that she saw in him. He was truly an officer and a gentleman."
"He was a person that kind of drew people to himself. I would call him a 'quiet storm.' And as he grew older and developed and began to network and do things for the community ... he had a love of helping others."

Janice Chance
On why he chose to serve in the military
"Because he was inspired by his grandfather. He had uncles. We had other members of our family [who served] ... and his dad, he told my son, he said, 'You know, you have the ability, you want to go into the military, you should be an officer. Because I think you have what it takes to be one.' And he wanted to be able to work with people and let them know that they are valued and respected. Because he would say that he wanted the Marines on his team to follow him out of admiration, not obligation — it was a difference. Now, I wasn't too excited, I must admit, that he had joined the Marine Corps, one of the toughest branches. But after he joined, I became his greatest cheerleader and supporter."
On Jesse telling his mother he's single, has no children and that he would take a bullet for his fellow Marines
"Before Jesse deployed, he said, 'Mom, I had a dream that I'm either going to be wounded or killed. But I want to go anyway.' And when he told me that, because of our faith in God, we both said, 'Hey, God is in control of this.' Now, when I talked to him, we were positive, but when I got off that phone, I fell on my knees and I began to cry out to God. And I said, 'God, are you going to require my son of me like you required your son for us, to die for the world?' And I said, 'Oh God, please,' and I cried out and I screamed out, and I said, 'You know God, not my will, but let thy will be done.' And so ... when they came to my house that day to tell me that my son was killed, I said, 'What can I say? The Lord giveth, the Lord taketh away. Blessed be the name of the Lord.' I did not cry at that time, and I was just concerned about my son receiving the honor that he had earned. And I believed that Jesse's mission was complete.
"As a matter of fact, Jesse was scheduled to be off duty that day. He took the place of another Marine on the convoy, and two days later, that Marine's baby was born."
On volunteering at the Walter Reed National Military Medical Center
"It means a lot for me, because I'm continuing the legacy of Jesse's service. He's no longer here, but I get to touch men and women who have served. They had been injured during their military service. And I can make a difference, I can touch them and say, 'I care about you,' and the little things make them happy. When I leave there, I can say my mission is complete. I made a difference in someone's life.
"I had an opportunity to go and minister to a young lady. I walked into the office and a manager said, 'Ms. Chance, I need you,' she said, 'please come talk to me.' And I thought I'd maybe done something wrong. And she said, 'I need to talk to you right away.' And I said OK. And I went into her office and she said, 'I'm so glad you're here. Someone just called in and said we need someone to come up to stand with this mother. She has no family here. Her daughter is dying of ovarian cancer. Can you please go?' And they needed someone that was caring, compassionate and spiritual. And she said, 'You walked in and I was so relieved.' And I had an opportunity to go upstairs and to pray with the young lady.
"And this young lady was a salsa dance instructor. My son took up salsa dancing a couple years before he was killed, and he even taught me how to salsa dance. I'm saying, these are no coincidences. God orchestrates these moments for me to be able to touch lives. So when I can touch a life and tell these heroes and their families, 'Thank you,' it's those kind of things that really matter to me."
On visiting Jesse's grave on Memorial Day
"Oh yes, yes, yes. I'll definitely be heading there, because I want to go and pay my respects to all of our heroes. Arlington is full of heroes. Everybody there is a hero at Arlington, because they served. So I get a chance to go down, to meet people, because they usually stop at my son's grave, and people that knew him, I'll get a chance to talk to folks and find out the impact. So yes, I'll be going. And in addition ... comforting and ministering to other family members, so that we can share that bond, that I can be a comfort, then I'll also be comforted."
This segment aired on May 28, 2018.