Summer Party Recipes To Keep Your Guests Coming Back For Seconds
Play
This article is more than 4 years old.
Throwing any get-togethers this summer? Here & Now resident chef Kathy Gunst says it's getting to be that time of year, and brings hosts Robin Young and Jeremy Hobson four dishes for warm-weather festivities.
---
Whether it's a graduation, birthday, wedding party, Father's Day or a backyard barbecue, June celebrations are the best. Fresh summer food is just coming into season, and the weather can be perfect for entertaining.
Keep it simple: Throw a few main-course dishes on the grill, prepare a salad or two ahead of time, pick up a few loaves of crusty bread and you've got a party. For dessert, gingery biscuits slathered with whipped cream and seasonal berries (strawberries would be my choice).
Grilled Leg Of Lamb With Green Onion Flatbreads
This recipe for butterfly leg of lamb (leg of lamb with the bone removed) is from my friend Jessica Battilana's wonderful new book, "Repertoire." The lamb is marinated in mint, oregano, ginger, cloves and cumin and grilled, and the flatbreads are much easier than they sound. Serves 6 to 8.
Battilana writes:
"I like to serve the lamb with grilled green onion flatbreads, which are similar to the scallion pancakes served at your local Chinese restaurant, except these are grilled instead of fried. I use the pliable, chewy flatbreads as wrappers for slices of the grilled lamb. Note that the lamb needs to marinate overnight or for up to two days; the flatbread dough can also be made the night before and refrigerated, but the flatbreads are best eaten hot off the grill."
Lamb Ingredients
1 tablespoon dried mint
1 tablespoon dried oregano
1 tablespoon freshly ground black pepper
1 1/2 teaspoons ground ginger
1 1/2 teaspoons ground cumin
1 1/2 teaspoons ground coriander
1 1/2 teaspoons ground cinnamon
1 1/2 teaspoons ground nutmeg
1/2 teaspoon ground allspice
1/2 teaspoon ground cloves
1 (3- to 4-pound) boneless leg of lamb
Kosher salt
3 tablespoons extra-virgin olive oil
Green Onion Flatbreads Ingredients
4 cups flour
2 cups hot water
Extra-virgin olive oil, for brushing
Kosher salt
3 cups sliced green onion tops
1 1/2 cups chopped cilantro leaves
Melted unsalted butter, for brushing
Instructions
In a small bowl, mix together the dried mint, oregano, black pepper, ginger, cumin, coriander, cinnamon, nutmeg, allspice and cloves.
Put the lamb on a work surface fat-side down. Holding a sharp knife parallel to the cutting board, slice into the thicker sections of the meat, cutting in the direction that will allow you to open the section like a book but not cutting all the way through — the goal is to butterfly the piece of lamb to a uniform thickness so it will grill more evenly. Trim off any visible sinew or large pockets of fat. Flip the lamb over, fat-side up, and trim off and discard any excess fat cap (do not trim off all the fat, as it will baste the meat as it cooks).
Season the lamb generously on both sides with salt, then season with the spice mixture, using all of it. Transfer to a rimmed plate or baking dish and drizzle on both sides with oil. Cover with plastic wrap and refrigerate overnight or for up to two days.
Remove the lamb from the refrigerator an hour or two before you plan to grill and let it come to room temperature.
Make the green onion flatbreads: Put the flour in a food processor. With the machine running, drizzle in the water and process until the mixture forms a ball. Transfer the dough to a lightly floured work surface and knead gently into a smooth ball. Transfer to an oiled bowl and cover with plastic wrap; let stand 30 minutes at room temperature (the dough can also be refrigerated overnight).
Divide the dough in half. Keep one half covered with plastic wrap while you work with the other. Lightly flour a work surface and divide the half-ball of dough into 4 equal pieces. Working with one piece of dough at a time, roll the dough into an 8-inch round with a lightly floured rolling pin. Use a pastry brush to brush the dough with olive oil, then sprinkle with salt. Roll the dough away from you into a tight cylinder, then twist the cylinder into a tight spiral, tucking the end under.
Roll the spiral into an 8-inch circle, brush with more olive oil, sprinkle with more salt and top with some of the green onions and cilantro. Roll away from you into a tight cylinder, then twist the cylinder into a spiral, tucking the end under. Roll into an 8-inch round, then brush with olive oil and transfer, oiled-side down, to a parchment-lined baking sheet. Brush the second side with oil.
Repeat the process with the remaining dough until you have 8 pancakes, separating the layers of finished pancakes with parchment paper so they don't stick together. If you plan to cook the pancakes within an hour, they can sit at room temperature. Otherwise, cover the baking sheet with plastic wrap and transfer to the refrigerator for up to 4 hours.
Prepare a gas or charcoal grill for direct, medium-high-heat grilling. When the grill is hot, lay the lamb on the grill grate, fat-side down. Grill, flipping occasionally, until the meat is browned and an instant-read thermometer inserted in the thickest part registers 135 degrees, about 30 minutes. Depending on the amount of fat on the lamb, you may want to brush or drizzle the meat with additional olive oil as it cooks; it should look glistening and juicy. If the lamb is browning too quickly or if dripping fat is causing flare-ups, move the meat to a cooler part of the grill until the coals die down (if using a gas grill, lower the heat on one section of the grill and move the lamb to the cooler zone).
Transfer to a platter and tent with foil while you grill the flatbreads. Put as many flatbreads as will fit in a single layer directly onto the grill grates. Grill, flipping occasionally with tongs, until golden brown on both sides, about 6 minutes total. Transfer to a baking sheet or plate and brush each with butter. Repeat until all the flatbreads have been grilled.
To serve, slice the lamb into thin slices and serve with the warm flatbreads alongside.
Excerpted from REPERTOIRE. Copyright © 2018 by Jessica Battilana. Used with permission of Little, Brown and Company, New York. All rights reserved.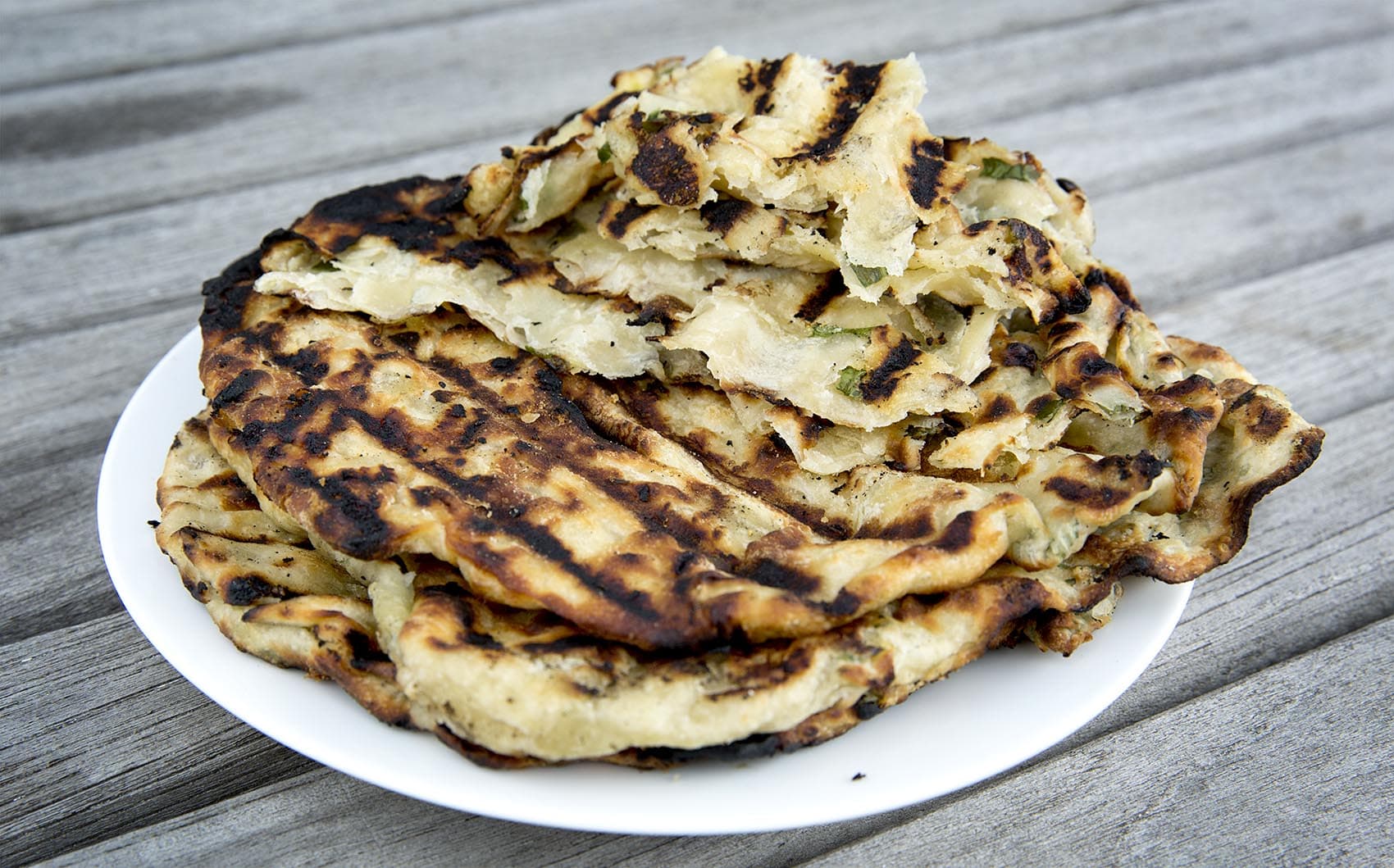 Grilled Lemon Shrimp With Green Sauce
OK, I know what you're thinking. Shrimp? Aren't there are so many other types of seafood and fish that are more exciting? Well, not really. Everyone loves shrimp and these grilled shrimp — with lemon, lemon zest, pepper and olive oil — burst with flavor and take no time at all.
The shrimp are placed on skewers with a lemon wedge. They only take about 3 to 4 minutes per side on a hot grill, so they're super easy and quick. And the green sauce, made with pickles, parsley, basil, scallion and capers, can be made a few days ahead of time. Figure about 4 to 6 shrimp per person, depending on what else you're serving.
The green sauce is also delicious as a dip for grilled bread, raw vegetables and other types of grilled fish and seafood. And if you place the shrimp on a bed of summer greens and serve the green sauce on the side, you have a main-course salad. Serves 4 to 6.
Shrimp Ingredients
1 pound medium or large shrimp, deveined with shells still attached
2 tablespoons olive oil
2 teaspoon grated lemon zest
Salt and freshly ground pepper
1 lemon, cut into 4 wedges
Green Sauce Ingredients
1 cup parsley with stems
1/2 cup fresh basil, with stems
1/3 cup capers, drained
1/3 cup pickles or cornichons, drained and chopped
2 large scallions or 3 small one, white and green section
1/4 cup fresh lemon juice
1/2 cup plus 2 tablespoons olive oil
Salt and pepper, to taste
Instructions
Place the shrimp onto 3 or 4 large metal skewers (if using wooden skewers be sure to soak them in cold water for about an hour first). Place the skewers on a cookie sheet and pour oil, lemon zest, salt and pepper on top distributing it evenly. Place a wedge of lemon at the top of the skewer after putting on the shrimp so the lemon keeps the shrimp in place. Let marinate for about 15 minutes or overnight.
Make the sauce: Place the parsley, basil, capers, pickles and scallions in a food processor and pulse several times. Add the lemon juice, olive oil, salt and pepper and run until almost smooth. Season to taste. Cover and refrigerate until ready to use.
To grill the shrimp: Heat a charcoal or gas grill until hot, about 425 degrees. Place the skewers on the grill and cook about 3 to 4 minutes on each side, depending on the size. Place on a serving platter with the bowl of green sauce. Squeeze the grilled lemon on top of the shrimp and serve hot or at room temperature.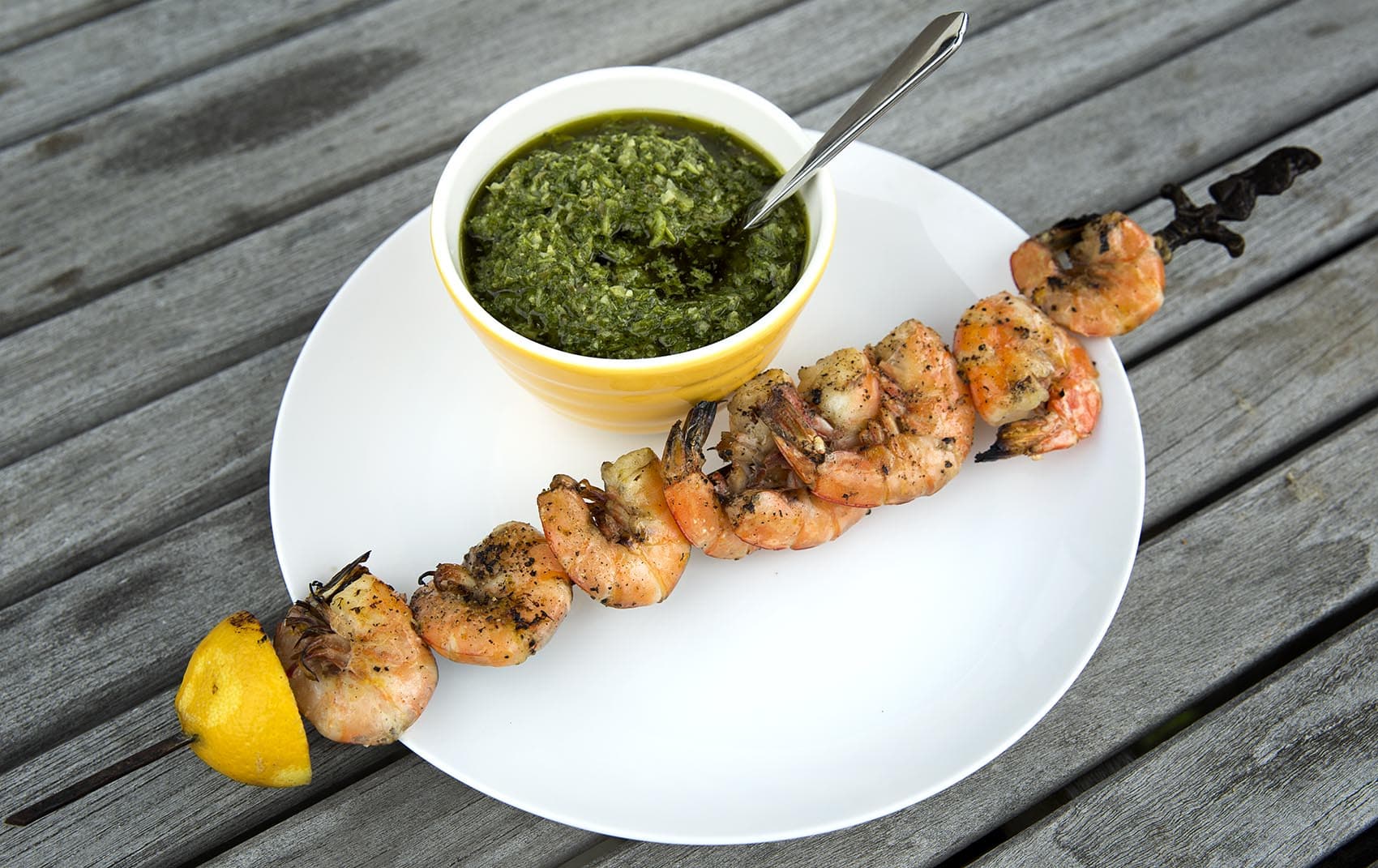 Greek-Style Lemon And Oregano Potatoes
Fresh lemon juice and lemon zest together with olive oil and oregano give these potatoes a fresh, summery, unexpected flavor. Serve them hot or at room temperature as a potato salad, drizzling with a touch more lemon juice and olive oil. Serves 4 to 6.
Ingredients
1 pound potatoes, peeled and cut into quarters, or eighths if large
2 1/2 tablespoons olive oil
1 tablespoon lemon juice
1 teaspoon lemon zest
1 tablespoon chopped fresh oregano
Salt and pepper
Instructions
Heat the oven to 425 degrees.
Toss the potatoes in a roasting pan with the oil, lemon juice, lemon zest, oregano, salt and pepper.
Roast on the middle shelf for around 40 to 55 minutes, tossing them once or twice, or until golden brown and tender.
Buttermilk Ginger Biscuits With Vanilla Whipped Cream And June Berries
The biscuits need to sit in the freezer for at least an hour or overnight, so plan your time. I like to make them ahead of time, freeze and bake just before serving. Whip up some cream and cut the berries and dessert is ready. Makes 6 to 7 biscuits.
Biscuits Ingredients
2 cups all-purpose flour, plus more for rolling
1 cup cake flour
1 tablespoon plus 3/4 teaspoon baking powder
1 1/2 tablespoons sugar
1/2 teaspoon ground ginger (optional)
1 teaspoon sea salt
6 tablespoons chilled unsalted butter
3/4 cup cold regular or low-fat buttermilk, or more as needed
Whipped Cream And Berries Ingredients
1 to 1 1/2 cups heavy whipping cream
1/4 cup sugar
1 teaspoon vanilla
About 4 cups fresh berries, if using strawberries cut into slices
Instructions
For the biscuits: Whisk together the all-purpose and cake flours, baking powder, sugar, ground ginger, if using, and salt in a large bowl.
Use the widest opening on a box grater to grate the butter into the flour mixture, adding it a bit at a time and gently mixing it into the flour so it doesn't clump up. Use your hands to make sure the butter is fully incorporated into the flour. Add the buttermilk; use a flexible spatula to mix until the dough holds together. If the mixture's still too crumbly, add up to 2 more tablespoons of buttermilk.
Lightly flour a rolling pin and a clean work surface. Transfer the dough there; use a light touch to shape it into a rectangle, then pull the far end of the rectangle up toward you and fold the dough over in half. Press down on the dough and repeat this step 6 more times — this creates a layered, flaky biscuit.
Roll out the folded dough to a 1-inch thickness. Use the biscuit cutter to form a total of 6 to 7 biscuits; you can reroll the dough once, but you might notice less height on those rerolled biscuits after baking. Place the biscuits on a baking sheet.
Cover the biscuits with plastic wrap; freeze for 1 hour or up to overnight.
When ready to bake, heat the oven to 425 degrees. Line a baking sheet with parchment paper or a silicone liner.
Unwrap the biscuits and bake straight from the freezer on the middle rack for 12 minutes, then reduce the oven temperature to 375 degrees and bake for 8 to 10 minutes or until the tops are golden brown.
Meanwhile, whip the cream until soft peaks appear. Add the sugar and vanilla and whip another minute.
Cut the strawberries, if using, into slices and sprinkle with the 1/4 cup sugar, or keep raspberries or blueberries whole, sprinkled with the sugar.
Cool the biscuits for 5 to 10 minutes before slicing in half and filling with the whipped cream and berries.
This segment aired on June 5, 2018.