'It Burned All The Way To The Ground': Family Loses Home In Northern California Wildfire
Play
This article is more than 4 years old.
The Pawnee fire continues to burn in rural Northern California, threatening hundreds of structures. It has already destroyed several homes, including one that belonged to Katy Brogan of Spring Valley.
Here & Now's Jeremy Hobson speaks with Brogan about what's next for her and her family.
"It burned all the way to the ground," she says. "We lost it early in the incident Saturday night. My husband was still in the valley at that point, and discovered he had left his insulin pens at the house and went back for them, and the house was gone."
Interview Highlights
On if Brogan and her family had time to collect any of their belongings
"No. Not really. I'm recently out of the hospital recovering from a full hip replacement, and so I was kind of like in the hospital bed and stuff, and I'd spent most of the day at home because the husband and the kids had been away at a show pig seminar in Ukiah because the kids show swine through 4-H and FFA at the Lake County Fair. So I'd been there most the day by myself, and this started up about 5 [p.m.]. And when he got home at about 5:30, he's like, 'Yeah, we need to get Mom out of here.' So he really didn't want us grabbing anything. He was more concerned about just getting out. So he had the kids help me with my walker to the car, and we headed down to Spring Valley Pantry to wait and see."
On the most precious things she and her family lost in the fire
"Oh, my gosh, it's weird. Things pop into your mind at different times. My kids' mementos. I had a kid that just graduated eighth grade, and he had won the President's Academic Achievement Award and had received a letter from Donald Trump and a pen and other commendations that he had received. You know, those kinds of things. My daughter's wrestling medals, her FFA jacket with her state degree pin on it. Not like really expensive possessions or things that you desire, but things that your memories are tied to.
"Memories of my dad, pictures, some family heirloom jewelry. All my Carhartt stuff. I'm a big Grateful Dead fan, so all my Grateful Dead stuff's gone — just kind of things that might seem stupid to somebody else."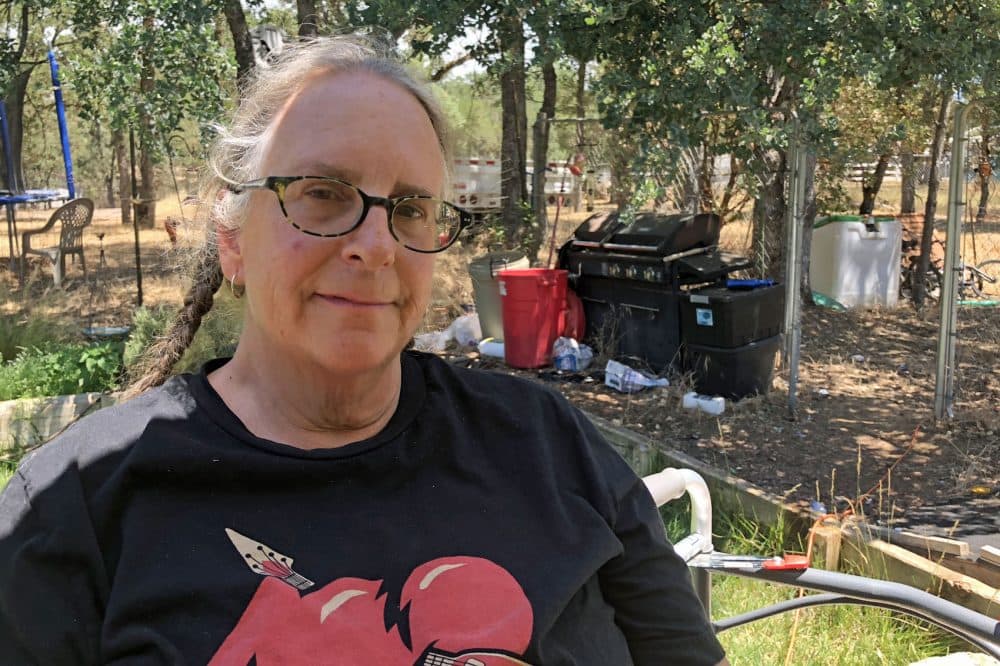 On how she is processing the aftermath of the fire
"I haven't checked into all of this, but I'm sure that there's probably been identified a process that we move through, and I'm not sure where I'm at on that. I've cried a bit. Right now, I'm kind of just doing the strong thing. I kind of gave up hip replacement recovery mode for fire survival mode. We're just taking it a minute at a time right now."
On why this evacuation order felt different from previous fires
"I've almost felt like it was coming. In our 4-H group, I've had friends that lost their homes in the Valley Fire and then the next time around, friends that lost their homes in the Clayton Fire. And I don't know, I've just sort of felt like this was coming."
On how those friends have helped her
"I have been [in contact with them], and I've apologized to them for trite things that were said and the things that well-meaning people say that really don't have any impact on your hopefulness or anything. They just, you know, they don't know what else to say. So having people gone through it before I think is a good thing, and they're willing to share their experience and help us walk this walk is pretty amazing."
"My husband is a lot more positive than I am. I'm like, 'Well, we've just lost all your stuff,' and he's just really positive about, 'Well, we still have this and this, and we can replace that and that.' "

Katy Brogan
On the wrong thing to say to people who have had this experience
"The wrong thing to say is, 'At least you got out OK.' 'At least' — it's mostly those two words — 'at least.' Sometimes I have a problem with, and I shouldn't, but sometimes I have a problem with 'thoughts and prayers.' Like what am I going to do with those? I actually had one friend from high school that private messaged me and implied that this happened because I wasn't walking my walk with Jesus."
On what it will take for her and her family to move forward
"My husband is a lot more positive than I am. I'm like, 'Well, we've just lost all your stuff,' and he's just really positive about, 'Well, we still have this and this, and we can replace that and that.' And his power of being positive is just, it's beautiful and overwhelming at the same time. And I think if we can keep focused and just keep … I'm sure there's going to be a fight ahead to stay positive and stay focused and just keep wanting to go on, but we'll do it. We'll do it for the kids."
On how her kids are doing
"My daughter is away at American Legion Girls State conference in Southern California. My husband had to drive her down there Sunday. It was a great honor that she was nominated for this, and we didn't want her to miss out on the opportunity. Unfortunately, I'm worried for her, and I don't know where her head is, and I wish she was able to be fully involved in the program that she's at without having to worry about us. My son, who's your typical 14-year-old, has been strangely polite and quiet and very cooperative. And while that's all lovely and very welcomed, it's kind of worrisome in a way because it's not really like him, and I'm not sure if it's out of strength of character, and he's just trying to be the best person he can be right now, or if he's in shock. You know, it's probably a combination of both of those things.
"I'm telling him I love him a lot. And unfortunately, my mobility is still limited, and I'm asking him to do things that he normally would be like rolling his eyes and trying not to do, you know, tasks and chores and things like that. And he's just done it all without having to ask him twice."
---
Here's more information about ways to help those impacted by the Pawnee fire.
This segment aired on June 27, 2018.