Wildlife Suffers Consequences Of South Florida's Worst Red Tide In A Decade
05:50
Play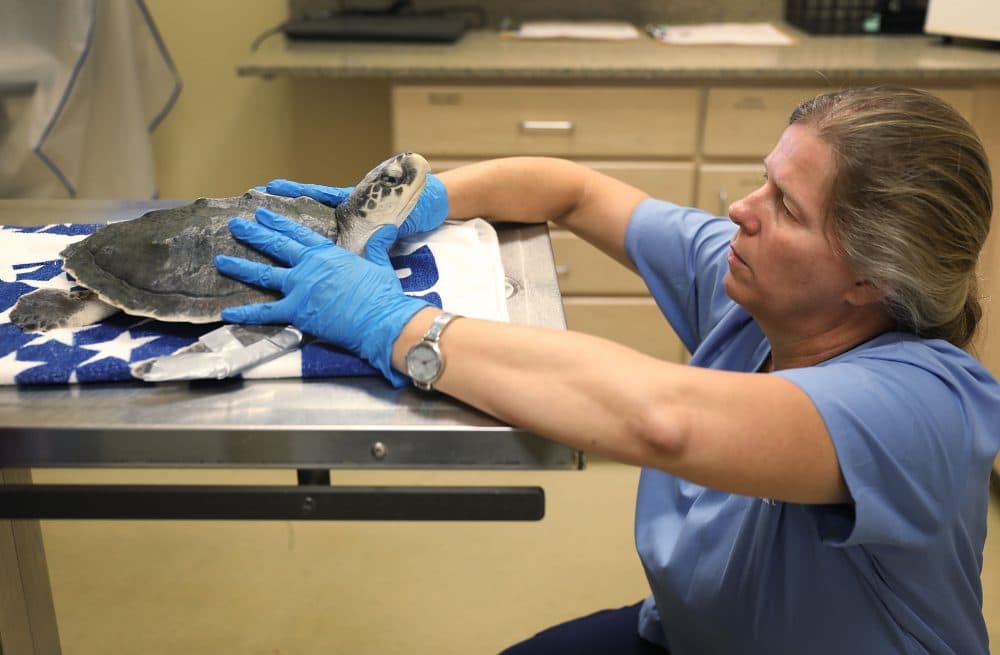 This article is more than 3 years old.
A longer-than-average red tide season is killing wildlife in the Gulf of Mexico, and fish, manatees, dolphins and sea turtles are washing up dead on South Florida beaches.
Here & Now's Jeremy Hobson learns more from Dr. Heather Barron, veterinarian and research director at the Clinic for the Rehabilitation of Wildlife in Sanibel, Florida.
"We've had hundreds of sea birds, and right now, about four times as many sea turtles as we would normally have by this time of year. Tons of fish every day ... dolphins, manatees, even a whale shark," Barron says. "It really is making a very demonstrable impact."
Interview Highlights
On how red tide, an algae bloom, kills wildlife 
"There's probably over 200 different species of algae, but only about 20 of those are harmful algae. And what we're experiencing right now is known as a harmful algal bloom. And this particular type is what's known as red tide, and that's caused by an organism called karenia brevis. And this organism produces a toxin known as brevetoxin that is a neuro or nerve toxin. And so what we see is that these animals' nervous systems are very affected by this toxin. They become very disoriented, and potentially if the toxin levels get high enough, they can even die."
On the impact of this long red tide bloom 
"This time it's been going on since about October 2017, and so that's quite a long time. And of course, the other problem is that it's actually overlapping with the sea turtle breeding season, and that normally goes from April through to October. And so unfortunately with the two coinciding, those large adult, critically endangered sea turtles spend most of the year out at sea. But of course, they come into our near-shore waters, to come up on our beaches to do their nesting. And it is certainly going to have a tremendous impact particularly on sea turtles nesting in our waters because of course, sea turtles show nest site fidelity, which means they come back to the same area year after year to nest. So I've no doubt that we'll see the impact from this particular bloom for years to come."
"These animals' nervous systems are very affected by this toxin. They become very disoriented, and potentially if the toxin levels get high enough, they can even die."

Dr. Heather Barron
On how climate change is impacting the length of this bloom 
"Well again, it is a natural phenomena. However, there is no doubt that people are contributing to it, and of course, there's a confluence of factors that really result in having such a bad red tide, and some of them are natural factors. For example, Hurricane Irma, which came through and hit our state pretty hard back in 2017, really kind of stirred up everything in Lake Okeechobee and that included decades worth of fertilizer. And of course, algae are just a plant basically, and they're going to expand their growth and their numbers with those kinds of nutrients in the water. The warmth of the water, certainly climate change has been a big factor. The fact that the winds are coming from offshore, so that's pushing all the algae in and keeping it kind of next to our shore. So all those things are definitely having an impact."
On the risk of red tide to humans 
"If it's bad enough and certainly right now it is pretty bad, or if you have a human who has an underlying respiratory illness — for example, asthma — people will be fairly severely affected. The other way that sometimes people are occasionally exposed is through what's known as neurotoxic shellfish poisoning. In other words, they actually eat shellfish from the affected area, and in that case, they can present with signs very similar to the animals that we're getting in at [the Clinic for the Rehabilitation of Wildlife]. So severe gastrointestinal distress, and if it gets bad enough, potentially even neurological signs and potentially even death."
This segment aired on August 3, 2018.