Carr Fire Survivor 'Still In Shock' After Losing Family Home In The Blaze
Play
This article is more than 4 years old.
Cal Fire is now calling the Mendocino Complex the largest wildfire in California history. But the Carr Fire in Redding, California, has by far been the most deadly and destructive this year. Seven people were killed and more than a thousand homes were destroyed.
Hanna Kuyper of Redding, who lost her home in the fire, says there are family possessions she wishes she and her husband could have saved.
"In the moment, we didn't know how fast the fire was coming or when it would be here, so we grabbed what we could," she tells Here & Now's Robin Young. "We took important papers, some clothes, some of my husband's tools, but we really didn't grab that much.
"There are some things, like my son's baby book, that I couldn't find in the moment, some pictures, things like that."
Interview Highlights
On the physical and psychological aftermath
"It's been about a week now, but we've had so much support, we've had time to process it as well as we could.
"We were able to go back to the property. Our area was hit pretty hard, so it's hard to see our homes, our neighbors homes, friends, things like that--it's hard to see that all gone.
"I think we're all still in shock. I mean it's still … like, you look outside, there's ash falling from the sky still."
On the support she has received from the community
"We've been so blessed and supported by community members, family, strangers that we don't even know. So, I appreciate all that so much. So, we're not in a rough spot or anything like that, but you do--you lose a lot of things that you don't really think about, like memories and things like that.
"I had a good friend of mine set up a GoFundMe account … and then just donations for my son to make sure he has clothes and toys and diapers and wipes. There's just been a lot."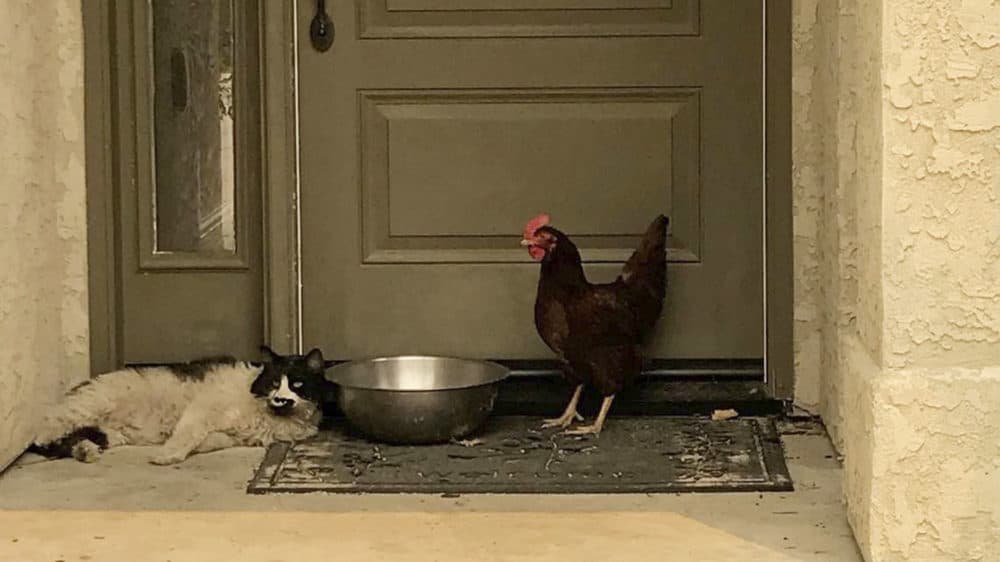 On how the family's chicken, Brownie, survived the fire and was found by firefighters taking refuge with a neighbor's cat
"It was a pretty cool story. We didn't know that it [Brownie] survived. When we were leaving, we didn't have room, so we just let the chickens out and just hoped for the best. And then a couple days later, my neighbor sent me a message, and she said, 'Wow that's amazing about our neighbor's cat and your chicken.' And I had no idea what she was talking about, and then I saw the news stories on it, and we called around the vets in Redding, and we found it, and we gave our address, and they [the veterinarians] said, 'Yep, that's where we found it.' And we were able to pick it up and bring it to my mother-in-law's house, and it's running around with six other chickens right now.
"It's just a heartwarming story in all of this sadness."
This segment aired on August 7, 2018.