Republican Diane Harkey, Democrat Mike Levin Race To Win Conservative California District 49
Play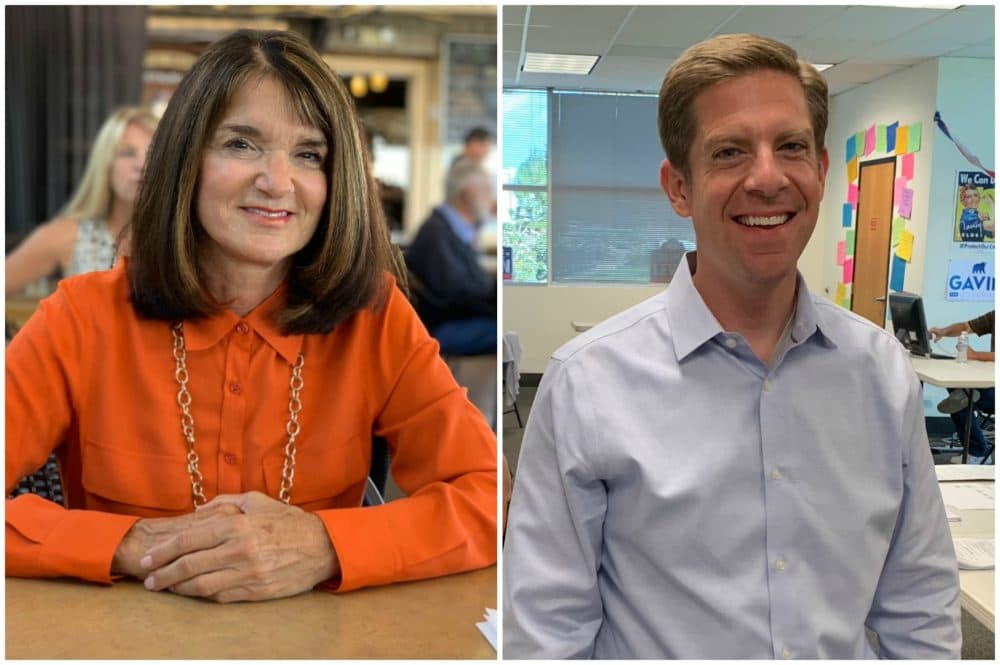 This article is more than 4 years old.
This story is part of our District Profile series, looking at House races across the country ahead of the 2018 midterm elections. Check out all of our election coverage.
---
There are four competitive congressional races in historically conservative Orange County, California, according to the Cook Political Report.
One of them is the seat being vacated by longtime Republican Rep. Darrell Issa, who just barely won his last re-election. The two people running to replace him in the 49th district are Democrat Mike Levin (@MikeLevinCA) and Republican Diane Harkey (@DianeHarkey).
Harkey used to serve in the California State Assembly, and she currently serves on a state tax board. Harkey tells Here & Now's Jeremy Hobson that she is running because of how national politics in Washington are impacting her state.
"I'm running, quite honestly, to end some of this dysfunction we have in D.C.," she says. "I mean all the resistance movements coming out of California have really hurt us."
Harkey's opponent, lawyer and first-time candidate Levin, tells Hobson he felt compelled to run for office after his work on Hillary Clinton's presidential campaign.
"And after seeing that result," he says, "my wife and I both decided what good is our background, our experience, our education, our relationships, the values that we have, the values that we want to share with our own children, if we don't stand up and try to do something for our country right now?"
Check out all of our election coverage.
Interview Highlights
On how national politics are impacting California
Diane Harkey: "There's a tax reform bill where we weren't, it did well for us in the long run on the business community, but we could have gotten a better deal had we had some people at the table. I do think that we have a lot of issues with regard to immigration that we need to get resolved, and it could be resolved if people were willing to work together. And there's also the job creation that the opportunity in this district is amazing with the military contracting and the biotech, [biomedical] that is the engine of growth here. Our biggest problem right now is the workforce. We have 3.5 percent unemployment, and we can't get qualified help. And it's hard, it's hard to get people to come to California because the high cost of living and taxation."
On if Rep. Issa contributed to what Harkey calls "dysfunction" in Washington
DH: "Darrell and I have totally different approaches to governing. I'm more of a consensus builder. I worked across the aisle in California many times. I was in the minority party, and I was the first Republican chair of the board in 15 years, which was unusual."
"I'm not a fan of the approach. He's kind of got the good cop, bad cop in reverse."

Diane Harkey on Trump
On how closely aligned Harkey is with President Trump
DH: "Well, there is a lot that I like on the economic front. I like a lot on the economic front. I'm not a fan of the approach. He's kind of got the good cop, bad cop in reverse. Generally, the elected person is the softer touch, but he's kind of frontal, and I think it makes it difficult to people [to] understand I think in this district because we're not used to that kind of approach. But I think the results he's gotten on the budget, tax reform has really helped this district, helped the state."
On where she differs with Trump on policy
DH: "Well, I would have liked to have seen, or would've liked to have seen a little bit more provision for California in our tax reform on the salt treatment but that really wasn't [Trump], that was the Congress. I think that I think more in the mannerisms and also I'm I'm not for offshore drilling. I think California has a beautiful coastline. We don't want that. The health care, we have to do something about the health care. Health care right now in California is OK, but Medicaid funding that we've accepted a lot of is driving providers out of the market because it's the state is pulling back on the reimbursement rates. Very, very difficult, so some people, the [Affordable Care Act] actually worked pretty well in California because we've got a huge population, but there and again we were seeing providers drop out of the market. So there's a lot of things to be worked on and help here."
"I don't think it did anything to unite us. It created a lot of the chaos and dysfunction."

Diane Harkey on Brett Kavanaugh
On how the Senate handled Brett Kavanaugh's confirmation to the Supreme Court
DH: "I thought it was hardcore politics. I didn't like it. It should have all been vetted pre-hearing. The United States, the people of this country should not have been dragged into that. I don't think it did anything to unite us. It created a lot of the chaos and dysfunction."
On how her husband's involvement in a Ponzi scheme is impacting her campaign
DH: "No. 1: That's a lie. There was no Ponzi scheme. So I want to set the record clear. There were allegations in the litigation from 2009 that declared everything. It was civil. It was never a criminal litigation. It was a civil litigation where you can throw anything against the wall and try to make it stick. And it went through a jury trial. So I really do believe that it's been misrepresented, and politicians when they have no record to run on, frequently like to dig up old old filings. This was a huge litigation, but I was cleared in 2013.
"People actually are asking about it now, and I'm explaining it. It's on my Web site. I tell the whole story. I tell what happened. It was 2008. Anybody involved in real estate understands the problems in 2008. The banks folded, properties were seized, it was miserable. And Mr. Levin worked for Countrywide, and he says there's an excuse for foreclosing on people, but he was a brand new, brand new attorney in a group, and they give the brand new guys these kind of dirty jobs to do."
On Levin's uphill climb running as a Democrat in a conservative district
Mike Levin: "Well, the good news is that in the primary on June 5th, 51 and a half percent of the vote went to the Democratic candidates, so the momentum is on our side. President Trump's approval rating in our district is right around 40 percent. People are ready for new leadership."
"There cannot be one set of rules for the president of the United States and one set of rules for everyone else."

Mike Levin
On if Levin wants to see Trump impeached
ML: "I'm not running on an impeachment platform. I do want to get to the truth. I want to see justice. And I ultimately, I want to see an investigation by Mr. Mueller that is not politicized. What we have seen with Devin Nunes as chair of the House Intelligence Committee is the withholding of relevant testimony and information. And you know, the other side they're making us [out] to be some angry mob, or they're saying, 'You know, don't give matches to an arsonist.' Couldn't be further from the truth. We care about our country. We care about the rule of law. There cannot be one set of rules for the president of the United States and one set of rules for everyone else. That's not how our founders created this democratic republic that we live in. Our Constitution still matters."
On if Brett Kavanaugh's confirmation has energized Democrats
ML: "Well, I have no idea. All I know is that yesterday, day before we had an extraordinary number of volunteers, more than we'd ever seen, and I don't know how much of that was related to now Justice Kavanaugh or not. But what I can tell you is that we are doing everything we can to take nothing for granted over the last month of this campaign. We are going to just do an incredible amount of work, and I won't predict anything other than that we will outwork the other side."
"I'm not going to be a partisan flame thrower. I want to be somebody who fights for our local community first and tries to get results."

Mike Levin
On Harkey's response to her husband's involvement in a Ponzi scheme
ML: "I think the victims deserve to be heard, and the facts are very simple. Her husband and Point Center Financial was found by both a jury, as well as a judge and then an appellate court, to be a Ponzi scheme, to be financial fraud, and dozens of seniors were defrauded out of millions and millions of dollars. And her husband or ex-husband, they have not paid nearly enough to those victims.
"She's tried to create false equivalence between the serious misconduct of her husband — we're talking about major financial fraud — and my work as an attorney. I'm proud of my work as an attorney. I've tried to do the right thing. I've tried to stand up for people, and the record is on my side. In my case, there was a very unscrupulous attorney, a guy named Mitchell Roth, who was disbarred and had to pay over a million dollars in restitution because he too was trying to defraud borrowers. And what we tried to do at the law firm that I worked at was tried to dismiss fraudulent lawsuits in order to try to keep people in their homes."
On the big issues for voters in his district
"Well, there are a lot of important issues: jobs, the economy, health care, education, the environment, gun violence prevention. All of them are important, and I think as it pertains to jobs and the economy, we've got a great district that is really leading the way in biotechnology, life sciences, clean energy technology, information technology. We need [a] supportive federal government where we're fully funding the research and development necessary to continue to grow those jobs and also providing the support necessary to our public schools or community colleges, our wonderful university at UC San Diego. I'm not going to be a partisan flame thrower. I want to be somebody who fights for our local community first and tries to get results."
This segment aired on October 10, 2018.