What One Pennsylvania County Reveals About Trump's Election
Play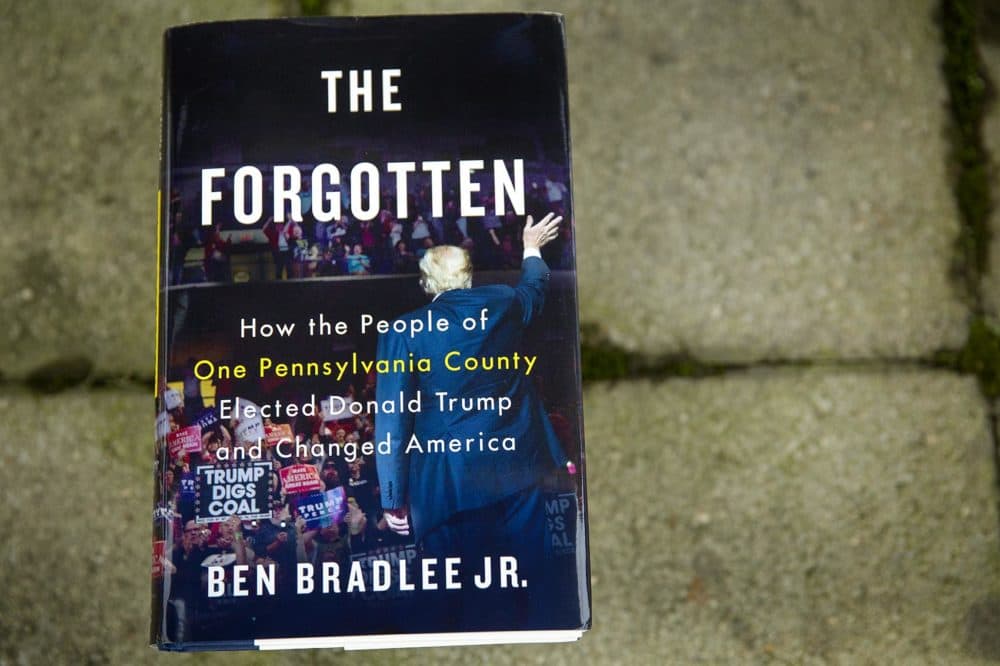 This article is more than 4 years old.
Pennsylvania was a crucial swing state in the 2016 election. Within Pennsylvania, Luzerne County swung significantly for Donald Trump — despite voting for Democrats for decades. In his new book "The Forgotten," Ben Bradlee Jr. profiles a dozen Trump voters in Luzerne County, and examines how the county is a microcosm of a divided America.
Here & Now's Jeremy Hobson talks with Bradlee (@BenBradleeJr), a former investigative reporter and editor at The Boston Globe.
Interview Highlights
On Luzerne County
"This is a county called Luzerne County in northeast Pennsylvania. The county seat is Wilkes-Barre. It's not very prosperous, fraying at the edges, and has been hurting for a long time. And combing through the vote in the three critical swing states, Pennsylvania, Michigan and Wisconsin, I discovered Luzerne County, which is a traditionally Democratic county, hadn't voted Republican since 1988 for Bush senior. President Obama won it twice, but it surged in the other direction for Trump, and he won it by 20 points, building up such a margin in this one county that it was 60 percent of his victory margin for the state of Pennsylvania. So without this one county he wouldn't have won the state or perhaps the presidency."
On how Trump was able to connect to voters in Luzerne
"Well, I think people base most of their vote for president on the extent to which they can relate to them on a human level, how likable they are. And I think that that is in the end more important than where they stand on a variety of issues. And I think the people that I settled on generally like Trump on most issues but really liked his style. They just liked his moxie, his feistiness, how he gets up every morning and has a tweetstorm and sticks it to the elites."
"The big bad media … is so often accused of looking down on people in the middle of the country or flyover country, as it's called, disparagingly. And the lesson of the campaign was obviously the big papers, the network news, didn't get out enough."

Ben Bradlee Jr.
On the religious makeup of Luzerne
"It's still predominantly Catholic, not majority, so there's a rising evangelical population. Trump's evangelical vote was off the charts. He carried 80 percent of the evangelical vote. So I talked to a woman for whom Trump was literally sent by God. She believed that Trump was sent to cure America's political dysfunction. … He's appointed evangelicals to his cabinet. Vice President Pence is evangelical. They're willing to excuse the Stormy Daniels business as essentially much ado about nothing. I think the most important issues are abortion, and he's delivering two conservative Supreme Court justices."
On opioid abuse in the county
"The opioid crisis is really bad there. Really bad. And it's affecting the entire county. Even if you don't have someone in your family who is an addict, the ripple effect is widespread. And I agree with the county coroner down there, and he is just overworked and thinks it's an enormous problem, and he's trying to raise public awareness about it. But it's pretty bleak in Luzerne County. And young people are leaving as a brain drain. There's not a lot of opportunity beyond maintenance and working in warehouses, minimum wage jobs."
On traveling through the middle of the country to write his book
"We the big bad media … actually the 'mainstream media' as it's called, is so often accused of looking down on people in the middle of the country or flyover country, as it's called, disparagingly. And the lesson of the campaign was obviously the big papers, the network news, didn't get out enough. They didn't leave New York, Washington, Los Angeles and get out to talk to these people, so that was one of my goals. And it's all about listening really. I found that basically people if you approach them in good faith, like to tell their story."
Book Excerpt: 'The Forgotten'
by Ben Bradlee Jr.
Since midsummer of 2016, it looked as though Pennsylvania might be the tipping point in the presidential election, because it personified the economic pain changing the politics of the older industrial states.
Trump's unconventional candidacy was premised in large part on his ability to persuade blue-collar and white working-class Democrats to cross over to the Republican Party. He made opposition to immigration, globalization, and what he believed were poorly negotiated trade deals a central argument in his campaign. People concerned about the economic deterioration of Pennsylvania, and particularly places like Luzerne County, were ripe for Trump. A swing, bellwether county, Luzerne has almost perfectly matched the rest of Pennsylvania's vote in every presidential election since 2000.
Luzerne seemed especially open to Trump's nationalist, economic message: he had won a whopping 77 percent of the county's vote (and 57 percent statewide) in Pennsylvania's April Republican primary, swamping his remaining opponents, Texas senator Ted Cruz and Ohio governor John Kasich.
The day before the primary, Trump attracted an overflow crowd of some twelve thousand people to Mohegan Sun Arena, outside Wilkes-Barre. The rally was a revelation of sorts for many local residents — some of whom had been embarrassed to express their public support for the turbulent and contentious candidate. Now folks attending the rally could see Trump's hidden vote start to come out of the closet, and they could witness firsthand how many of their friends and neighbors really felt about him: they seemed smitten.
On October 10, one month before the election, Trump returned to the same arena for another jam-packed rally, this one even more raucous and filled with energy. The crowd was more economically diverse than the one in April: it was still primarily blue-collar, but with plenty of middle-class and some upper-middle-class residents represented as well. One VIP took note: Vice President Joe Biden, who had been raised twenty miles north, in Scranton, had drawn a fraction of Trump's crowds while campaigning in the area for Clinton. When Biden saw video clips of the Wilkes-Barre rally showing how the crowd was responding to Trump, he later told the Los Angeles Times that he said to himself, "Son of a gun. We may lose this election."
And they did.
Luzerne County has about 320,000 people and spans 907 square miles — big enough to squeeze in the entire state of Rhode Island. Interstates 80 and 81 intersect in the county, and Philadelphia and New York City are each about a two-hour drive away. Though a mix of urban and rural, Luzerne is covered by parts of the Appalachian mountain range and is on the whole more rural in character. While there are pockets of well-heeled suburbia, Luzerne is less Northeast Corridor than Appalachia.
Like many other counties in the industrial North and Midwest, Luzerne has been in economic distress for decades due to the demise of the coal industry that was once its anchor, and also due to the loss of thousands of manufacturing jobs that replaced coal. As a result, the social fabric has been frayed by a high unemployment rate and low-wage jobs, crime, and a surging opioid epidemic. In addition, new and added tensions have been created by a spike in immigration, mostly by Hispanics. Eighty-three percent of the population remains white, 11 percent is Hispanic, and 5 percent is black.
The county has been a Democratic stronghold since the 1960s, with its working-class, union-affiliated population. It hadn't voted for a Republican president since 1988, but there had been signs that the days of Democratic domination were coming to an end. Luzerne now lines up more closely with the demographic profile of Western Pennsylvania: older, whiter voters who have seen good-paying jobs disappear and not return.
Trump's winning majority in Luzerne exceeded President Obama's thirty-thousand-vote swing from 2012, when he won the county by five thousand votes. Obama also won Luzerne in 2008. But many Democrats who supported Obama twice decided to make the leap to a much different kind of candidate in Trump.
"Obama had hope and change, Trump had knock-down-the-door and change," says John Yudichak, a Democrat who represents Luzerne County in the Pennsylvania state senate. Yudichak says he went to Trump's April rally in Wilkes-Barre and asked a union prison guard why he was with Trump.
"The man replied, 'Donald Trump makes me feel good about myself and who I am. Hillary makes me apologize if I want to hunt and don't have a college education.' " Yudichak adds that 85 percent of his district consists of "uneducated white voters," meaning those who have not gone to college. "I would hear TV pundits use that phrase all the time. That was attacking the dignity of people that go to work every day," Yudichak says. "People felt left behind and felt the deck was stacked against them. When Trump used the word 'rigged,' that resonated."
The campaign of Donald Trump exposed a gulf of culture and class that fell largely on rural-versus-urban fault lines. The election results can mostly be seen as the revenge of the rural voter. The rural poor, the working class, and the middle class felt largely ignored and condescended to by the Democratic Party, and Trump galvanized those voters' long-simmering frustrations. Electing Trump was a rebuke of globalization and the unseen ruling classes and elites who had changed his voters' lives without their consent.
---
Excerpted from THE FORGOTTEN Copyright © 2018 by Ben Bradlee Jr. Used with permission of Little, Brown and Company, New York. All rights reserved.
This segment aired on October 17, 2018.