Magnitsky Act Architect Wants Law Used Against Saudi Arabia Over Khashoggi Disappearance
06:08
Play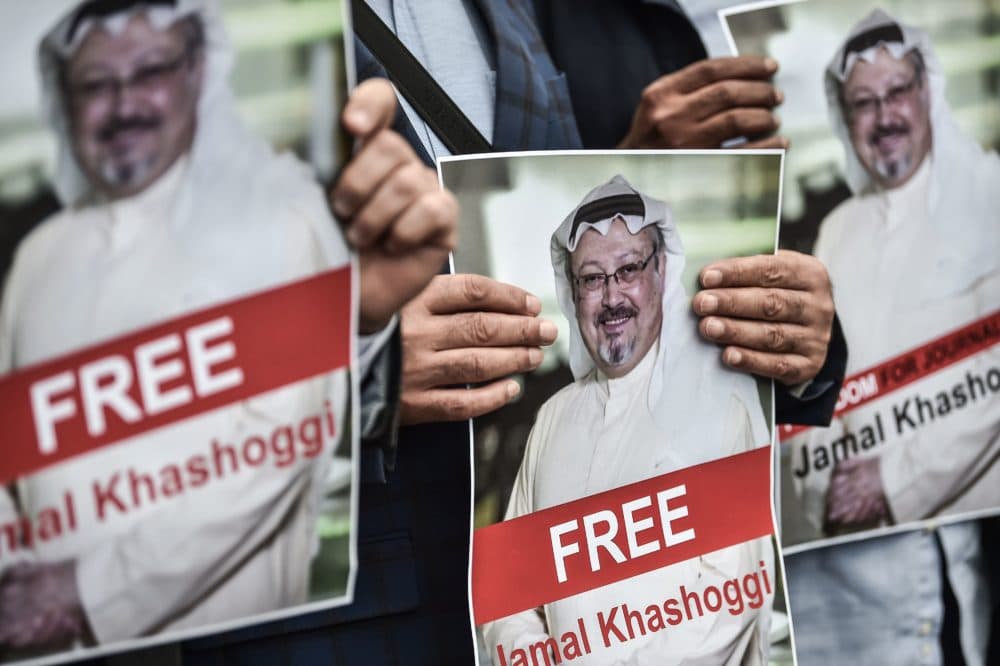 This article is more than 2 years old.
President Trump said Thursday there would be "very severe" consequences if the missing Saudi journalist Jamal Khashoggi was killed by Saudi Arabia. A bipartisan group of senators has been pushing for sanctions on Saudi officials in accordance with the Magnitsky Act.
The law is named after Sergei Magnitsky, a Russian lawyer who died in prison in 2009 after exposing government fraud. He was working with American businessman Bill Browder, who has been watching the Khashoggi disappearance unfold.
Here & Now's Peter O'Dowd speaks with Browder (@Billbrowder), head of the Magnitsky Justice Campaign, who's backing calls for the Magnitsky Act to be used against Saudi Arabia. Browder has also been a vocal critic of Russian President Vladimir Putin.
Interview Highlights
On what being sanctioned under the Magnitsky Act entails
"The Magnitsky Act basically has two functions: It freezes the assets and bans the visas of people who are sanctioned under it, and in particular what it does is it puts people on something called the U.S. Treasury [Office of Foreign Assets Control] sanctions list, and what that means is that, if you have money anywhere in the world, no bank will move your money anymore after you get put on that sanctions list.
"It doesn't even matter if you have money in America. If you have money in a Dubai bank or in a Chinese bank, that bank doesn't want to be in violation of U.S. Treasury sanctions, and your money gets frozen. And these guys in Saudi Arabia who are accused of murdering Khashoggi have a lot of money, and have that money all over the world. This would be a devastating shock for them if they get added to the Magnitsky list."
"These guys in Saudi Arabia who are accused of murdering Khashoggi have a lot of money, and have that money all over the world. This would be a devastating shock for them."

Bill Browder
On this decision being up to President Trump, and whether he would take action
"He's in a very difficult position right now, because on one hand, he has some type of irrational love for the Saudis. On the other hand, we have a situation where Jamal Khashoggi, a Washington Post columnist, was chopped up into little pieces and carted out by 15 Saudi security agents, some of whom are pictured all over the world traveling with the crown prince.
"The level of granular evil ... puts him in a terrible position if he wants to not do these sanctions, because it looks like then he's involved in a murder conspiracy to cover up the responsibility of the Saudis. I don't think that politically that's a place where he can be, no matter how much he loves the Saudis.
"[The pressure is] overwhelming for him, and it gets worse for him, because at any point if he tries to justify not doing things by sort of latching onto some of [the Saudis'] own theories, he then looks like he's part of the cover-up, and I don't think that he wants to be there and that's not a good place for him to be politically."
On how the Khashoggi disappearance has impacted him personally
"The first thing that I thought was it just reminded me of everything [with Magnitsky]. This was a very similar situation: [Khashoggi] was a critic of the regime, the regime didn't like him, they ended up then killing him and then, trying to cover up the murder, and that's exactly what happened to Sergei. So my first reaction was like, you know, déjà vu.
"And then my second reaction was that we now have a tool that we created in the legacy of Sergei Magnitsky to punish people involved in extrajudicial killings. I'm really glad that the Magnitsky Act exists and I'm really glad that members of Congress on both sides, in a bipartisan way, have gravitated to this to say, 'OK, we have a tool. Let's use it and let's use it aggressively against the killers of Khashoggi.' "
This segment aired on October 19, 2018.