Carve Out Time To Try These Pumpkin Recipes This Halloween
Play
This article is more than 4 years old.
A pumpkin is required Halloween decoration. But for Here & Now resident chef Kathy Gunst, they're also a great ingredient for cooking and baking. She brings pumpkin soup, pumpkin risotto and a pumpkin pudding for hosts Jeremy Hobson and Robin Young to share.
---
Pumpkin And Leek Soup With Fried Sage Leaves
To make this gorgeous orange soup, look for small sugar pumpkins — such as Baby Bear, Wee-B-Little, Cinderella or Long Island Cheese, to name just a few — as opposed to Halloween carving pumpkins. Top each serving with a fried sage leaf or two.
This soup is an adaptation of one from my book, "Soup Swap" (Chronicle Books).
Serves 4 to 8.
Ingredients
One 3-pound sugar pumpkin or winter squash
2 medium leeks
2 tablespoons olive oil
1 tablespoon chopped fresh thyme
1 tablespoon chopped fresh sage
Sea salt
Freshly ground black pepper
4 cups vegetable or chicken stock
Garnishes
1/2 cup heavy cream, crème fraîche or plain Greek yogurt
8 fresh sage leaves
Instructions
Cut the pumpkin in half and remove seeds and stringy sections. Then, using a wide peeler or sharp knife, remove the rind. Cut the pumpkin in half and remove the seeds and stringy sections. Cut the peeled flesh into 1 1/2-inch cubes.
Trim off the dark-green section of the leeks and save for making stock. Halve the pale-green and white sections lengthwise, rinse under cold running water and pat dry. Cut crosswise into 1/2-inch pieces.
Heat the oil in a large soup pot over low heat. Add the leeks and half the thyme and sage, salt and pepper and cook, stirring, for 5 minutes. Add the pumpkin cubes and cook, stirring for another 5 minutes. Add the remaining herbs and raise the heat to high. Add the stock and bring to a boil. Reduce heat, partially cover, and cook about 15 to 20 minutes or until the pumpkin is fork tender. Remove from heat.
Using an immersion blender or blender, puree the soup and return to the soup pot. Season to taste. The soup can be made several days ahead of time; cover and keep in the refrigerator or freeze for up to 2 months.
Reheat over low heat and taste for seasoning. Serve hot with a touch of cream stirred into the soup and one or two fried sage leaves on top.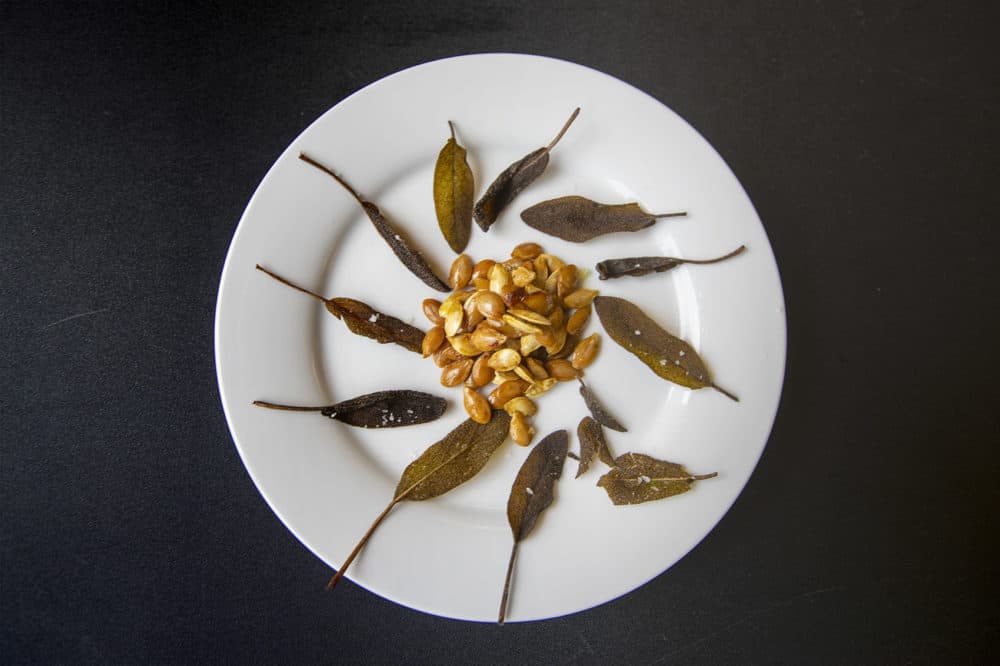 Fried Sage Leaves
You can use this technique — frying whole leaves in hot oil — with any type of fresh herb, but sage and parsley work particularly well. The herbs must be free of any grit and thoroughly dry before frying.
Makes enough to garnish 8 servings.
Ingredients
About 16 fresh sage leaves
2 cups olive or safflower oil (or a combination of both)
Coarse sea salt (like Maldon) or sea salt
Instructions
Carefully snip off the short, thin stems from the main stems of the sage, leaving the leaves attached, and set aside.
In a heavy medium skillet over medium-high heat, warm the oil until it just begins to smoke. Using tongs, very carefully lower the herbs into the hot oil, adding only a few at a time to avoid crowding the skillet and thereby lower the temperature of the oil. (The oil is hot enough when the sage leaves immediately begin to sizzle.) Fry the leaves for about 15 seconds, then carefully flip them and fry for another 15 seconds, or until they are beginning to turn golden brown.
Using a slotted spoon, transfer the leaves as they finish frying and drain on paper towels or on a clean brown grocery bag. Season with salt. Don't fry the sage leaves more than 15 minutes ahead of serving them, or they will wilt.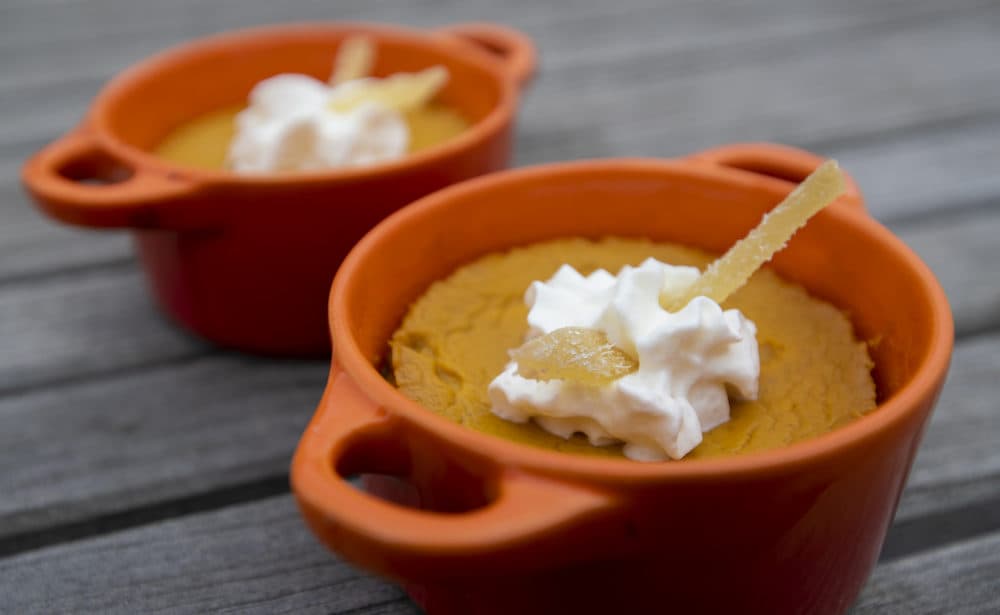 Gingersnap And Pumpkin Pudding
Puddings are so simple to make and provide large doses of comfort. This pudding has a simple, thin gingersnap crust baked in the bottom of a ramekin or Mason jar, and then a pumpkin batter poured on top.
You can serve warm from the oven, or refrigerated. The pudding can be made a day ahead of time if serving cold.
Serves 8.
P.S. You can use good organic, canned pureed pumpkin here!
Ingredients
1 1/2 cups ground gingersnaps*
5 tablespoons melted butter
One 15-ounce can organic pumpkin puree
1/3 cup sugar
3 tablespoons maple syrup
1/2 teaspoon ground ginger
1/4 teaspoon allspice
1/4 teaspoon ground cinnamon
1/2 teaspoon salt
3/4 cup milk
3/4 cup heavy cream
2 eggs
Whipped cream, for garnish
2 tablespoons very thinly sliced crystallized ginger, for garnish (optional)
*Ground the cookies in a blender or food processor or place in a tightly sealed plastic bag and smash with a rolling pin.
Instructions
Make the gingersnap crust: Heat the oven to 350 degrees.
Mix the ground gingersnaps and butter in a small bowl. Press into the bottom of eight small 1/2-cup ramekins or small 1/2-cup Mason jars. Bake in the heated oven for 10 minutes; remove and cool.
Make the pudding: In a medium saucepan whisk together the pumpkin, sugar, maple syrup, ginger, allspice, cinnamon and salt. Add the milk and cream and eggs and whisk to totally incorporate all the ingredients. Place over low heat until gently bubbling. Pour the pudding on top of the cooled crusts and bake on the middle shelf for 30 minutes; the pudding should still wiggle a bit when you gently shake it but it should also look set.
Serve warm or refrigerate for at least 3 to 4 hours. Serve topped with whipped cream and slivers of ginger, if desired.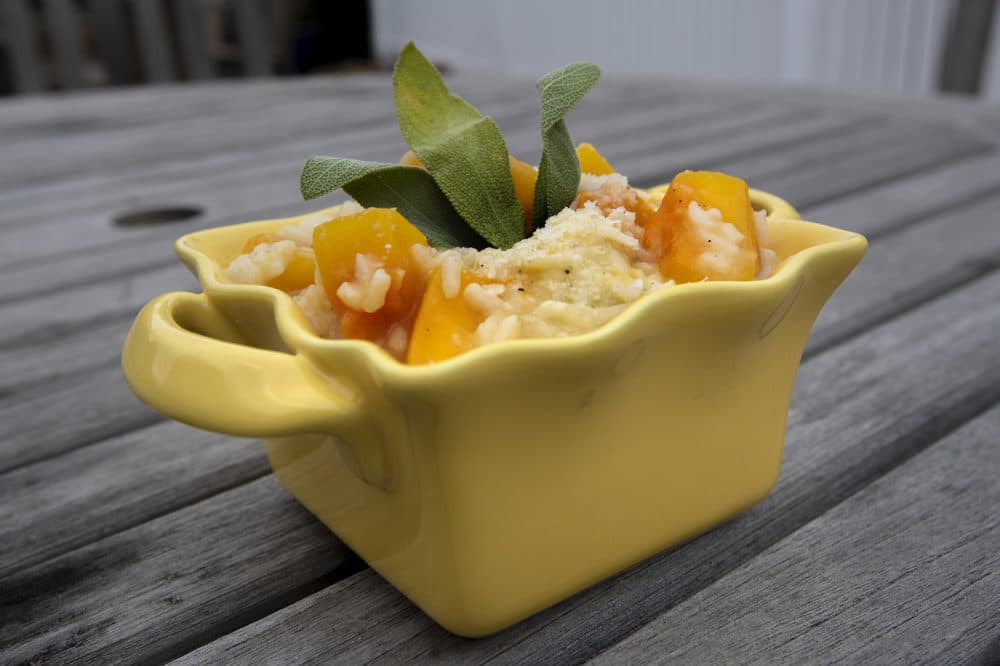 Pumpkin Risotto
This is the ultimate comfort food for autumn — creamy and savory with chunks of peeled pumpkin.
Risotto is quite simple but takes a little patience. You want to stir the rice quite a bit and slowly incorporate the stock. If you're really short on time you can use canned organic pumpkin puree, but the chunks of fresh-peeled pumpkin are really worth the effort.
Serves 4.
Ingredients
About 5 cups vegetable or chicken broth
1 tablespoon butter
1 tablespoon olive oil
1/2 cup finely chopped leeks, shallots or onions
1 clove garlic, chopped
Salt and freshly ground black pepper
1 cup Arborio rice
1/2 cup dry white wine
1 cup pumpkin chunks, cut into 1/4-inch pieces* or 1 cup organic pumpkin puree
1 cup grated Parmesan cheese
Fried sage leaves, recipe above (optional)
*Use a 2-pound sugar pumpkin. Peel the skin off and remove the stringy parts and seeds.
Instructions
In a saucepan bring the stock to a gentle simmer.
In a heavy-bottomed medium saucepan, heat the butter and oil over low heat until the butter is melted. Add the leeks and garlic, salt and pepper and cook for 6 minutes, stirring occasionally. Stir in the rice, making sure to coat the rice with the leeks. Raise the heat to high and add the wine; let cook for about 3 minutes or until the wine has almost evaporated.
Reduce the heat to moderately low and add the pumpkin chunks and stir in 1/2 cup of the hot stock. Stir until the liquid is almost absorbed. Add another 1/2 cup stock until almost absorbed. Repeat until you have used all the stock and the rice is almost tender. (You want the risotto to still have a bite like al dente pasta.) Taste for seasoning, adding more salt and pepper as needed. The pumpkin pieces should be very tender.
Remove from the heat and add 1/2 cup of the cheese. Risotto is always best served immediately. Serve hot, topped with fried sage leaves, if desired, and the remaining grated cheese.
This segment aired on October 30, 2018.