Detroit Public School Students Allege They Were Deprived Access To Literacy In Lawsuit
Play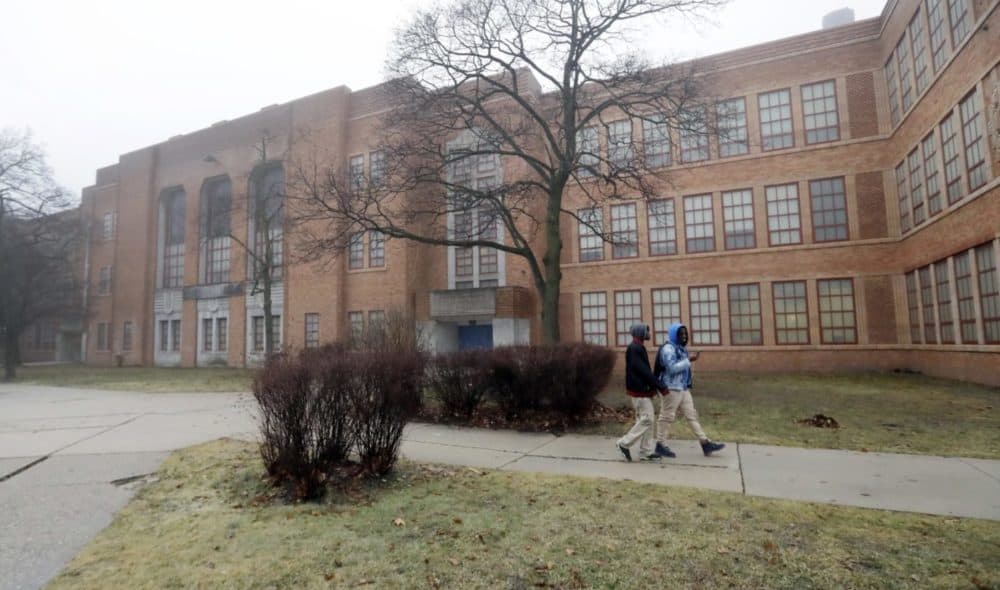 This article is more than 3 years old.
A group of former students from five of Detroit's worst-performing public schools is suing the Michigan Department of Education and Democratic Gov. Gretchen Whitmer for their constitutional right to access literacy.
In the 136-page lawsuit, six plaintiffs allege that a lack of up-to-date books, classrooms without teachers — but filled with black mold and rodents — building deficiencies and extreme temperatures deprived them of an adequate education.
One of the plaintiffs, Jamarria Hall, graduated in 2017 from Osborn High School. Now, the 20-year-old is trying to get through community college in Tallahassee, Florida, an undertaking he says has been difficult due to his lack of high school education.
He likens his four years in high school to "prison or daycare." He says most days, students would sit in classrooms for hours — sometimes without a teacher — watching movies such as Disney's "Frozen." He says the school lacked heating or cooling, so days below freezing, students would wear winter coats to class.
The school lacked efficient drinking water and bathroom facilities, he says. The lawsuit details students finding "bullets, used condoms, sex toys, and dead vermin on the playground" and eating "moldy bread and expired milk" during lunch.
Those conditions piled onto the root of the lawsuit: the lack of a basic education.
Detroit has been strapped for qualified teachers. Hall claims some of his educators taught classes they knew "nothing" about, saying sometimes he would step in to help them. Hall also claims the high school's books were dated or marked as resources for primary schoolers.
"Education is the basics to life," he says. "How can you be a productive citizen to society without literacy or without being proficient in math or reading above a third-grade level?"
Some Detroit teachers are as angry as Hall. Renee Schenkman, once a teacher at the now-closed Experiencia Preparatory Academy, said for most of the time, she did not have a curriculum and relied on Google for help, according to NBC News.
He says the lawsuit doesn't place blame on the teachers, but rather shows how under-resourced they were.
"I know the teachers care. I know the students want to learn," he says.
"The people in the community want better," he says, considering the learning conditions' impact reaches farther than just the students.
"You can see it on the incarceration rate. You can see it on the death rate. You can see it on the dropout rate. You can see it on the gross income of the city," he says.
The Department of Education and Gov. Whitmer declined to comment on the case. The governor has said that the state addressed public schools in Detroit in 2017 when it converted the main school district to a locally elected school board.
Whitmer has also said Michigan spent millions in 2016 to create a new debt-free school district called the Detroit Public Schools Community District.
In 2018, a similar class-action lawsuit was filed in Rhode Island after students accused the state of "failing to provide tens of thousands of students throughout the state with the necessary basic education and civic-participation skills."
A three-judge panel in a circuit court is set to hear oral arguments on the Detroit case. A district court judge initially threw out the case, stating that their education wasn't unconstitutional though the claims they made were concerning.
But Hall disagrees, saying "the gap in the room" is clear: He and his fellow students can't "live the American dream" when they severely lack literacy proficiency to be able to effectively and intelligently act as civic participants in a democracy.
As a plaintiff on the lawsuit, he's taking a stand for the future of Detroit Public Schools.
"I'm not saying that all schools need to be perfect," he says, "but I'm saying that everyone at least needs to have a chance."
---
Marcelle Hutchins produced and edited this interview for broadcast with Kathleen McKenna. Serena McMahon adapted it for the web.
This segment aired on November 7, 2019.