Climate Change Is Destroying The World's Beaches, New Study Finds
04:52
Play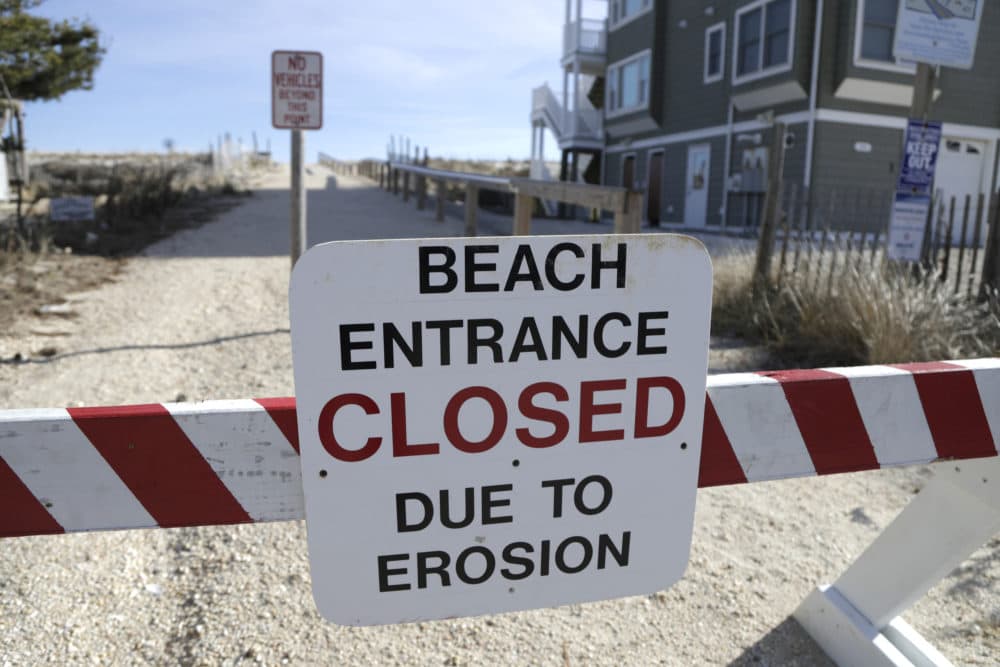 This article is more than 1 year old.
Climate change could wipe out as many as half of the world's sandy beaches by the end of the century, according to a new study published this week in the journal Nature Climate Change.
Coastal erosion and rising sea levels, driven by rising global temperatures, could result in the loss of almost 50% of the world's sandy beaches by 2100, according to the study's researchers at the European Union's Joint Research Centre.
Researchers studied satellite images from the past 30 years and sea-level rise projections to make predictions about how coastlines will evolve. The impact of storms on the coastline is also expected to become more intense as sea level rises, says Michalis Vousdoukas, an oceanographer at the European Joint Research Center and lead author of the study.
Scientists are hoping this new research serves as a "wake-up call," Vousdoukas says. Nearly 40% of the erosion predicted "could be mitigated just by reducing greenhouse gas emissions" and also by employing better coastal management practices.
"Beach erosion is normal, and if there is no human presence, it's absolutely not a problem because nature always finds equilibrium," he says. "It's the human element that makes it a problem."
Sea-level rise will vary across the globe, Vousdoukas says. Erosion will be greater depending on the type of terrain; the flatter the coastline, the more it is expected to recede.
The areas expected to be most at risk include parts of North Africa, Central America, West Africa, northern Australia and small island nations, he says.
"In Australia, we predict that there will be a lot of erosion in the north part of the continent where there is a lot of unoccupied land," Vousdoukas says. "Our findings are more important for the south part, where you have most of the large cities."
Vousdoukas says that in these areas, human development is a major driver of erosion.
"When you have an occupied coastline and you have a sandy beach, the system cannot retreat naturally and accommodate the new conditions," he says.
Not only do beaches serve an important cultural and economical purpose, Vousdoukas says they are equally as important ecologically.
"They host species that can only thrive in this environment," he says. "They provide natural protection. So it's kind of an ecosystem service."
---
Chris Bentley produced and edited this interview for broadcast with Kathleen McKenna. Samantha Raphelson adapted it for the web. 
This segment aired on March 6, 2020.