For Chef Thomas Keller, Cooking Is Emotional
Resume
Host Peter O'Dowd speaks with chef and restaurateur Thomas Keller about his new book, "The French Laundry, Per Se." Keller also discusses how his company has fared during the coronavirus pandemic.
Steak and Potatoes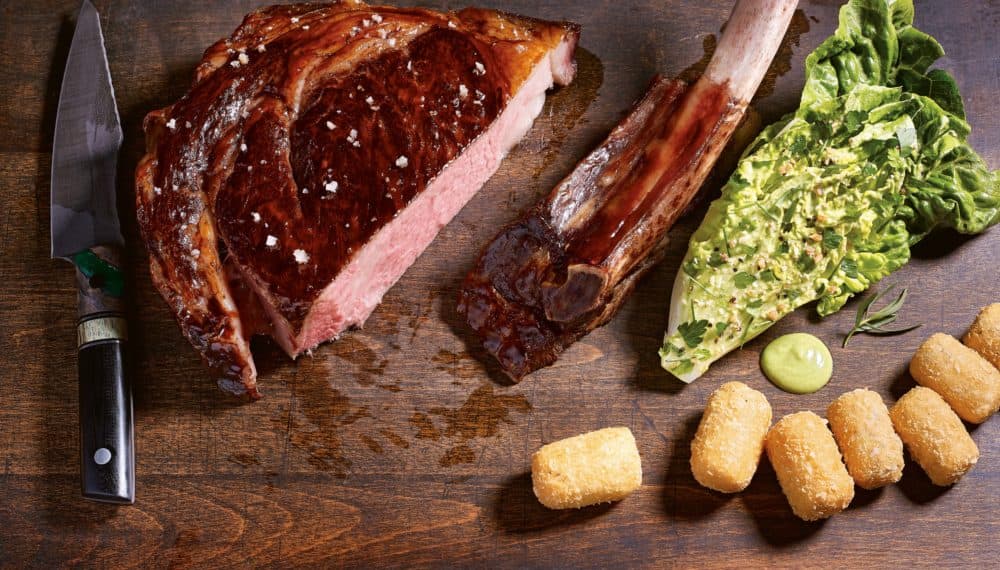 100-Day Dry-Aged Côte de Boeuf, Braised Brisket "Tater Tots," and Gem Lettuce Salad with Tony's Green Goddess Dressing
We always like to serve a main meat course. Here David returns to the story of his father's favorite restaurant, Augustino's Ristorante, in Greeneville, Tennessee, where his father would dip his steak in their Green Goddess dressing. (David would eventually wash dishes there when he was sixteen.) He swears by their take on the famous salad dressing from the 1970s, and in keeping with the '70s motif, he serves it with tater tots.
The steak
We dry-age this beautiful bone-in rib steak from Snake River Farms for one hundred days. We then seal it in a bag with beef fat and cook it at 64˚C (147˚F)—yes, that high—for two hours, let it rest in that fat, then finish it over a smoky wood fire.
Tater tots
Russet potatoes are cooked whole, then peeled, grated, and mixed with about 20 percent braised beef brisket. They're shaped, then coated in dried potato flakes, using a standard breading procedure, and deep-fried for service.
Green Goddess dressing
Equal weights diced sweet onion and Heinz tarragon vinegar, along with sliced garlic, capers, and anchovies, plus a hit of salt and sugar are combined, macerated, and blended until chunky, then mixed with avocado, mayonnaise, and crème fraîche. Fresh chopped watercress, parsley, tarragon, and dill finish the sauce, which then coats a half head of Gem lettuce.
Sauce on the side!
Extra Green Goddess dressing, of course
---
Excerpted from The French Laundry, Per Se by Thomas Keller (Artisan Books). Copyright © 2020. Photographs by Deborah Jones.
This segment aired on October 28, 2020.