Disarming domestic abusers: An investigation into how U.S. gun laws fail survivors
Play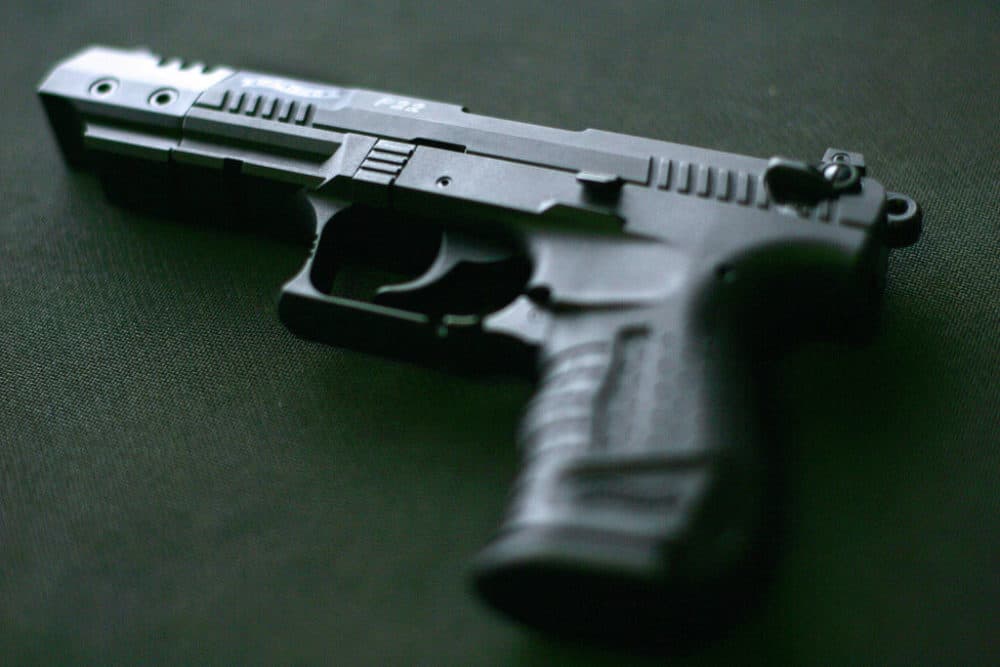 This article is more than 1 year old.
People convicted of domestic abuse in the U.S. are legally banned from having guns.
But a new investigation has found that's not always the case — and the consequences that can follow are tragic for the people those laws were meant to protect.
From 2017 through 2020, at least 110 people were killed by domestic abusers using guns they were not supposed to have, journalist Jennifer Gollan found. And that's likely an undercount since she was able to obtain information from only 21 states. She reported on the issue in an exclusive year-long investigation by Al Jazeera, Reveal from the Center for Investigative Reporting, and The Guardian.
New data from the FBI show a 58% jump in intimate partner gun homicides over the last decade. And during the pandemic, an "especially lethal period," gun homicides involving intimate partners rose 25% in 2020 compared to 2019, Gollan says.
"This is the highest level in almost three decades," she says.
Women took the brunt of the violence. Last year, more than two thirds of victims fatally shot by an intimate partner were women, she notes.
Gollan met several families in different parts of the country who had lost loved ones due to domestic violence, including the family of Jazmine Willock who lived in Tucson, Arizona.
Willock's partner Taris Ford-Dillard, who had a history of domestic abuse, had a handgun even though he was legally barred from possessing one.
Police records document Willock describing to a detective how she feared for her life after an incident in July 2017. Willock explained to police how Ford-Dillard threw her to the ground, smashed her face with a shoe and taunted her with a gun he wasn't supposed to have.
That night, she escaped by running, jumping over a fence and making it to a store where someone called for help.
Ford-Dillard was indicted for "felony aggravated assault with a deadly weapon and domestic violence kidnapping," according to Gallon's reporting. But when police arrested him, officers only found a gun magazine — but no gun. Ford-Dillard was also charged with more misdemeanor domestic violence offenses months later after another incident involving Willock.
While the judge ordered that Ford-Dillard not have a gun after his initial appearance in court, no police officer or judge made sure of it.
In January of 2018, Ford-Dillard shot and killed 22-year-old Willock in her home before killing himself "with this gun that he was not supposed to have," Gollan says.
While laws and state statutes are in place to remove guns from offenders, Gollan says the laws are not being enforced, and if they are carried out, it's done sporadically. She says the laws also don't lay out standard practices for offenders to surrender guns or for police officers to seize those guns — leaving officers, prosecutors and judges to utilize an honor system.
"Basically, we're functioning on this system where offenders are trusted to disarm themselves," she says.
Chad Absher — a convicted felon who should not have possessed a gun — is accused of killing his girlfriend, Ashlee Rucker of Jacksonville, Florida, in 2017. Ashlee Rucker's sister, Lisa Rucker, who was also shot by him but survived, told Gollan she thought authorities should have known that he had a firearm.
Lisa Rucker acknowledges that people can find other ways to get their hands on weapons — but that law enforcement can "go one step ahead" by better enforcing the law already in place.
"I feel like a lot of government people don't see how bad of an issue it really is," she said. "They don't see the ripple effect from it."
Gollan heard from many families whose lives have been torn apart by domestic violence-related shootings. In Lisa Rucker's case, she says her then 9-year-old nephew and 4-year-old son were cowering in a nearby bedroom as their loved one was killed.
"There are so many stories like this where children are impacted for life," Gollan says, "and their survivors are broken as a result."
Many of these families blame the armed offenders. Gollan also argues that the investigation exposes how the broken system lets "abusers kill people with guns that they shouldn't have had in the first place."
No federal agency tracks how many people are killed by intimate partners barred from having guns, she discovered. Thomas Chittum, the Bureau of Alcohol, Tobacco, Firearms and Explosives acting deputy director, points to the "decentralized" law enforcement system, where cases are handled at the local or state level.
"Tragically, a lot of these [firearm violations] only come to law enforcement's attention when something terrible does happen," Chittum told Gollan in an interview.
But Gollan has the data from her investigation, and she says intimate partner gun homicides are soaring. Gathering the numbers on the federal level would provide policymakers with "critical data" to inform policies and address the crisis, she says.
"We need to have a sense of how big the problem is. In our case, our analysis found that in just 21 states, more than 100 people have died at the hands of prohibited possession offenders who should not have had guns because they had criminal convictions," she says.
Democratic Rep. Eric Swalwell of California has introduced legislation that would create model firearm relinquishment procedures for states to use, she says. The bill, called the No Guns for Abusers Act, died twice in Congress — but Rep. Swalwell reintroduced the bill once more in Feb. of 2021.
It's not a perfect piece of legislation, Gollan says, because it only provides model procedures and does not require states to adopt the measures. Under the act on the federal level, the Department of Justice would be required to adopt the practices to the extent possible, she says.
"But the problem is, many of these cases are handled at the state level and again without requirements in place," she says. "These are just recommended procedures."
---
Tinku Ray produced and edited this interview for broadcast. Serena McMahon adapted it for the web.
This segment aired on October 27, 2021.