WBUR CitySpace At The Lavine Broadcast Center Debuts February 28 with Free Grand Opening Event Featuring A 'Radio Boston Live Broadcast' and More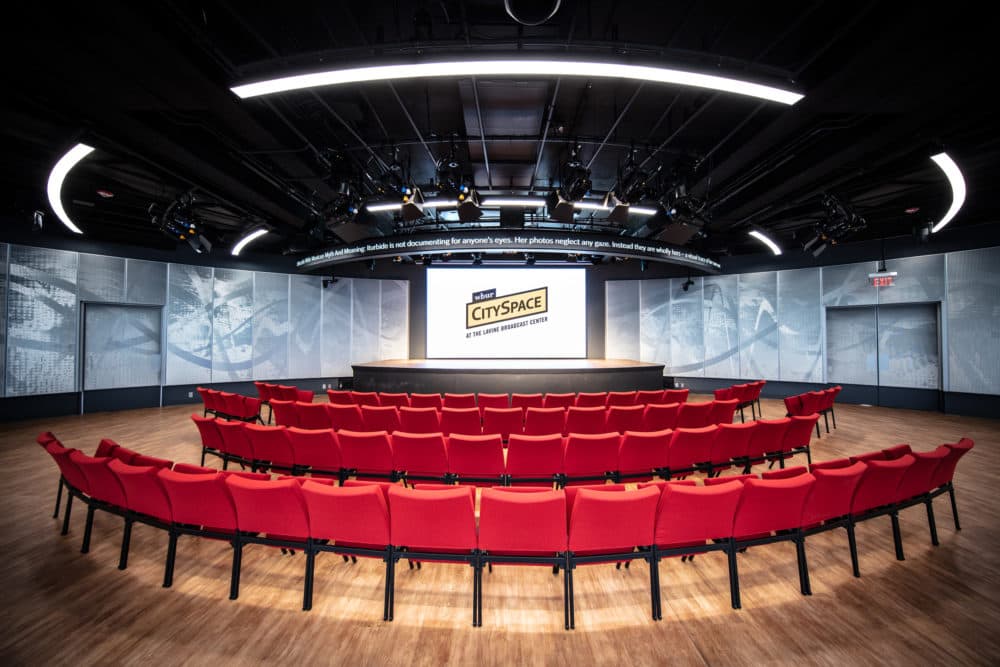 WBUR will open WBUR CitySpace at The Lavine Broadcast Center on Thursday, February 28 with a free community day featuring a live Radio Boston broadcast, interactive demos and a custom art installation by Boston-based Masary Studio.
WBUR CitySpace is the new state-of-the-art multimedia venue located at 890 Commonwealth Avenue on the Boston University campus. It will bring the stories you hear every day from WBUR and NPR hosts and reporters to life. From On Point's Meghna Chakrabarti interviewing technology leaders on today's biggest benefits and risks, to Host/Reporter Deborah Becker moderating a panel on tackling gun violence, to Reporter Shira Springer interviewing last year's Marathon winner, Des Linden, to Reporter Shannon Dooling moderating a panel of Central American women refugees, to CommonHealth Editor Carey Goldberg interviewing two MIT millennials working on CRISPR, to Open Source's Christopher Lydon interviewing MacArthur Award-winning composer Mathew Aucoin, to Here & Now's Robin Young interviewing Shaina Taub, a rising star in theater being compared to Lin Manuel Miranda. Upcoming guests in the inaugural year of CitySpace include Margaret Atwood, The Good Place creator Michael Schur, Philip Glass, Amy Cuddy and Janeane Garofolo, among others.
In celebration of its official public opening, CitySpace will host a free community day on Feb. 28:
3 – 4 p.m. WBUR Live: Radio Boston Live reports on the biggest local news of the day.
4 – 5 p.m. Podcast to Watch: WBUR & Reddit's Endless Thread hosts Ben Brock Johnson and Amory Sivertson share stories from the front page of the internet.
5 – 5:30 p.m. Boston's New Home For Public Conversation: Morning Edition host Bob Oakes is joined by reporter/editors from the WBUR Newsroom: Barbara Moran (Earthwhile); Christine Willmsen (Investigative Journalism); Carey Goldberg (CommonHealth) and Shira Springer (Sports and Society).
5:30 - 7 p.m. The ARTery Happy Hour: The ARTery, WBUR's arts and culture team, presents a sneak preview of reporting and events to come including a performance from The Moth Storyteller Bethany Van Delft and Tiny Desk local fan favorite musician Kerrin Connolly.
3 – 7 p.m. Ongoing Interactive Demos: Meet Ryan Edwards and Samo Okerstrom-Lang of Masary Studios and experience their custom art installation created for CitySpace.
"I like to think of CitySpace as the 92nd Street Y of Boston – offering an array of content from author interviews to political debate to musical performances. There will be nothing quite like it in Boston," said Amy Macdonald, WBUR community engagement director who's leading the programming effort. "We've already booked a wide range of events that will bring people here to be informed, educated and inspired."
Mining the rich content that Boston has to offer, CitySpace is partnering with many universities, teaching hospitals, theaters, cultural organizations, and non-profit institutions, such as Oxfam America, The Jewish Arts Collaborative, Facing History, The Wilbur, The Boston Globe, The Boston Calendar, TEDx, The Moth, The Boston Lyric Opera, and the Mass Cultural Council to name a few.
There will also be regularly scheduled event series such as:
• Curated Cuisine with local Boston chefs the first Monday of every month;
• Local MOTH StorySlams the second Wednesday of every month; and
• Stepping Up: Business in the Era of Climate Change, a five-part series on what businesses need to do to combat the effects of climate change in collaboration with Harvard Business School and Boston University Questrom Business School.
CitySpace will expand how WBUR serves the citizens of Greater Boston with live events ranging from discussions, debates and lectures, to films, music, artistic performance, youth events, podcasts, and live radio broadcasts. The full list of CitySpace events and tickets on sale to the public can be found at www.wbur.org/cityspace.