The Annual Daniel Schorr Journalism Prize Competition Call For Entries
WBUR invites public radio journalists age 35 and under to submit entries for the annual Daniel Schorr Journalism Prize. Submissions should contribute to the audience's understanding of a significant issue and demonstrate creativity and initiative while adhering scrupulously to the highest standards of journalism.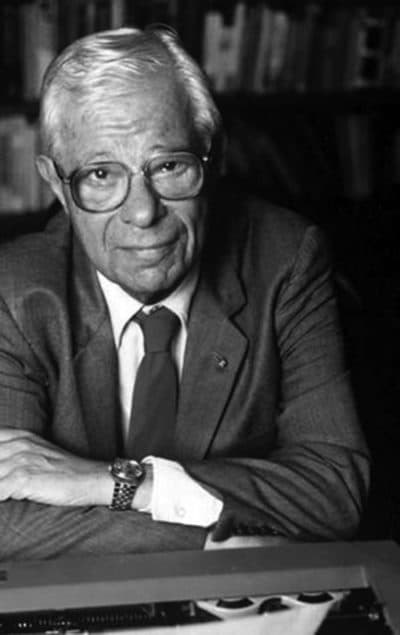 Eligible works will have been broadcast or published between Jan. 1 - Dec. 31, 2019. The $5,000 Schorr Prize – sponsored by WBUR and Boston University, and funded by Jim and Nancy Bildner – recognizes a rising star in public radio and seeks to inspire a new generation of journalists to stretch the boundaries of the medium. Complete guidelines are online at wbur.org.

The award is named for the late Daniel Schorr, who gave American journalism a lifetime of commitment through his insight, intelligence and integrity. Schorr believed strongly in supporting talented journalists as they rose through the ranks of public radio. The selected Schorr Prize winner will be honored at the WBUR Gala which takes place on May 11 at the John F. Kennedy Presidential Library and Museum in Boston.

The prize last year was awarded Hannah Dreier, immigration reporter for ProPublica. The winning segment was produced at This American Life in partnership with ProPublica, where Dreier serves as an immigration reporter.
Dreier's entry, "The Runaways," is an hour-long investigative report that documents how the Suffolk County Police Department in New York failed to investigate a series of gang murders when the victims were immigrant teenagers. Days after the story aired on This American Life, the Suffolk County legislature forced the police department to conduct an internal investigation into how it had handled the MS-13 murder cases. "The Runaways" proves that investigative reporting continues to effect change.
Past Schorr Prize winners also include Wilson Sayre, formerly of WLRN (2017); WYNC Reporter Sarah Gonzalez (2016), now host and reporter with NPR's Planet Money; Patrick Madden, now WAMU Senior Reporter (2015); Reporter Devin Katayama, now host of KQED's The Bay podcast (2014); Becky Vevea, now WBEZ Political Reporter (2013); Colorado Public Radio reporter Grace Hood (2012); David Greene, now a Morning Edition host for NPR (2011); Ailsa Chang, now an All Things Considered host for NPR (2010); Chana Joffe-Walt, now producer/reporter for This American Life (2009); Guy Raz, now host of NPR shows "How I Built This," "TED Radio Hour" and "Wow In the World" (2008); and NPR investigative correspondent Laura Sullivan (2007).


For more information contact:
Kelvin L. Brooks
Syndication Sales Manager
klbrooks@wbur.org
(617) 358-1461


All entries must be received at or before 5 p.m. EST on Monday, March 9, 2020.
Submit your entry online here.