Jeremy Hobson Signs Off As Co-Host Of Here & Now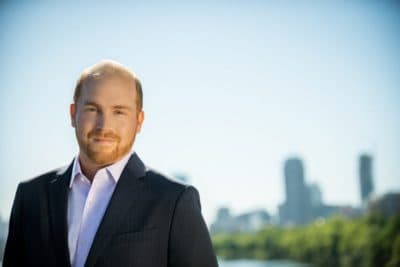 On October 16, Jeremy Hobson will sign-off as co-host of Here & Now, a co-production from WBUR and NPR. He has been in the co-host chair for more than seven years, joining Here & Now in 2013 as the show expanded from one to two hours to meet the growing demand for news programming throughout the broadcast day. Before that, Jeremy was the host of the Marketplace Morning Report.
"I've known Jeremy since he was an NPR intern on All Things Considered," said WBUR CEO Margaret Low. "He is a very talented journalist and host, and helped make the show a big success with stations and audiences alike."
Here & Now has tripled its audience since 2013 and today reaches an estimated 5 million weekly listeners on 489 NPR member stations across the country. Jeremy will be with Here & Now for another week and will say goodbye to the audience at the end of the show on Oct. 16, Friday.
Listen to Hobson's farewell message here:
This article was originally published on October 09, 2020.