Meet WBUR's 2023 Newsroom Fellows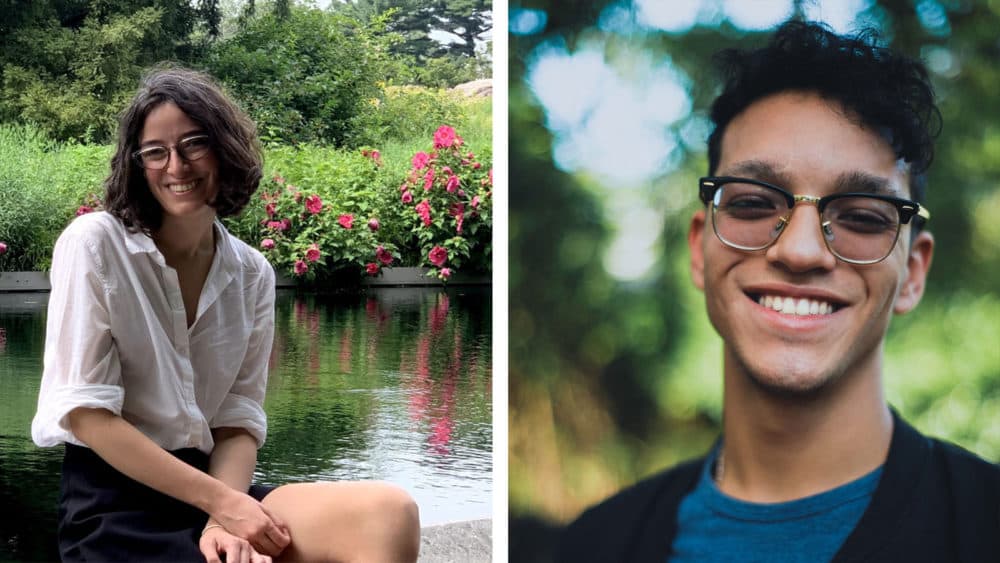 WBUR is proud to announce our 2023 Newsroom Fellows, Jacob Garcia and Irina Matchavariani. The fellowship provides hands-on training through rotations with various newsroom departments and is one way WBUR aims to cultivate the next generation of emerging journalists and leaders. Our fellows not only have passions for public radio, but they also have demonstrated commitments to advancing issues of, and amplifying, underrepresented voices. We're excited to welcome them to our newsroom in January!
Tell us a little about yourself.
Jacob Garcia: I'm a proud son of immigrants with a background in documentary video, which has slowly blossomed into a career in journalism. My past experience includes reporting and original video production on GBH News's Arts & Culture Desk. Before that, I worked on Robert Reich's Inequality Media team, with a focus on informing the public about different injustices and disparities. If I'm not working, I hope to be seeking new experiences and above all else, good food.
Irina Matchavariani: I came into the journalism graduate program at the University of Missouri with no previous training in the field. And I traveled thousands of miles, all the way from the republic of Georgia! All I had at that point was a passion for storytelling and an interest in how other people experienced the world. Throughout my life, I've been blessed with opportunities to learn five foreign languages on top of my native Georgian, and I've studied in Germany, Morocco and the U.S. Those experiences taught me to be open, to listen to people whose lives are drastically different from mine and to do my best at translating their words for wider audiences.
What passions are you excited to bring to this fellowship?
JG: WBUR is a place that people come to for great storytelling and captivating audio. I'm excited to bring my video skills to the table and create more visuals for the newsroom. I think we're in an era now where quick videos don't have to be for humor, but can help inform the public. The people of Boston and beyond have countless stories to tell, and I'm excited to capture as many of them as possible.
IM: I consider myself curious – impressionable, even. Though I've been in the U.S. for two years already, I still try to maintain the newcomer's perspective and let my surroundings surprise me. In this fellowship, I'll be taking my first steps on the radio journey and I can't be more excited. I believe in active listening when working on stories, so it's a beautiful coincidence to find myself on air all of a sudden!
What does it mean to be part of a mission-driven, public media organization?
JG: I'm very fortunate to have worked exclusively at non-profit, public media companies since graduating with my bachelor's. It's something that I find a lot of pride in. I believe that all members of the public deserve access to fair and thoroughly fact-checked news. It's great to know I'll be able to help turn that belief into reality with WBUR.
IM: It is all about accessibility and representation. Public media is there for everyone and it should do its best to capture the heart and soul of the community it's serving. I am thrilled to immerse myself in my new surroundings and locate impactful stories that listeners of WBUR might not have considered before.