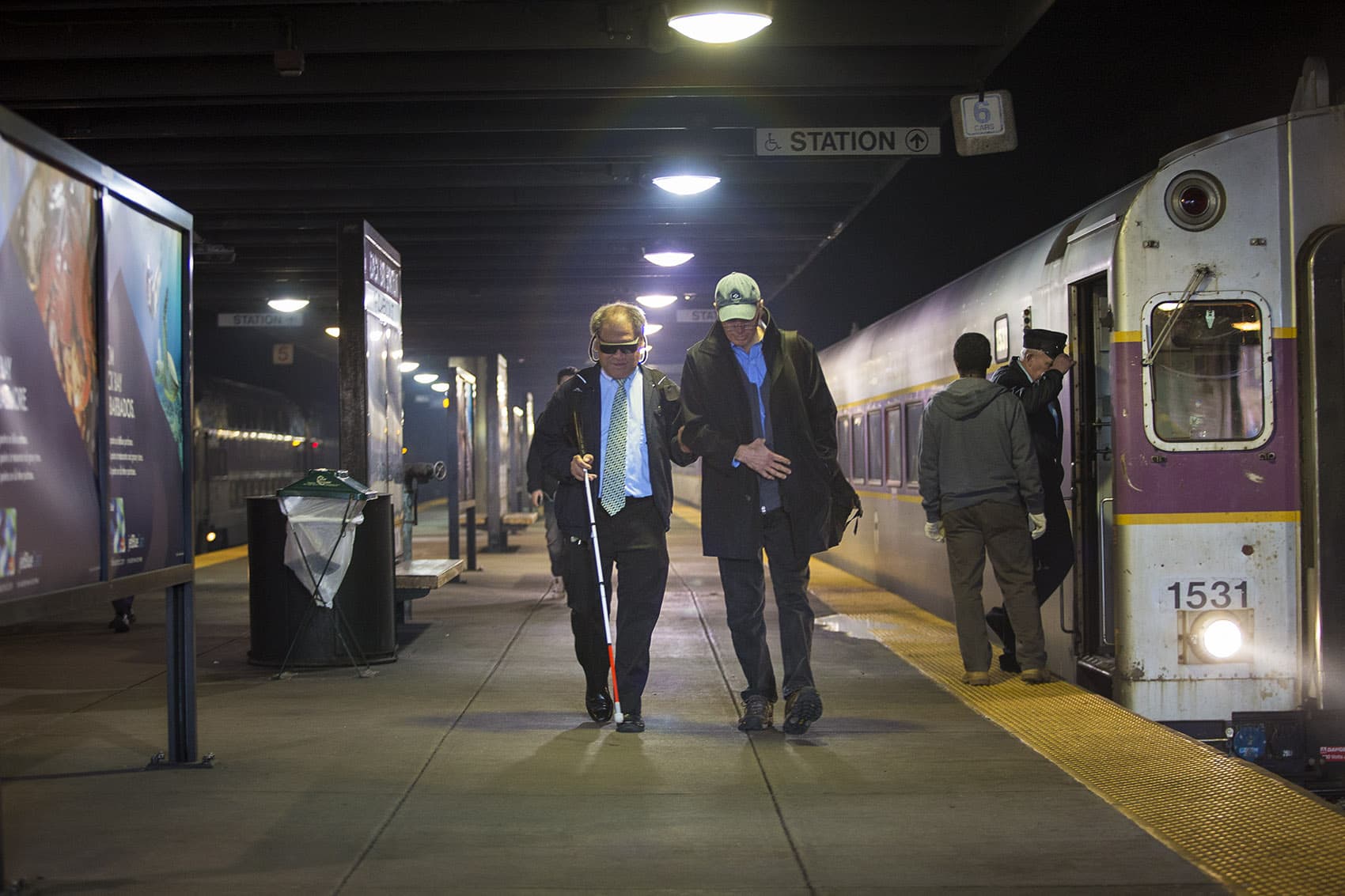 In high school back in the 1970s, Blair Wong recalls he often had trouble staying awake during physics class, but one day was different: the day he learned how light passes through a lens. Blair became obsessed with understanding how a transparent curve could focus light.
"I didn't really care for the other chapters in my physics textbook in high school," Blair says, "but I read the optics chapter probably about 20 times."
The lens he loved most was the human eye.
"Romantically, it's the window to the soul."
Blair's passion never went away. He got his degree in opticianry, and by his early 20s, he was a practicing optician at Cambridge Eye Doctors, his dream job. It was around this time, though, that something unsettled him.
"My friends and I were going to see a movie, and my friends, boom, went right to a row of seats, and I had no idea where they went," Blair says. "One of my friends came back to get me and said, 'You can't see in here?' "
With his optical training, Blair sensed something was off. He ticked through all the possible reasons for his difficulty seeing in the dark, and then he remembered that his brother Bruce had mentioned something similar. Blair knew they should see a specialist.
He remembers sitting on the floor outside the doctor's office, waiting for news, and then they got their diagnosis: retinitis pigmentosa, a degenerative disease that slowly robs you of your eyesight. Blair and his brother's vision would cloud over and narrow more and more each year until they were completely blind.
"It was devastating. I remember sleeping for [what] felt like three months, and thinking, how I was going to overcome this?"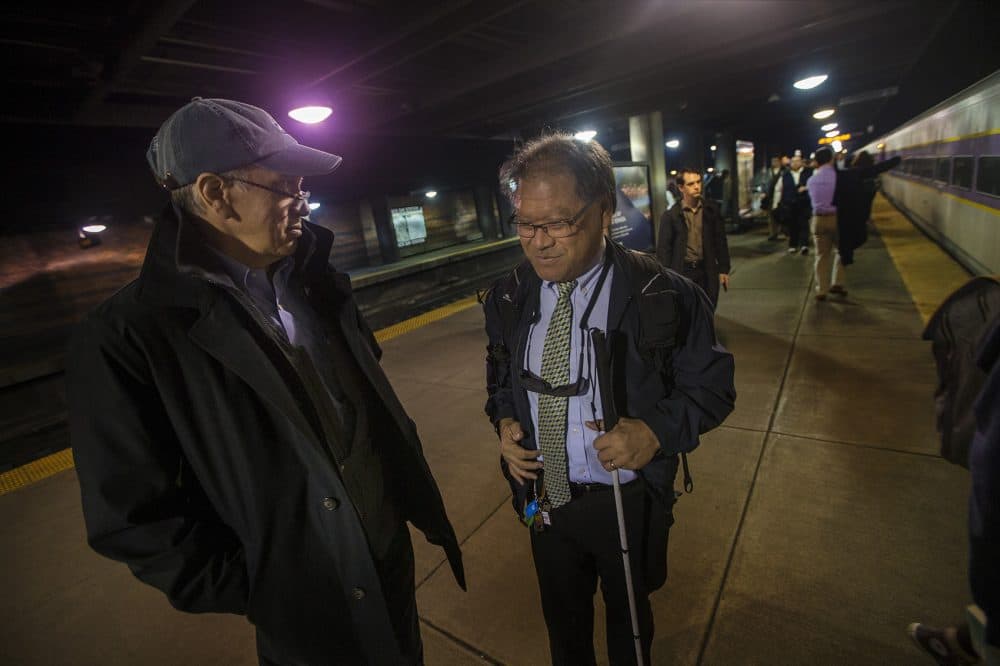 The irony wasn't lost on Blair. He who had studied the mechanics of vision was now losing his. What hit him harder was his fear that he would become a burden to any future partner. Blair was 26 and single, and for the next three years, he just didn't date.
Finally, he did meet someone, a woman named Jean who managed one of the stores of the company he worked for. From the beginning, Blair felt the two of them could talk about anything, but he dreaded telling her about his future blindness. It was early enough in the progression of his disease that Blair didn't appear to others to have anything wrong with his eyes.
"It was tough, because I knew that I was falling in love with Jean," Blair says. "I do remember the night I called her and we talked about it. It was scary for us both, but she convinced me that it would be all OK."
Jean and Blair got married and had a son, and Blair found a way to stay in optics: He got his master's in education and became a professor. As his vision worsened, he and Jean found ways to relish the sight that remained.
"She would be standing in our living room, and I'd be coming home, walk into the living room, and hunt around and try to find her eyes through the tunnel of my vision. She can always tell when I'm looking so, 'Over here! Little bit left!' She'd kind of guide me over. And then when I would finally lock my eyes onto hers, we'd both smile. I'd say, 'Hi.' "
Blair knew each of these moments might be his last. Then one night, he sat across from Jean at the dinner table.
"I looked at her, and I realized I couldn't see her features of her face anymore."
Looking into people's eyes is what Blair misses most.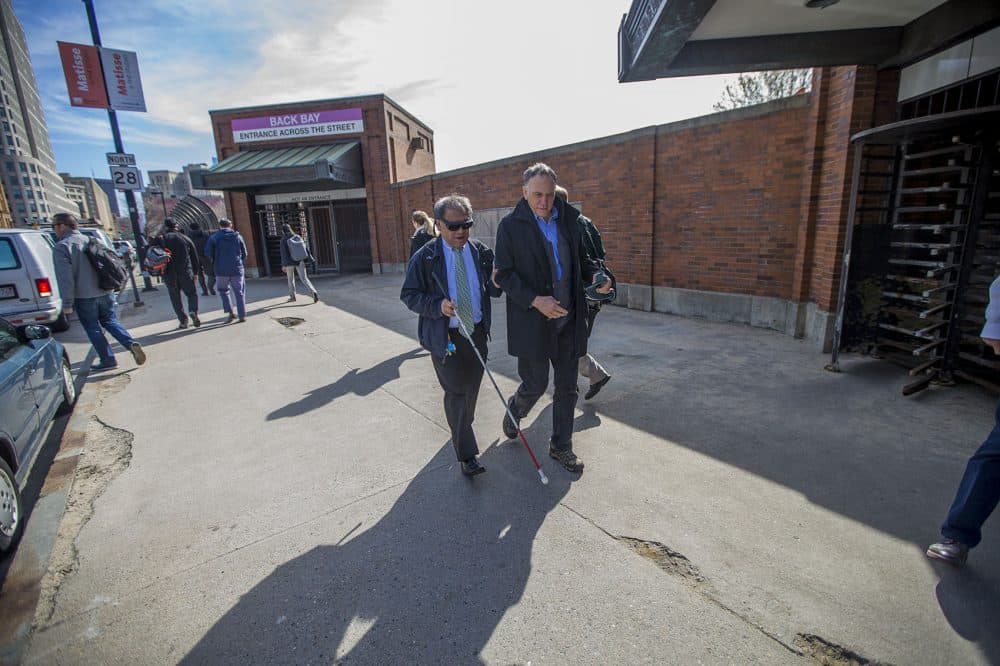 Now in his 50s, Blair has entered what he calls profound blindness. He takes the commuter rail into Boston, where he works at the New England College of Optometry and the Benjamin Franklin Institute of Technology, and he relies on a white cane to find his way.
Blair wasn't thrilled about the cane at first, but once he had to use it, he noticed something: Complete strangers would ask to help him.
There's the store manager who led him through snowdrifts after a blizzard; the homeless man who helped him find a shop on Boylston Street; and the woman who brought Blair through a garden he never knew existed, pausing to describe each flower for him.
Over the years, some have become regular helpers, even friends.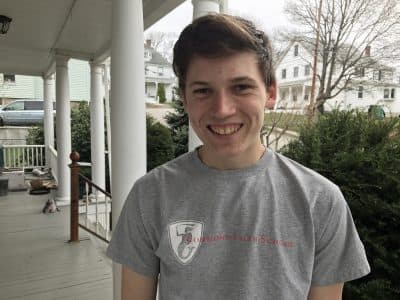 "I kind of bring out the best in Bostonians. I have met so many different people simply because I have a cane. It's probably hundreds, but to me it feels like thousands."
Blair gets an offer of help at least once a day. Some interactions are fleeting, others profound.
Take Deneb Scott. Deneb was 14 and struggling with high school when he helped Blair find a seat on the train. The second time they met, the two started talking.
"He has this look about him that just prompts you to spill your guts out," Deneb says.
Deneb and Blair started sitting together on their evening train rides home, and they continue to run into each other now, three years later. Deneb says those conversations gave him confidence when he needed it.
"I wonder if he has a better sense of me as a person without the labor of eyesight," Deneb says.
Blair can't look people in the eye, but he's found a different window into their inner lives.
"I see the goodness in people," he says. "I don't know, I have this weird thought that if everybody in the world saw one another being kind to one another, it would just grow, and that's kind of what I've seen."
It's by losing sight that he was able to see it at all.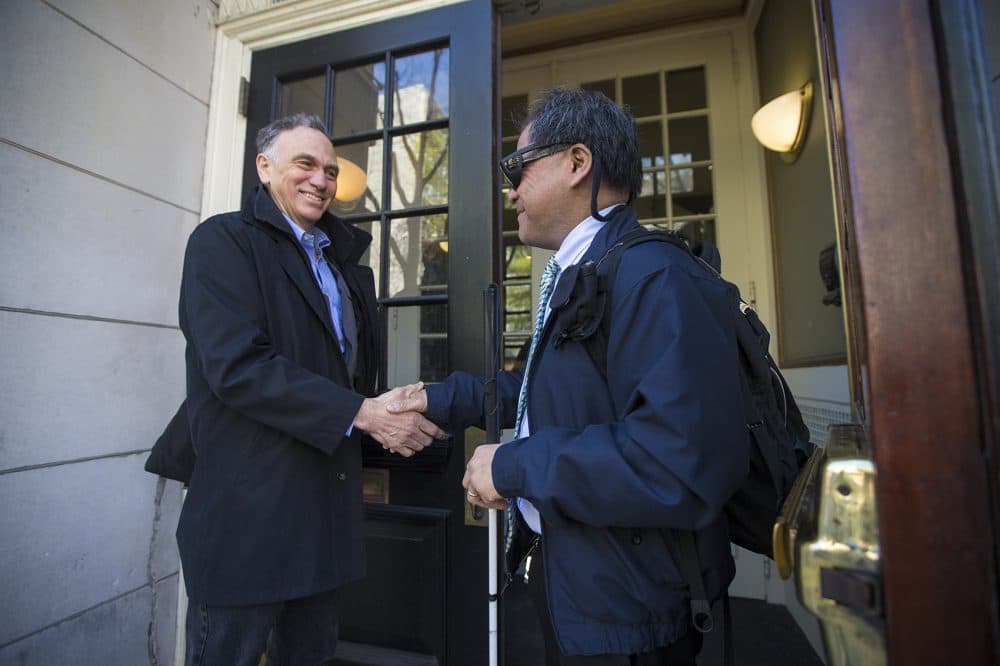 ---
Find Kind World on Facebook or Twitter, or email kindworld@wbur.org to share your story.
You can also subscribe to the podcast. This story includes music from APM and Chris Zabriskie (CC BY-NC 4.0).
This segment aired on May 2, 2017.