WBUR x MassArt Tote Bag Collab
WBUR has partnered with MassArt Illustration to feature the work of a new up-and-coming Boston artist every year. This year's featured artist is Caroline Barlow. Their WBUR Skyline design is full of movement and energy, showing a new listener's appreciation for public radio's place in the world — and WBUR's place in Boston. You can get yours by donating now.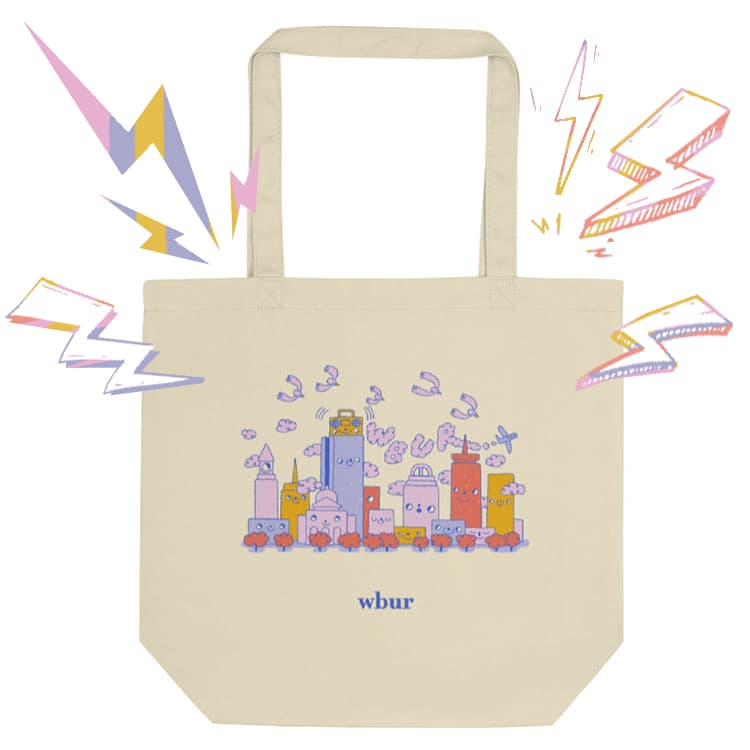 The best way to get a 2021 WBUR x MassArt tote bag is by making an ongoing monthly gift of $10 or more. Show your support for public radio and for Boston's emerging artists. Get your WBUR x MassArt tote bag.
About the project
WBUR has partnered with MassArt's Professional Freelance Studio program to create a limited-edition tote bag that features work from a new up-and-coming Boston artist every year. Participating artists work with WBUR's resident graphic designer to visually interpret the station's signature sound. Each spring, artists spend a few months learning about WBUR, refining concept art, and pitching final designs. WBUR goes through several rounds of revision and review before selecting the design that will be featured during WBUR's fall fundraiser.
About the artist, Caroline Barlow
I'm an illustrator from Boston and a graduate of Massachusetts College of Art and Design. In my art, I love to create colorful and dense worlds inhabited by both real and imaginary creatures. Aside from illustration, I also love to cook and I occasionally sew elaborate full-body creature costumes.
I've lived in the Boston area my whole life so it was a lot of fun for me to work on this project! Most of my work starts out in my sketchbook. I find that ideas come to me best when I'm just doodling and not straining myself to come up with something, and that's where I began with this project as well. I felt that anthropomorphizing the city skyline was a fun way to convey the idea of the whole of Boston enjoying WBUR. The scene in the Public Garden for the second piece was also a really great opportunity to get to populate this place that I visit all the time with silly shape-based characters all listening to the radio, including the iconic pond ducklings and swan boats.
[Artist website: www.carolinebarlow.com]
Runners up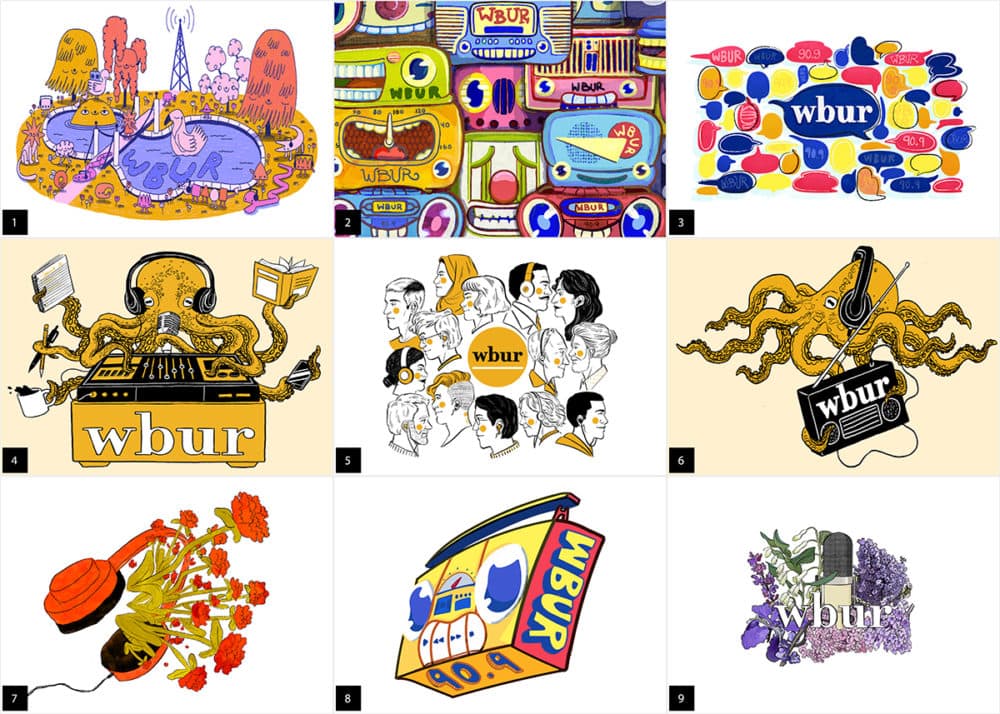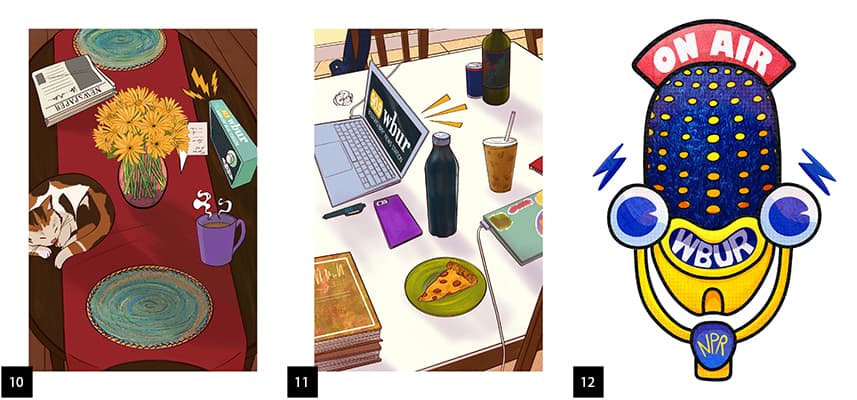 In no particular order:
Amanda Godowski
Elena Daly
Amanda Godowski
Hayden Brayton
Hayden Brayton
Amanda Godowski
About the class
This past spring, WBUR was invited to collaborate with MassArt's Professional Freelance Studio course, and it was the perfect fit! The class is designed for highly motivated senior Illustration students interested in pursuing a freelance illustration career. The class partners with publishers, corporations, small businesses, and nonprofit organizations so students can gain vital, first-hand knowledge, tackling actual projects destined for publication from concept to completion. Teaming with WBUR to create imagery for fundraising items was a dream job. With fabulous art direction by Lillian Lee, the students were encouraged to develop unique concepts and were given full reign to express their artistic vision. It was an enriching and invaluable experience for everyone.
For more information about the Illustration department, including student work, departmental events, and student, alumni, faculty recognition, visit Drawn Onward: blogs.massart.edu/illustration.