Fractured Beauty | With Molly Ringwald
Resume
Couple gets married. Couple gets divorced. Couple doesn't spend time together anymore.
This is what most people expect from a divorce, right? But how about... drinks on the beach surrounded by laughing children? This was Lara Bazelon's reality when she decided to go on a family vacation with her ex-husband.
Molly Ringwald reads us Lara's essay "From Divorce, a Fractured Beauty."
Voices in this Episode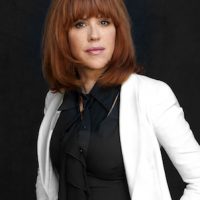 Molly Ringwald began her film career at the age of 13 in Paul Mazursky's "The Tempest," for which she received a Golden Globe nomination. She went on to star in numerous films, including "The Pick-Up Artist," "For Keeps," "Fresh Horses," "Betsy's Wedding," "Office Killer," "Some Folks Call It a Sling Blade," and the now-iconic coming-of-age movies "Sixteen Candles," "The Breakfast Club" and "Pretty in Pink." Her television credits include the critically-acclaimed comedy series "Townies," Stephen King's "The Stand," the Emmy-nominated "Allison Gertz Story," and the movie "Molly: An American Girl." Ringwald moved to New York City in 1997, where she starred in "How I Learned to Drive," a role she reprised at the Mark Taper Forum in Los Angeles.
Subsequent theater credits include playing Sally Bowles in the Broadway production of "Cabaret;" the Tony-nominated Broadway production of "Enchanted April;" and the London production of "When Harry Met Sally." She created the role of Horton Foote's 'Lily Dale' in the New York off-Broadway production, performed the role of Salome, starred in "Tick Tick Boom!," the hit comedy "Modern Orthodox," and a national theater tour of the Bob Fosse musical "Sweet Charity." Ringwald is in the comedy TV show "Raising Expectations," which premiered in May 2016. She starred in "The Secret Life of the American Teenager" and was in "Jem and the Holograms" and the comic indie "Bad Night." Ringwald can be seen in "King Cobra," which premiered at The 2016 Tribeca Film Festival. She recently guest starred on Bravo's "Odd Mom Out." Ringwald is the author of the national bestsellers "Getting the Pretty Back" and "When It Happens to You," and her writing has appeared in the New York Times, Vogue, Salon, Esquire, Allure, Tin House, the New York Times Book Review, and the Guardian, where she pens a weekly advice column. In 2013, Concord Records released her debut jazz album "Except Sometimes."  She can be seen in an off-Broadway production of "Terms of Endearment" through December 11th.
Lara Bazelon is a Senior Fellow at Brandeis University's Schuster Institute for Investigative Journalism, a contributing writer for Slate, and an attorney. Her long form journalism, essays, and op-eds have also appeared in the New York Times, Politico, the Houston Chronicle, and the Los Angeles Times. Her book, "The Last Shackle: Harm, Healing and Redemption in Cases of Wrongful Conviction," will be published by Beacon Press in 2018. Lara spent eight years working as a deputy federal public defender in Los Angeles and several years teaching at UC Hastings College of the Law. From 2012-2015, she was a clinical professor and the director of Loyola Law School's Project for the Innocent. Currently, she serves on its board of directors.