Was I On A Date Or Baby-Sitting? | With Sasheer Zamata
Resume
When you're first dating someone, it can be easy to ignore warning signs. To tell yourself that there might be potential in the relationship when, deep down, you know it's probably doomed.
That's what Julie Klausner writes about in this week's essay. It's read by Sasheer Zamata, who hosts the podcast "United States of Music" and stars in the stand-up special "Pizza Mind." She reads Julie's essay, "Was I on a Date, or Babysitting?"
Where Are They Now?
Julie Klausner is no stranger to putting her life into her writing. She created, wrote, and co-starred in the Hulu comedy series "Difficult People," where she played an aspiring comic living in New York. But she says that writing this Modern Love column, and the book of essays about her dating life that she published shortly after it came out, made her feel more vulnerable than she ever does in her comedy.
"I was terrified, sharing this story with the world," she says. "I still look back and I cringe. I think there's a certain amount of leaping off a diving board and hope that the pool has water in it, to it."
Julie is a comedy writer by trade. And she says, "I try to put a few layers and jokes between who I am and what I do. And this essay, and that book, did not do that. So I feel very vulnerable and embarrassed talking about it. But as those pieces stand, I ... really believe that they are not for me, they're for the people reading them. And to have reached women that commiserated [and] empathized makes me feel a lot better for having put myself out there."
And Julie wants people listening to her story to understand that they're not alone.
"I hope, and especially from women, that they will see themselves in this experience, and give themselves the right to feel how they feel, and not judge it. And say, yeah, I knew this guy was probably not going to be the love of my life, and we probably weren't going to move to Vermont and start a family and raise Labradoodles, but I slept with him anyway, and I was hurt when he disappeared. And that's okay. That's normal. That's actually kind of beautiful."
Now, over a decade later, Julie rarely thinks about the musician she wrote about in this essay. She doesn't know if he read the piece, and says, she doesn't care.
When she does think about this experience, she says, "I don't think about him, I think about me. And I try to have compassion for this young — a lot thinner than me now — girl. Although she didn't think so at the time. And I try to almost visualize present-day me ... saying, not that this will get better as much as, 'This sucks and you're in it. And everything you feel and think is completely okay.'"
Julie says that now, she approaches relationships very differently.
"I'm definitely less reckless when it comes to love in my late 30s, now, than I was in my 20s. I absolutely have the pressure of experience weighing over every decision I make. I don't have the energy to be hurt and have the confidence that I'm going to bounce back. And I'm just so very tired. So in a way, I think I'm a lot more protective of myself and my resources than I used to be."
More From Daniel Jones
Dan Jones, editor of the Modern Love column for The New York Times, says that in her piece, Julie Klausner gets at what it's like to feel a little bit superior to the person you're dating.
"You protect yourself by thinking, 'I don't want him, he's not right for me, he's not a grownup,'" he says. "All these things are wrong, so I don't really care, and I'm going to get out of this what I feel like getting out of it. And then she likes him anyway — and at the end, it reminds me of the Seinfeld episode where Kramer gets fired from a job that he doesn't even have. And he says, 'You can't fire me, I don't even work here.' [Julie] says the equivalent of, 'You can't break up with me, I'm not even going out with you!'"
More from Sasheer Zamata
Comedian Sasheer Zamata says that Julie's story reminded her of her own dating life.
"I've definitely had silly New York flings that were hard to understand because of missed communication or lack of communication. And, just being frustrated with a guy who you're not even serious with, but you still like him, because there was a physical aspect — Julie may as well have been writing about one of my exploits in my early years living in New York."
Voices In this Episode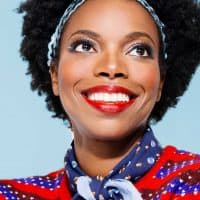 Sasheer Zamata is a comedian, actress, writer and 4 season cast member on Saturday Night Live. Her new podcast with Spotify is called United States of Music.

She received improv and sketch training from the Upright Citizens Brigade Theater, and performs stand up at colleges and clubs across the country. Additional TV credits include Transparent, Inside Amy Schumer, People Of Earth among many others. She's told stories for This American Life. She co-created and co-starred in the webseries Pursuit of Sexiness, which was named one of the Top 10 Web Series of 2013 by Variety, and part of Glamour's 7 Web Series We Can't Stop Watching in 2015.

Sasheer has been listed in Cosmopolitan's 13 Funny Women to Watch, Time Out New York's Top 10 Funniest Women in NYC, Brooklyn Magazine's 50 Funniest People in Brooklyn, and Complex Magazine's Women in Comedy You Should Be Paying Attention to Right Now.

She's performed stand up at Bonnaroo, SXSW, Moontower Comedy Festival, SF Sketchfest, Vodafone Festival, Bridgetown Comedy Festival, New York Comedy Festival, Brooklyn Comedy Festival, Limestone Comedy Festival, Woodstock Comedy Festival, North Carolina Comedy Arts Festival, Great American Comedy Festival, and Women in Comedy Festival.

She can be seen on the big screen in Yoga Hosers, Sleight, The Outdoorsman, and Deidre and Laney Rob A Train. She's done voice over for Call of Duty, Lucas Bros. Moving Co., and Albert (Nickelodeon). She also serves as ACLU's Celebrity Ambassador for Women's Rights. She just released her first one hour special, "Pizza Mind" to rave reviews.

Julie Klausner is the creator, writer and star of Hulu's critically-acclaimed "Difficult People," produced by Amy Poehler and starring Klausner and Billy Eichner as two pop culture-literate, struggling comedians in New York City who hate everything in the world except for each other.
Klausner's television writing credits include "Billy on the Street" (Head Writer/Co-Executive Producer, Seasons 1-4), "Mulaney," "Triumph & Jack," "Best Week Ever with Paul F. Tompkins" and "The Big Gay Sketch Show." She's also written for Robert Smigel's "TV Funhouse" on "Saturday Night Live" and for comedy legend Joan Rivers on a few different occasions.

Her long-running podcast, How Was Your Week, was called "one of the few essential podcasts" by the New York Times and was named one of the best ten comedy podcasts by Rolling Stone and GQ.

Her first book, I Don't Care About Your Band, was released in 2010 and optioned for HBO by Gary Sanchez Productions as a series. Her YA novel Art Girls Are Easy was published in 2013 and she has written pilots NBC and Hulu.
Klausner's voice acting credits include regular roles on Comedy Central's "Ugly Americans" and guest star credits on "Bob's Burgers" and "Zoolander: Super Model." Her acting credits range from music videos for the New Pornographers and Ted Leo to guest starring roles on "Delocated" and "Strangers with Candy."
Klausner's editorial writing credits include pieces for The New York Times, New York Magazine, Vulture, McSweeney's, Salon, The A.V. Club, Nerve and The Awl.

She performs her own solo shows live in New York City where she resides.