Drop-In Center Offers Hope, And Resources, To Families Struggling With Addiction
04:39
Play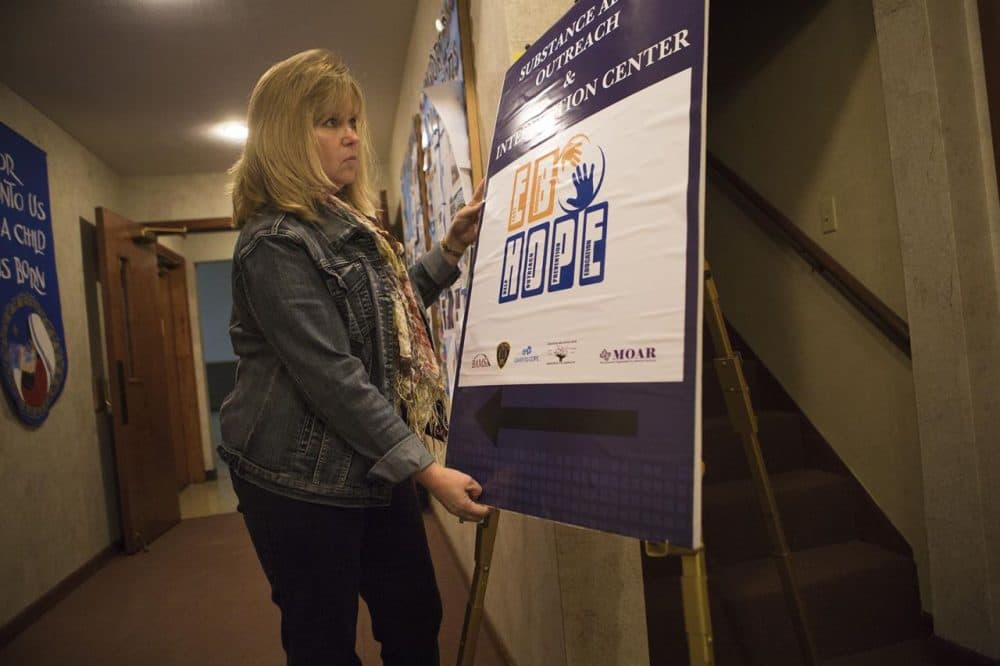 This article is more than 4 years old.
On an unseasonably mild autumn evening, lanterns illuminate the walkway outside the Community Covenant Church in East Bridgewater. Inside, volunteers and counselors try to shed light on the area's opioid addiction problem.
Organizers say the Substance Abuse Outreach and Intervention Center — which serves as a single stop for people struggling with addiction — is the first of its kind in the region.
Susan Silva is the founder of E.B. H.O.P.E. That stands for help, outreach, prevention and education. It's the not-for-profit that is presenting the open-house style center on the first and third Thursdays of the month.
"Basically, they're looking for help," said Silva. "Whether it's for themselves personally, or if it's a family, that they're looking for help, understanding how they can either help their loved one, or just what resources are available to them."
In the church's small gymnasium, a half dozen tables are set up and manned by various organizations that offer information about available services. They range from mental health triage counseling to recovery services to training on how to properly administer the overdose reversal drug Naloxone. A licensed counselor is on hand to do initial intake for individuals seeking treatment, and volunteers help arrange transportation to recovery facilities. Also there is a mock teenage bedroom set up called "Hidden in Plain Sight." It shows the many places a teen struggling with addiction might hide their drugs.
Silva says she wishes this type of resource was available 13 years ago, when her then 15-year-old son became addicted to heroin. He's in recovery now, but Silva says it came after eight years of hell. She's hopeful the drop-in center will make it easier for others to find help than it was for her family.
"Because these resources are available all in one place, people can get the help they need much quicker," she said. "I mean obviously we need more beds and we need more availability for that kind of treatment or new and different treatment, who knows? But, having this in place, our hope is that family struggles will be shortened."
Volunteers, known as "angels," are a key part of the drop-in center. They are themselves in recovery and are here to offer support and encouragement.
One of the angels is Shawn Salisbury. He easily relates to the people who come in looking for help.
"I've been there. I know how they feel when they walk in the door," said Salisbury. "They're scared to come in the door. They don't want people to see 'em. But when we come in the doors, we feel like nobody likes us anymore. We feel kind of like castaways, like we did something wrong. And it's an illness."
"I've been there. I know how they feel when they walk in the door. They're scared to come in the door."

Shawn Salisbury
Also working closely with E.B. H.O.P.E. is the East Bridgewater Police Department. Detective Sgt. Scott Allen says the drop-in center is the missing piece in dealing with the region's opioid epidemic.
"There's always going to be some level of enforcement that we're going to have to do, but I think right now, to make a big dent into this epidemic, we're going to have to get on the education side, and change our philosophy on how we approach this epidemic," Allen said. "It's got to take on more of that initiative, that counseling type role versus the enforcement role from the police perspective."
So far, roughly 30 people have turned out for the drop-in center. About a half dozen came in to get themselves into treatment; the others, to find out more how they can help loved ones.
One woman, who asked that we not use her name, came from a neighboring town because her grand niece is struggling with addiction.
"There's hope. There's got to be hope," she said. "And there's got to be more people that come together to help. I'm willing to do all I can, but I don't have all the answers without the resources out there to give them."
And providing needed information and resources to the community is a major goal of the drop-in center.
Silva, of E.B. H.O.P.E., is surprised at how successful it has been.
"We were thinking, 'We're going to do this, and nobody's going to show up,' " she said. "So our first night out of the gate to have been able to help seven or eight people was just really a pleasant surprise. And then tonight we have more than doubled that — people that have come through the doors."
Those doors will be open again Thursday night, from 5 to 9 p.m., when E.B. H.O.P.E. conducts its third drop-in center.
This segment aired on December 3, 2015.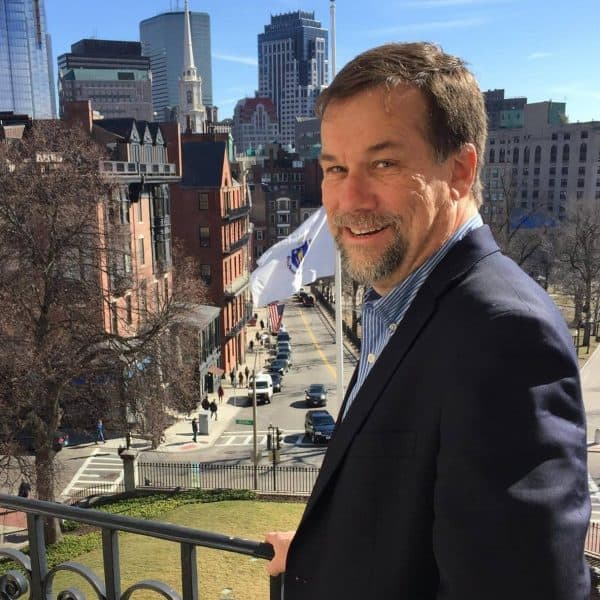 Steve Brown Senior Reporter/Anchor
Steve Brown is a veteran broadcast journalist who serves as WBUR's senior State House reporter.