How The Mass. Casino Industry Stands As 2016 Begins
06:14
Play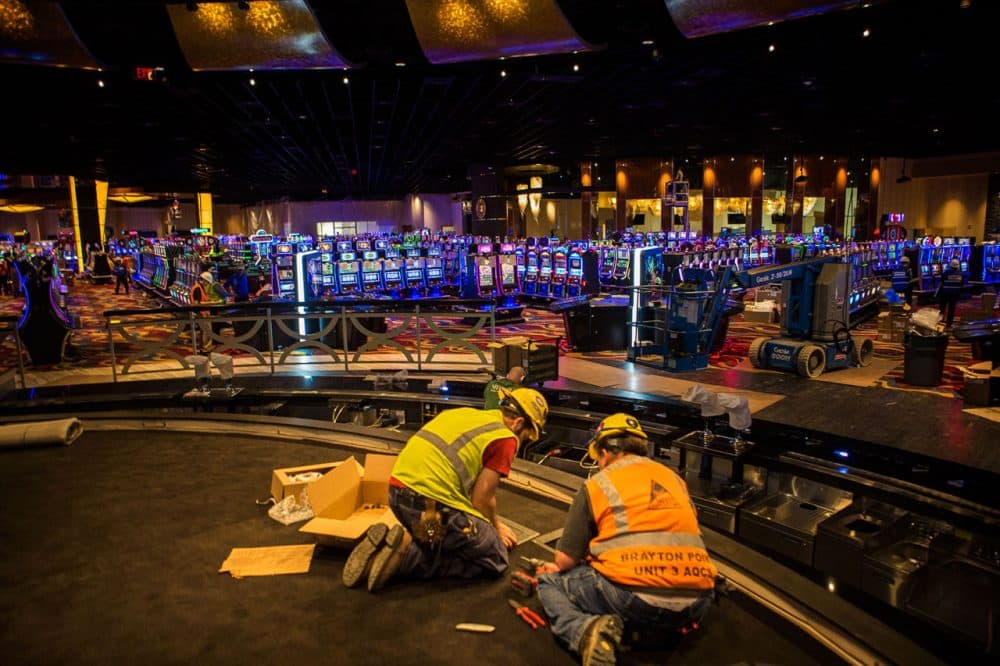 This article is more than 4 years old.
It's been a big year for the casino industry in Massachusetts. The state's first expanded gambling facility opened in June. The Plainridge Park Casino has 1,250 slot machines and a racetrack. And bigger casino proposals in Boston and Springfield are closer to becoming realities.
Here's what's changed over the past year:
Falling Revenues In Plainville
At Plainridge in Plainville, right on the Rhode Island border, things have not gone exactly as planned.
Since the casino opened, it's seen monthly revenue drop consistently — down from $18 million in its first full month of operation in July, to just less than $12 million last month. That means over the course of five months, the state's first expanded gaming facility lost about a third of its revenue.
However, that is not necessarily cause for concern. The casino is certainly not bringing in as much revenue as Penn National Gaming, which owns Plainridge, wanted to make, but they had made very aggressive predictions for what this facility would earn. People were expecting it to poach a lot more traffic from the Twin River Casino in Rhode Island but that just hasn't materialized. Twin River has actually revised its revenue projections up because Plainridge is less of a factor.
Meantime, Massachusetts is lowering its projections for tax revenue from Plainridge by 40 percent. That said, it's not like Plainridge is losing money — far from it. The facility is still projected to make about $160 million and a healthy profit from that. But that's a far cry from what Penn National and gaming analysts had expected from the first casino in Massachusetts.
If Penn National is concerned about the revenue decline, it's not showing it. What we've consistently heard is that a drop-off in revenue is not uncommon after a big opening — that it takes time for revenues to pick back up after the initial honeymoon phase.
Even before it opened, Plainridge's general manager, Lance George, admitted that they were likely to play around with offerings — both in terms of live entertainment and slot machines — to see what works.
"We'll see what works for us, a lot of live entertainment, we'll try some things, see what the local community responds to, and then we'll try to fine tune our entertainment offerings as we move forward," George said.
And they are making changes. They're looking at changing some of their restaurant offerings — bringing in a Dunkin' Donuts rather than the independent coffee shop. They also plan to change some of the games offered.
Plainridge will remain the only gambling facility in Massachusetts for longer than expected.
MGM Springfield And The Connecticut Border War
MGM Resorts is modifying its casino proposal for the city of Springfield. New site hearings on that are not expected until after the New Year.
This all started when MGM asked for a yearlong delay in opening because of work on I-91 in the area. Basically, instead of opening in 2017 and causing a huge traffic jam, they wanted to wait until 2018. MGM's president has repeatedly said they only have one chance to make "a good first impression."
What has caused more consternation are MGM's adjusted plans to their casino complex. Instead of this beautiful, 25-story glass hotel downtown, they're going to have a six-story hotel. MGM says that won't affect the price tag (up to about $950 million), but it still prompted some push-back from local leaders — which led to MGM brass actually making a visit to Springfield to reiterate their commitment to the city.
In the background of all of this, Connecticut is looking to build a third casino — specifically on the way to Springfield to try and keep some of their gamblers in the state.
Springfield's goal is to prevent the Massachusetts gamblers from going to Connecticut, but it's also to try and siphon some of those north-central Connecticut customers and bring them up to Massachusetts. If you've got a third Connecticut casino right on the Massachusetts border, that eats up a lot of MGM's projected customer base.
Boston And Wynn Lawsuit
There's been a long back and forth between Wynn Resorts and Boston Mayor Marty Walsh, but there's finally been some resolution on that front -- but not total resolution.
After 11 months, Boston's lawsuit against the Massachusetts Gaming Commission to vacate Wynn's casino license in Everett was dismissed.
That was after the Gaming Commission and Wynn refused to consider Boston a host community to the casino — which would have allowed residents in Charlestown to possibly kill the proposal via referendum.
But, just because that lawsuit is gone does not mean the court battles are all settled. There's still a lawsuit by Mohegan Sun — which had applied for the same Greater Boston casino license seeking the same thing. The judge allowed that lawsuit to move forward — even though the state gaming law specifically bars failed applicants from suing the commission.
Boston also has another lawsuit against the state over its decision to approve Wynn's environmental plan — something Wynn needs to start construction.
Walsh and Steve Wynn finally met for a face-to-face meeting. We don't know what came out of that, though both sides called it productive. But it's important to remember the two sides were meeting regularly in "productive meetings" up until the city filed its lawsuit. So this isn't the first time we've seen them meet and try to solve this diplomatically.
Don't Forget About Southeastern Massachusetts
Looking ahead to 2016, the question still lingers of what is going to happen in southeastern Massachusetts.
The gaming commission is looking at two proposals in what's called Region C. One is in Brockton, filed by George Carney, who owns the Brockton Fair and wants to build a $500 million casino on the fairgrounds. The other is in Taunton, proposed by the Mashpee Wampanoag tribe.
The big issue is that if the commission approves the Mashpee casino, the state collects just 17 percent of revenue in taxes compared with 25 percent from other resort casinos. But if the state approves a separate casino in Region C, the tribe pays zero tax to the state and could still build its casino without state approval because it's going through a federal process.
The commission is set to make a decision within the next three months.
This segment aired on December 30, 2015.