After A Years-Long Fight, With DNA Evidence At The Center, Ronjon Cameron Is Free
06:56
Play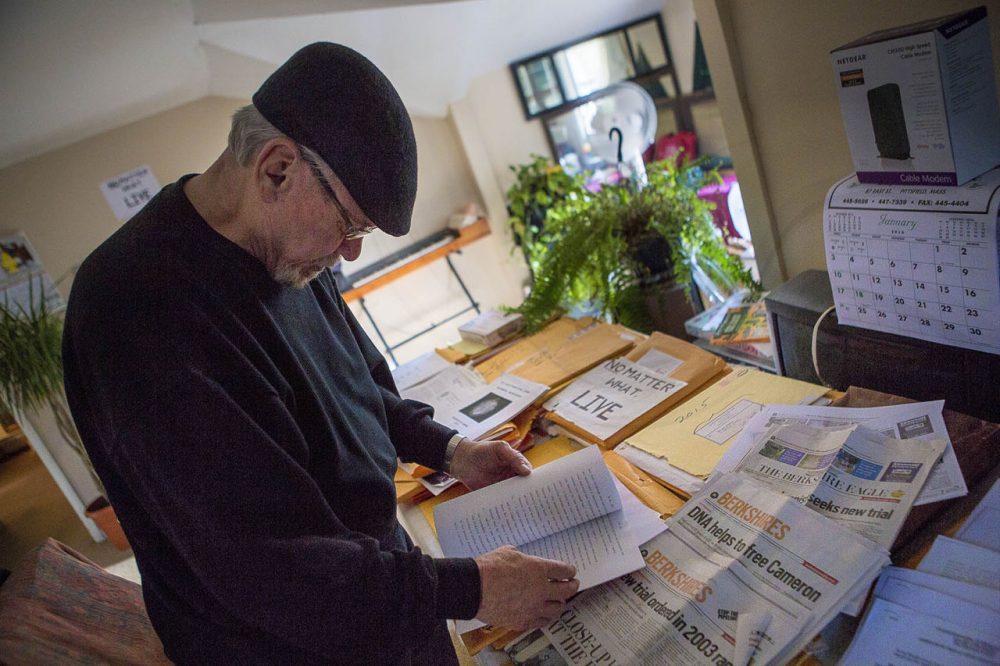 This article is more than 6 years old.
The first of a two-part report. Here's Part 2.
PITTSFIELD, Mass. — DNA testing has earned a reputation as a powerful tool to solve crimes and to exonerate the innocent. In fact, it's often referred to as the "gold standard" for cases. But because of its sway over jurors, the results of DNA testing can also be misused.
The state's highest court recently ruled that's what happened to Ronjon Cameron, of Pittsfield. Cameron had spent the last 12 years in prison after being convicted on charges of rape. At the end of October 2015, the Supreme Judicial Court overturned his conviction and ordered a new trial.
When the office of the Berkshire County district attorney decided in November to drop the case rather than retry it, Cameron was free.
"Here we are at the end of 2015," Cameron observed in his hometown of Pittsfield, where he's reunited with his daughter and his son and nine grandchildren born while he was in prison. "And I think I'm a pretty happy man in spite of everything, but [sigh] it was a long ride, man, a long ride."
He was 69 years old when it ended. Since his arrest, he had spent a total of 14 years behind bars, proclaiming his innocence from the start.
When asked what was his worst moment, Cameron didn't hesitate: "Getting my teeth knocked out in that bubbler."
Following his conviction in 2003, he went into prison as a sex offender — "worst possible thing you can be in prison," he said.
"I was taking a drink and a big lifer came by and smashed my face into the bubbler and broke most of my teeth," Cameron recalled. "It just went on from there. I couldn't go down to the chow hall, couldn't step out of my cell without being terrorized. They hurt an innocent man."
What Happened At Cameron's Trial
Cameron may be free, but he has not been exonerated.
Though Berkshire County District Attorney David Capeless has dropped the case, he offers no apology for prosecuting Cameron in the first place. He still refers to Cameron's accuser as the victim and to Cameron as the justifiably accused defendant.
"That's the way we prosecuted the case and we still feel the same way," Capeless said recently. "But despite repeated efforts to re-contact the victim, we've been unsuccessful."
And without the victim's testimony, Capeless said, he cannot prosecute.
The case began in September 1999 when Cameron was arrested and charged with two counts of rape. He and his alleged victim knew each other. But Cameron denied ever engaging in any sexual conduct with his accuser. So investigators conducted DNA testing.
At trial, the state's expert testified there was seminal residue on the accuser's underwear. When tested, the primary source of DNA did not match Cameron's DNA. It excluded him.
"I remember reading that in my cell and letting out a jungle roar," Cameron recalled recently."'Oh, I got it. I'm free! It's not me!' "
But it wasn't so simple. There was another, secondary source of DNA found from another male, the expert said. There was very little of it. When it was tested to see if there was a match with Cameron, the expert testified, the result was "inconclusive." That turned out to be a very important word.
The dictionary defines "inconclusive" as "leading to no conclusion," proving nothing. Attorney Thomas Workman defines "inconclusive" in context. He is a forensic expert and a law professor of scientific evidence.
"Inconclusive would mean that you cannot say this person is the source [of the DNA]. And you cannot say that they are not the source," he said.
Workman added: "From a legal standpoint, it doesn't prove anything. It doesn't prove guilt. It doesn't prove innocence. So that would be evidence that would be irrelevant and not admissible in court."
But at Cameron's trial, the judge allowed that testimony. Cameron's own attorney did not object.
The prosecutor and his witness now compounded the problem in a series of questions and answers. Having testified that "no conclusion could be made" about the secondary source, the expert now testified that even though the DNA testing of the secondary source did not point to Cameron, it did not exclude him either.
The expert suggested that the primary source of DNA -- that did not come from Cameron -- might be masking out the DNA type in the second source that could be Cameron's. She even implied the test might have shown a match if only there had been more DNA to work with.
So in just a few steps, the prosecution went from telling jurors the results were "inconclusive" to suggesting the jury could conclude, by inference, that Cameron was the rapist.
Workman, the forensic expert, said the prosecution argument went something like this: "What the prosecutor stressed was, there's somebody else's DNA on her clothes. And, 'You heard her testify that it was him.' So therefore that inconclusive DNA supports her testimony that he was the one who had raped her. And that's kind of convoluted, but I think that's what the jury bought into in order to convict."
In contrast, the defense attorney for Cameron never hired a DNA expert to advise him how DNA testing works, or to be put on the stand to contest the way the results were being used by the prosecution.
If the trial attorney had done that, says Cameron's appeals attorney, Laura Edmonds, who has worked for the last six years to win Cameron a new trial, then "the DNA evidence would have been presented completely differently and would have really corroborated Mr. Cameron, who all along said, 'I never had sex with this woman, at all, ever.' "
Later courts would rule it was an error for the judge to have admitted the inconclusive DNA results at trial. But until the last step of the appeal, the courts considered the errors by the judge and by the defense attorney at the trial to be "harmless."
"Harmless" because Cameron's attorney at the trial did briefly cross-examine the DNA expert about the so-called "inconclusive results."
In opposing Cameron's later motions for a new trial, the prosecution defended the defense attorney from criticism. "We argued that he did form a meaningful cross-examination of the [expert] and got her to admit that in fact the results showed it could be anybody," said DA Capeless.
The state has long argued that any errors at trial were "cured" by cross-examination and the prosecution's closing argument about the DNA.
"We conceded that it in no way said it was the defendant," Capeless said.
The district attorney insists it was the victim's credibility that led to Cameron's conviction, not the DNA.
A Female's DNA
But nine years after Cameron was convicted and sent to prison, new, more discriminating DNA testing revealed some stunning errors in the evidence at his trial: The government's DNA experts had been wrong.
The new test, conducted in 2012, showed there was only one source of male DNA, not two as the expert had told the jurors back in 2003.
And it was not Cameron's.
As for what the prosecution had called the secondary source of DNA, the one the expert said could have come from Cameron, there was nothing inconclusive about it. It wasn't even male.
"What is this report saying?" Cameron remembered thinking in his prison cell when he learned the results. "I've done 14 years for a female's DNA!? Are you crazy!?"
It apparently never occurred to the government's experts at the time or to the defense attorney that a woman's underwear might contain the woman's DNA.
Now there was no physical evidence whatsoever pointing to Cameron. The DNA evidence excluded him.
Ronjon Cameron had already spent nine years in prison and he would end up spending three more years before the court of last resort overturned his conviction. We explain why in Part 2.
This segment aired on January 5, 2016.