Anti-Semitic Taunts At A High School Basketball Game In Newton Spark Outrage
05:05
Play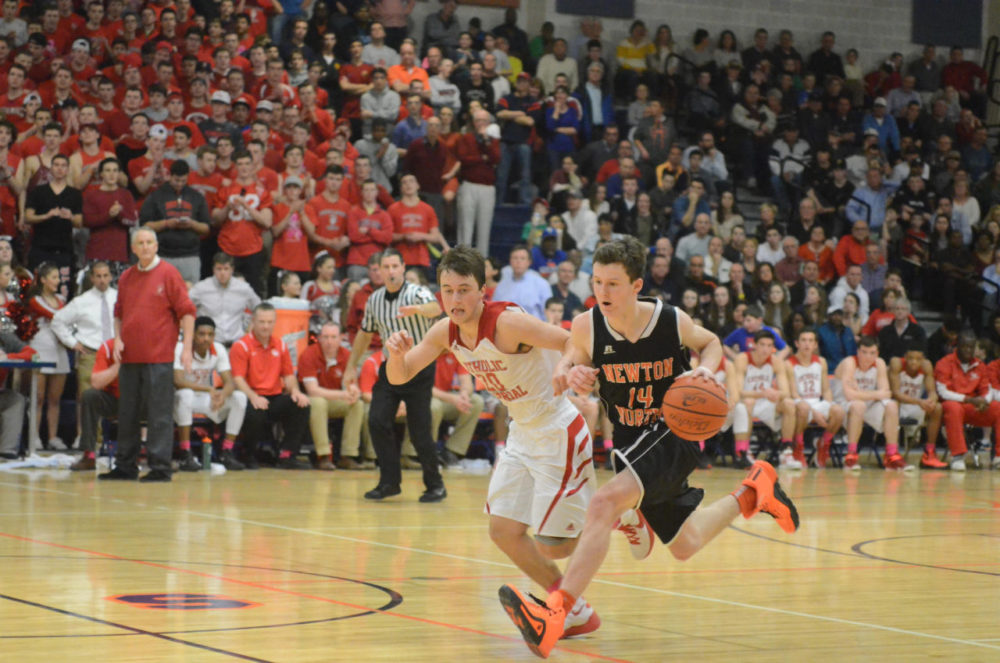 This article is more than 5 years old.
The principal of Newton North High School has planned to speak to all students Monday morning about an act of anti-Semitism that occurred during a basketball game against Catholic Memorial High School Friday night.
Students from the all-boys Catholic school launched into an offensive chant that is now prompting dialogue about language in the preparatory school's location in West Roxbury, as well as in Newton and beyond.
In The Stands, Students Threw Barbs That Became 'Unacceptable'
For both high school teams, it was the biggest game of the season so far: Newton North vs. Catholic Memorial in the Division 1 South boys basketball final.
In the stands to cheer on his brother was Newton North senior Jonah Pemstein, and he quickly became part of a volley of chants that would cast the schools into the national spotlight.
"It started off pretty innocuously," Pemstein said, describing the moments leading up to the game at Newton South High School.
The Newton North kids chanted, "Here we go, Tigers," and the Catholic Memorial kids chanted back, "We can't see you," because the Newton North kids were dressed in camouflage, Pemstein recalled.
Then the Newton North students upped the ante, taunting Catholic Memorial for being an all-boys school, asking "Where are your girls?" and using the term "sausage fest" to describe their ranks.
"Then it got a little more heated," Pemstein said, "and eventually the 'You killed Jesus' chant started."
For Pemstein, who comes from a Jewish family in the Newton Corner section of the Boston suburb, that's when the fun stopped.
"We didn't really know what to say to that," he said.
Jonah's father, David Pemstein, was at the game with his wife, and neither could believe their ears.
"We heard the 'You killed Jesus' chant," he recalled, "and I think there was a moment where everyone in our area just kind of paused in disbelief, and we kind of turned around and said: 'Did they just say that?'"
Pemstein said he's been going to games all season, and offensive chants are a mainstay for high school-aged fans. But this was on another level.
"A lot of the chants cause you to raise your eyebrows," he said. "The students try to rattle the players a little bit ... but never along racial or ethnic or religious lines, or anything that could remotely approach hate speech."
Catholic Memorial President Peter Folan called the chant at Friday night's game "unacceptable." Folan said in a statement that his students in the stands were reprimanded at the end of the game, and each one apologized and shook hands with the principal of Newton North.
The Boston Archdiocese also used the word "unacceptable," and pledged in a statement to help educate the students at Catholic Memorial so it doesn't happen again.
The chants come at an awkward time for the Archdiocese of Boston, just a day after Cardinal Sean O'Malley addressed hundreds at a Jewish synagogue in Newton, celebrating the church's denunciation of anti-Semitism during the Second Vatican Council 50 years ago.
"I would urgently urge our Catholics to have a deeper awareness of the Jewish roots of our Catholic faith," O'Malley said Thursday at Temple Emanuel. "Jesus Christ was a Jew... Mary and the apostles were Jews."
Pemstein said that while the chants did not put him "in fear for life and limb," it was upsetting to him.
"I found it particularly ironic after the visit of the cardinal to the Temple Emanuel the night before," he said.
"A lot of the chants cause you to raise your eyebrows. The students try to rattle the players a little bit ... but never along racial or ethnic or religious lines, or anything that could remotely approach hate speech."

David Pemstein, father of two Newton North students
During Sunday Mass at Cathedral of the Holy Cross in the South End, the home church of Boston's cardinal, volunteer Robert Fraser said he was heartbroken by the students' chants in Newton.
"We know our older brothers in the faith to be the foundation of who we are," Fraser said. "The first Christians were Jews. There's a lot of anger and resentment in our culture, because people are not understanding that God loves them."
The 'You killed Jesus' chants are the latest in a string of anti-Semitic incidents at Newton schools. Since October, hateful graffiti has appeared three times at Day Middle School, according to Superintendent David Fleishman. And another anti-Semitic message appeared at Newton North in December — an incident that has been unreported until now, he said.
"Do I think anti-Semitism is rampant in Newton? No," Fleishman said. "And do our Jewish students feel comfortable? Absolutely. At the same time, we need to be vigilant of any kind of anti-Semitism, racism and homophobia."
According to Fleishman, Newton North's principal will speak to students over the intercom Monday morning, addressing not only the anti-Semitic acts but also a separate incident he said involved racism targeted at black people.
The principal is also expected to discuss the students' own chants at Friday's game, when they mocked Catholic Memorial for being an all-boys school. Fleishman said some have perceived those chants as homophobic.
"I think it's especially important right now in this country that we address issues of language, sensitivity, inclusiveness, and frankly, safety," Fleishman said.
Newton residents concerned about what's happening in the schools are invited to a meeting on prejudice in Newton at City Hall on April 7, according to Mayor Setti Warren, who said the meeting was planned before the basketball game. He said it will be the first installation of an annual event around prejudice in Newton.
"Newton historically has been a community that has been welcome to many people, including my family when they moved here in 1972," he said.
Warren — who is Newton's first African-American mayor — said residents will have to work to make the city as welcoming as possible for now and for the future.
This segment aired on March 14, 2016.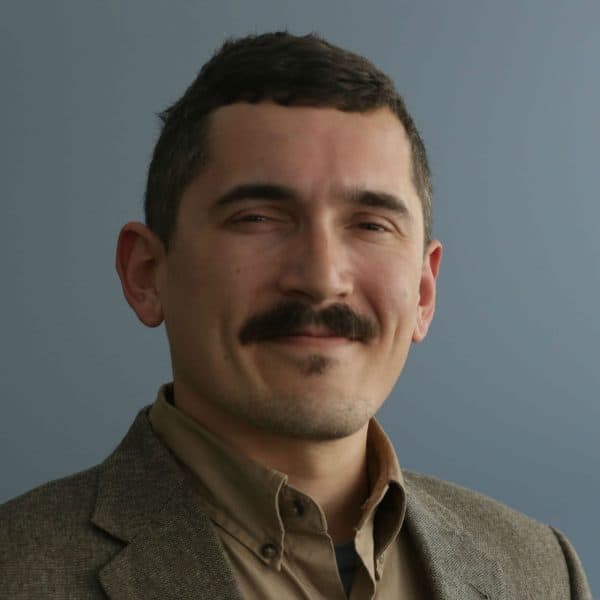 Simón Rios Reporter
Simón Ríos is an award-winning bilingual reporter in WBUR's newsroom.