Verizon Workers In Boston Join Tens Of Thousands On Strike
04:14
Play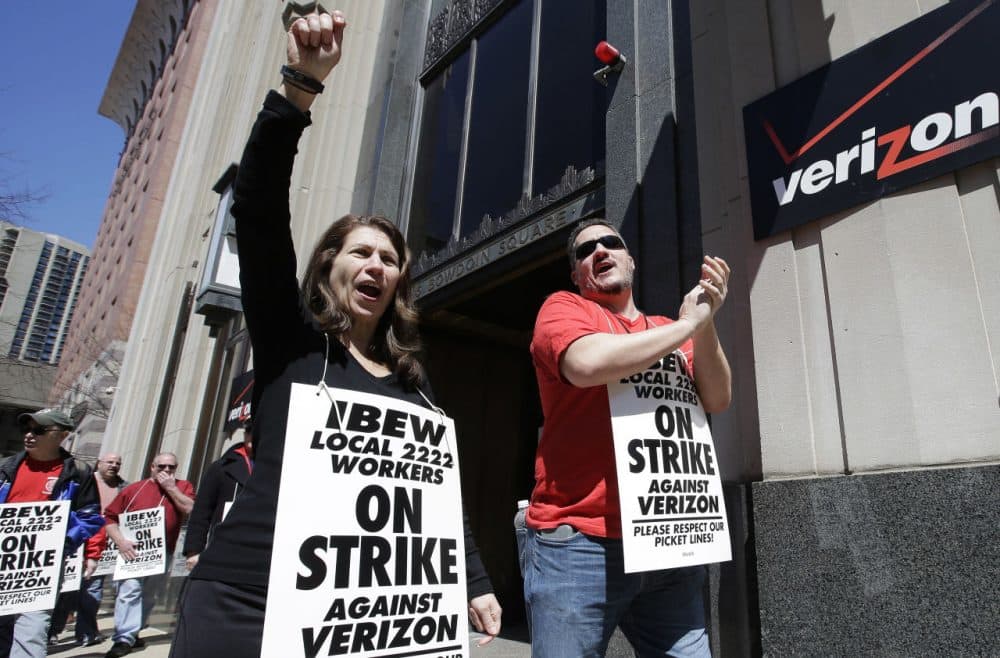 This article is more than 5 years old.
Tens of thousands of Verizon workers from Virginia to Massachusetts went on strike Wednesday, after the company and unions failed to come to terms on a new contract.
At issue are proposed cuts to pension benefits and changes to workplace rules that Verizon says are needed to keep the company's landline business competitive.
About 300 striking Verizon workers picketed outside the Verizon office building in Boston near Government Center. They carried signs that said, "Fighting corporate greed at Verizon," and when a worker crossed the line to enter the building, they jeered.
"This company that profits $1.9 billion a month," Bryan Phillips said. "Yet they want to take everything from us."
Phillips is with the International Brotherhood of Electrical Workers, one of two unions that represent Verizon's wireline workers, now on strike. He says they've been working without a contract for the past 10 months — and calls Verizon's latest contract offer unacceptable.
"We're not out here saying we need big raises, we need this, we need that," Phillips said. "We're just looking to not lose. And they want to strip away our job security, move the jobs overseas. They want to freeze the pension, if not, remove it completely."
The unions object to Verizon's effort to increase the use of contract workers, and to relocate workers temporarily — what unions call "family-busting transfers." Phillips says it all adds up to chipping away at worker rights and benefits.
"I'm fighting out here for my kids, too," he said. "This is corporate greed at its worst, in my opinion. I mean this company, it's not like this company suffered and we should be giving back to help them out. It's happening everywhere — they want you to take less and less, and people have been accepting it, and I think enough's enough."
"The union is throwing out a bunch of nonsense," said Rich Young, a spokesman for Verizon.
He says the average Verizon union worker has a wage and benefit package worth about $130,000 a year, and that the company offered a 6 percent raise. But he says Verizon is also looking for ways to make its wireline business more competitive.
"That business has changed dramatically over the years," Young said. "It's not the company of Ma Bell and phone booths and rotary phones. Now there's intense competition with cable companies, with wireless companies, with Internet service providers. The world has changed. The unions need to change as well."
And, Young says, that means they need to be more flexible.
Tom Kochan is a professor at MIT's Institute for Work and Employment Research. He says Verizon's biggest growth is in its wireless business, where most of the workers are not unionized, while most of the unionized workers now on strike work for the company's traditional landline phone service, which is in decline.
"And so they're struggling to hold on to job security and be treated fairly," Kochan said. "And the company is trying to slowly move to its growth markets and minimize its costs in its landlines. So that's the underlying tension here."
Kochan says that tension is a source of frustration for millions of workers across the country — in many industries.
"That here's a company doing very, very well in terms of profits," he said. "It's growing in a certain segment of the business and they're not able to share in it."
The last time Verizon workers went out on strike they stayed out for two weeks.
Back on the picket line in Boston, Phillips says it's not clear how long this strike will last.
"We'll stay out here until we get a fair contract," he said. "I wasn't, financially, not prepared at all. I got two young kids — a six and a five year old — I pay for day care. I live check to check, so even being out here one day is gonna hurt. But I gotta do what I gotta do."
Verizon says it has thousands of non-union workers trained and ready to step in to serve its customers. Union members say customers should expect delays and slowdowns — and if they have a problem with that, they should call Verizon.
This segment aired on April 14, 2016.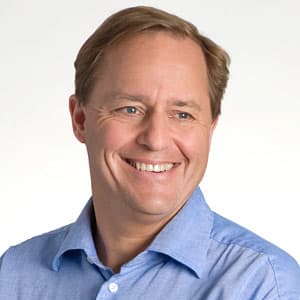 Anthony Brooks Senior Political Reporter
Anthony Brooks is WBUR's senior political reporter.