Harvard Students Protest Move Against Final Clubs, Fraternities And Sororities
02:19
Play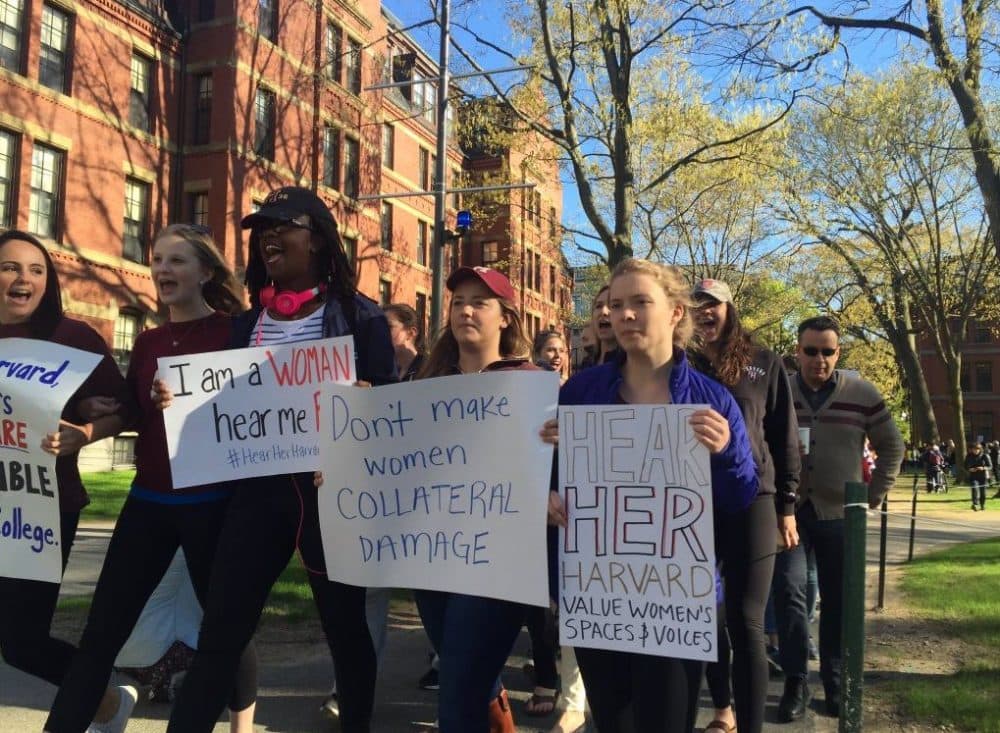 This article is more than 5 years old.
Some Harvard students are protesting the university's recent moves against final clubs, fraternities and sororities.
Harvard announced last week that students — starting with the class of 2017 — who belong to sororities, fraternities or single-sex final clubs won't be able to lead athletic teams or other student organizations.
The school also said it will not allow those students to apply for scholarships that require the dean's endorsement, such as the Rhodes and Marshall scholarships.
Students Speak Out Against New Policies
"... On campus and in a society that is so male-dominated, female spaces are crucial sources of empowerment."

Caroline Tervo, a Harvard sophomore
Dozens of students marched around Harvard Yard Monday, saying the move unfairly hurts Harvard women.
Shouting "Hear her Harvard," the protesters — who were mostly women, many belonging to all-women final clubs or sororities — said Harvard's restrictions would deprive women of spaces away from men.
The women say these spaces are necessary to foster self-confidence on a campus where they say men tend to be overbearing in class and disrespectful in social situations.
Sophomore Caroline Tervo told fellow protesters gender discrimination happens every single day at Harvard.
"In the classroom where men speak more than women, and on the weekend where women are targeted and shamed for their sexuality," Tervo said. "On campus and in a society that is so male-dominated, female spaces are crucial sources of empowerment."
The students are also protesting Harvard's move against all-male final clubs and fraternities.
Junior Rebecca Ramos said there's a lot of value in all-male spaces.
"But we're particularly focusing on an environment here that has in the past been patronizing to women," Ramos said. "It has put women at a serious disadvantage, and we're working to change that, and we think that all-female organizations are really important in changing that."
In a statement, Harvard College spokesperson Rachael Dane recognized the opposition to the college's move, but said Harvard had also received support from members of final clubs. She added: "We continue to believe that gender discrimination has no place on Harvard's campus."
This article was originally published on May 10, 2016.
This segment aired on May 10, 2016.