Large Crowd Demonstrates Against Police Violence, Marching Through Boston And Filling Dudley Station
02:18
Play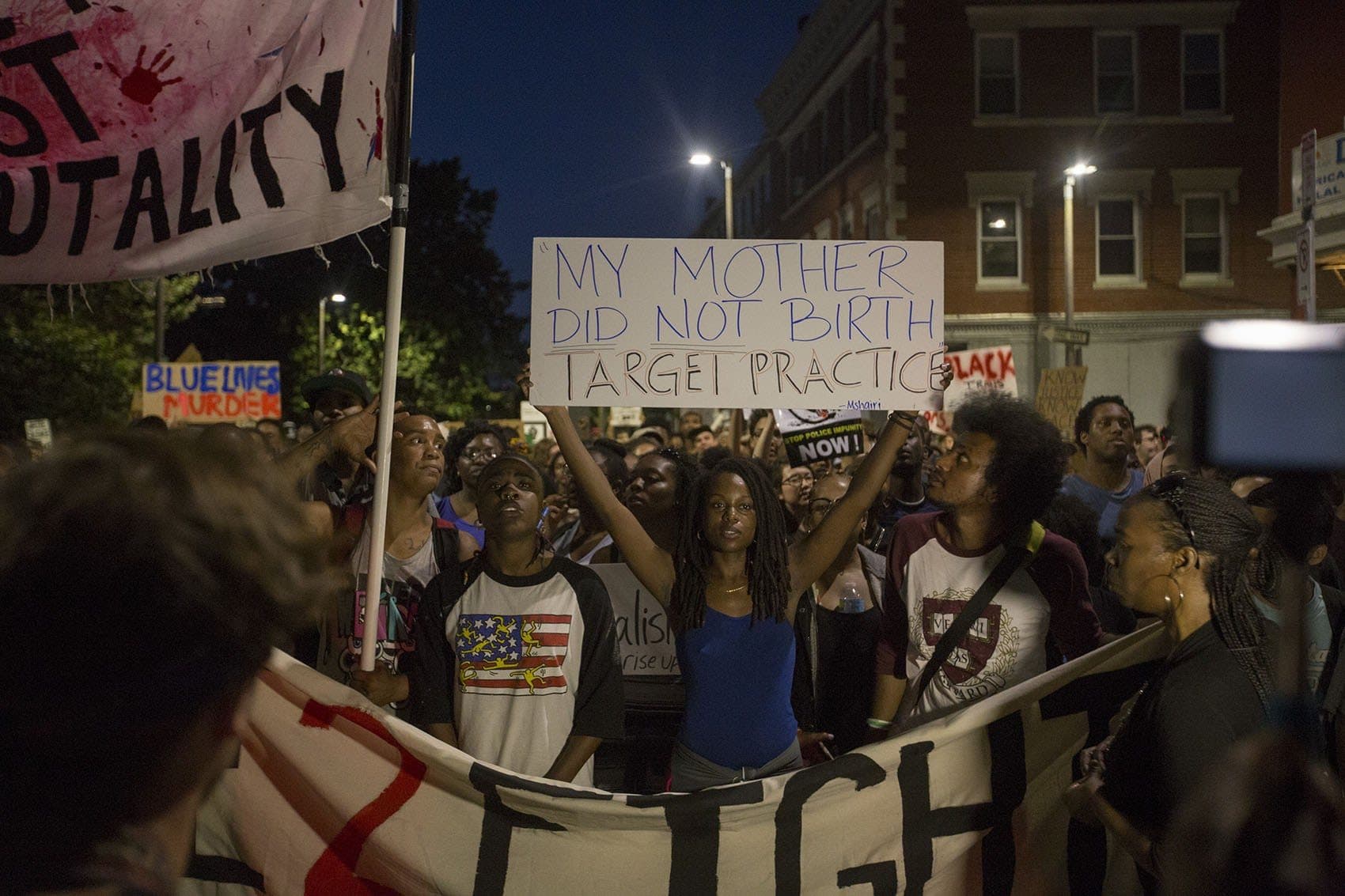 This article is more than 4 years old.
A sea of people participated in a demonstration in Roxbury against police violence Wednesday night, marching from Boston police headquarters through the South End and to Dudley Square.
The crowd appeared to number about 2,000 people, measuring at least two blocks-long as it made its way up Tremont Street toward Massachusetts Avenue. Organizers of the rally said they were encouraged by the large turnout, but that more work needs to be done.
Rally organizers Sophia Bernardeau and Nino Brown led the crowd in chants, speaking through microphones on the back of pickup truck while Brock Satter walked in front, commenting on the size of the crowd.
"It just shows how deep the discontent really is," he said. "It hasn't expressed itself completely. It's just a festering wound in the U.S. culture, U.S. history that won't heal until there's real change."
The protesters say they want a number of things, and first among them is charges against every officer involved in recent high-profile shootings of minorities by police.
They also want to reopen past cases with a special prosecutor and the removal of all elected officials who, they say, "justify racist police terror."
"You have a mayor that represents the Boston police. And I have yet to hear him represent the people of Boston," said rally organizer Tahia Sykes.
The demonstration snaked its way through the South End — all the way to Dudley Station, where Yolanda Harris issued a call for unity.
"If we can start together as a people and learn to forgive, and let go, let go of the past and move on in the future, in the present. And that means we gotta get along with each other. I don't have to go home with you to know you, you know what I'm saying? You're my neighbor! All I gotta do is love you."
Earlier, Harris had thanked police — who maintained a heavy presence along the march route, blocking off streets and reopening them as demonstrators marched past.
There appeared to be no major incidents or arrests.
Still, organizers said it will take more work to end what they call a system of racism. They plan to hold a community organizing meeting later Thursday night.
This segment aired on July 14, 2016.