New England Fashion Designers Make 'Olympic Sprint' To Rio
04:30
Play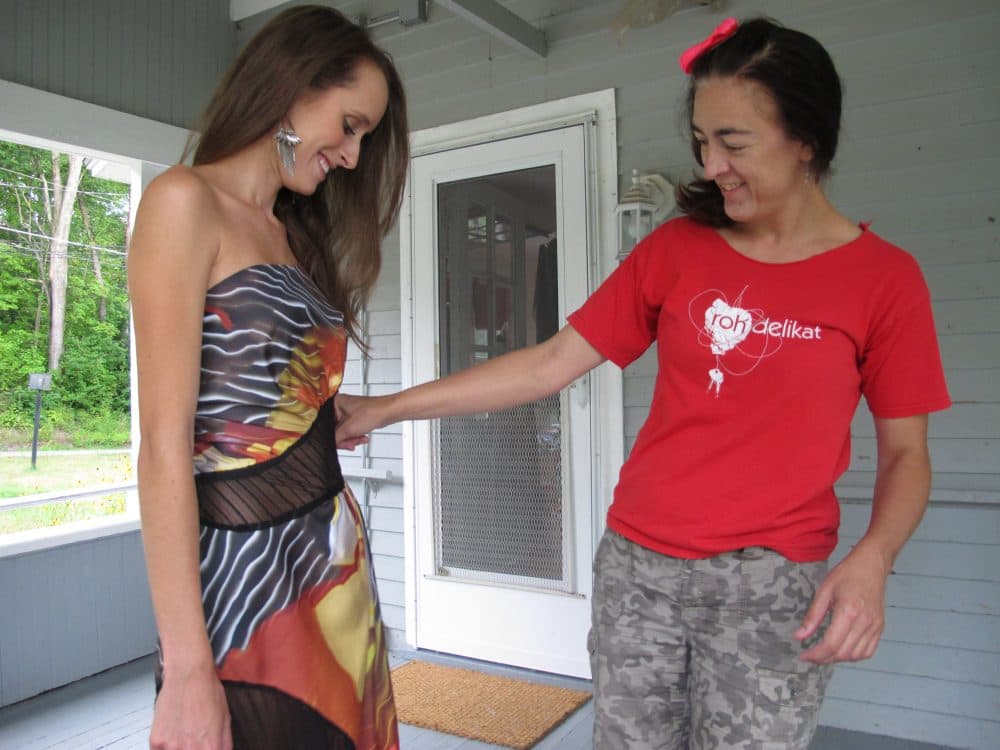 This article is more than 4 years old.
It was just a few months ago that a San Francisco fashion show producer told a Brazilian fashion show producer to check out some colorful dresses made in an unlikely place: New Hampshire. That's when Laura McCarthy and collaborator Harry Umen got the invitation to show their new collection on the Teatro Fashion Mall runway in Rio on Day Four of the Summer Olympics.
Lately, McCarthy says, she's been pulling 12-hour days.
"This whole week has been stressful because I've been sewing non-stop," McCarthy says, "and I'm really ready to stop and just get on the plane and go."
Laughing in the background is Hailey Bonczar, a local model. She won't be on the runway in Rio, but she is helping McCarthy fit the clothes here in New Hampshire. McCarthy manages to talk to me while holding pins in her mouth and putting them in and out of a dress, which is draped on Bonczar.
"This is something I sort of put together piece by piece on the dress form, and I take a sort of sculptural approach to things," McCarthy says.
McCarthy's work fits in an unusual space in fashion. She's not chasing anything. Not celebrity, not money, not big museum exhibitions.
"I've been sort of reluctant to be part of the business end of things," McCarthy says. "I've had my own line but it's more out of interest in designing and expressing my own ideas, and I'm really bad at self-promotion."
McCarthy started making her own clothes in high school in the town next door to where she lives now. She went to the celebrated Rhode Island School of Design, RISD, to study textiles. And now, she teaches fashion at a small college near Boston. It's her collaborator on this project, Umen, who seems hungry for redder carpets and brighter lights.
"They expect 500,000 people to come to these games," Umen says. "I would venture to say that most of the people that attend Olympics have discretionary income, tend to be interested in fashion, experimental fashion, high fashion."
This fashion show is not officially part of the Olympics. But the promise to an Olympic Games' host country is of innumerable tourists with deep pocketbooks. Hotels, shops, restaurants, performers and, yes, even fashion designers are eager to capitalize on all the action.
Umen hopes this trip to Rio can help him and McCarthy launch their collaboration as a commercial line of clothing.
The way it works is Umen designs the prints and orders the fabric — McCarthy designs and sews the clothes. For the dress getting fitted on the model, the pattern on the fabric comes from a still-life photograph Umen took. He points to some thick white lines.
"These are Venetian blinds, and they are then somewhat — but not a whole lot — post-processed on the computer," Umen says.
A single orange strap holds the dress up on the model's left shoulder. Colorful oranges and yellows bunch around some black lace at her ribcage.
As McCarthy makes adjustments, Umen bustles into the living room with an armload of fabric.
"This is neoprene that Laura's seeing for the first time," Umen says, "and this is something that she specifically asked for because of the way it drapes. We have in mind here, a jacket design, am I right?"
They have one day before leaving for Rio — and new fabric is still arriving.
McCarthy seems relieved that I've turned my attention to Umen. But soon the sound of a steam iron interrupts us. McCarthy is pressing a Lycra swimsuit piece. In a moment, she's sitting down, threading up her sewing machine.
All told, she and Umen are bringing 13 "looks" -- outfits with accessories — to Rio. It's an almost Olympic sprint to the finish.
This story is a production of the New England News Collaborative.
This segment aired on August 8, 2016.