Pizza Is Her Politics: Aquinnah Wampanoag Baker Builds Community With Weekly Outdoor 'Pizza Night' On Martha's Vineyard
Play
This article is more than 6 years old.
Aquinnah Wampanoag tribe member Juli Vanderhoop is using one of humanity's great unifiers to build community on Martha's Vineyard: pizza.
The professional baker hosts weekly, outdoor pizza nights for her fellow islanders and swarms of summertime tourists. There's no charge, but donations keep the popular gatherings going.
Vanderhoop first fired up her clay oven outside her home-based Orange Peel Bakery 10 years ago. Most days of the week you could easily miss it as you drive by. It's on a rural road, the signage is bright but not huge, and the bakery itself is up a gravel driveway nestled in the woods.
But you have no trouble finding Orange Peel on Wednesday because it's pizza night. Live music catches your ear and parked cars line the street. On the evening of my visit, a performer on Vanderhoop's deck issues a warning to newcomers.
"If you just arrived and you happen to be facing towards down-island, I have to give you a heads up that you're going to be towed or ticketed. You need to be parked on the opposite side of the road facing the lighthouse," she said, before going back to crooning a jazzy tune.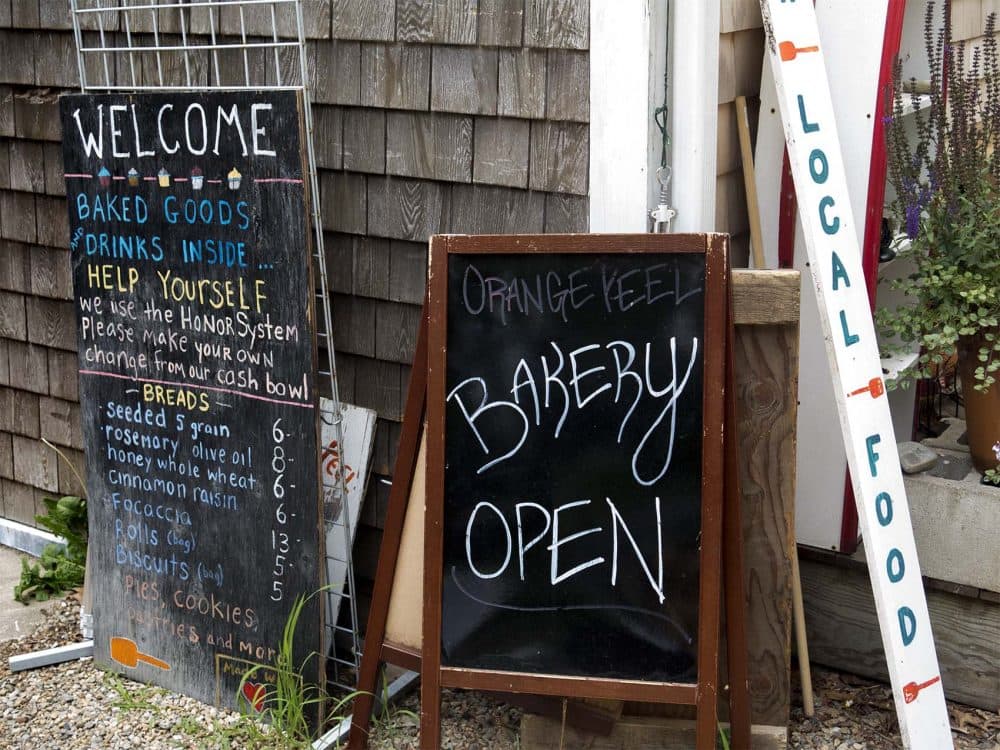 The smell of fresh, yeasty dough and cheese transforming into pizza floats from a bulky but beautiful field stone-covered oven. Its igloo-like dome seems to rise out of the earth. Smoke wafts from its tall chimney. A posse of volunteers work around the hearth, wielding wooden-handled paddles, rolling pins and pizza cutters at tables set up under a tent.
A few steps away, inside the cramped kitchen that used to be her garage, Vanderhoop helps a new assistant prep dough. The baker says they'll go through more than 225 pizzas in about three hours.
"We're getting thrown to the wolves tonight," she tells me with a laugh as she walks out the bakery door toward her wood-burning oven. She says it reaches temperatures of more than 700 degrees.
Vanderhoop's team is waiting for a party of 14 to join the growing pack of pizza fans. A long farm table decorated with fresh flowers is set in the yard among some Adirondack chairs. Reservations aren't necessary, though. Vanderhoop's bakery and pizza nights are open to all and attract diners, assistants and volunteers from all over the world.
"Some of these guys are new — as a matter of fact the woman that you just saw inside arrived from California today," Vanderhoop explains. "A lot of these people come up out of the community and volunteer to do this evening, which is based on a European dinner where you eat dinner and you just don't stop — so we keep on going," she continues with another warm laugh. "It's BYOB. Everybody brings something to share. The topping table is getting there."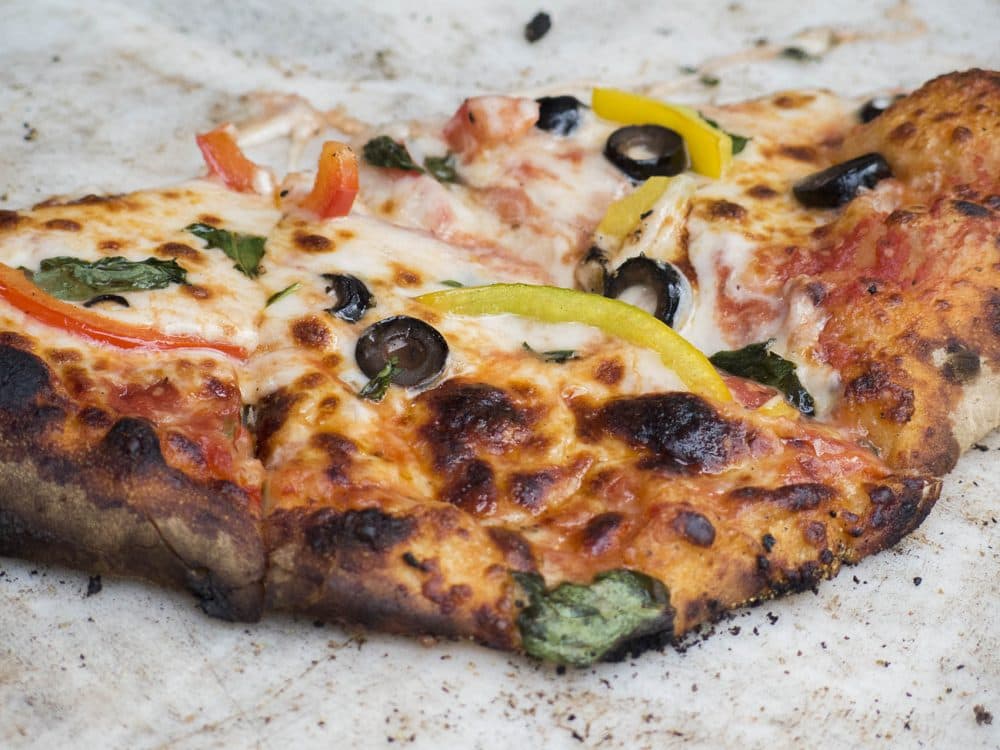 The topping table is central to Vanderhoop's pizza night plan. The rules are simple. The Orange Peel team rolls out about 100 pounds of fresh dough and makes homemade sauce. Guests bring fixings of their choice to add to the topping table. They assemble their own pies, but once the volunteers pull the steaming pizzas from the oven, each maker only takes half. They share the other half with strangers.
"Our toppings were bacon, black olive, basil, and we borrowed some mushrooms from somebody else," Meghan Kies explains to me on her way out. Kies is vacationing with her kids and her husband Will. They're from Connecticut.
"The whole idea is great, that everybody brings something and leaves something for someone else," Will Kies says. "Everyone gets to share a little of everyone's pizza. It's a different concept, but very cool."
The system is novel to a lot of people here but not to 25-year-old volunteer Michael Frederic Rising Sun Sellitti, Jr.
"The idea of having folks come and share in this meal together is wonderful, but it's not a new thing for Juli or myself," Sellitti explains as he adjusts a torch on the edge of a seating area.
Sellitti helps with chopping wood, rolling dough and running the powerful oven on pizza nights. Like Vanderhoop, he's a member of the Aquinnah Wampanoag tribe. In fact, they're cousins.
"As tribal folks, communal meals and socials is something that we grew up with — it's part of our culture, it's part of our ancestry," Sellitti says. "It's just giving it sort of a more modern, contemporary spin on something that is very much a part of our regular life."
Breaking bread with folks from near and far is one way Juli Vanderhoop honors her Native American ancestors' example. She says her home bakery's land is a gift from her mother, Anne Vanderhoop Madison.
"This place is called Black Brook. It's a place where six springs run into this property," Juli Vanderhoop explains. "And for my people, the Wampanoag, it is a spiritual solstice point where we can communicate with our ancestors. My ancestors are with me, beginning with my stepfather, who was the medicine man for our tribe."
Vanderhoop says Luther Madison was a medicine man for 50 years before he passed away six years ago. He was the person who first taught her how to bake a pie. Now she's sharing her knowledge with others.
When Vanderhoop works with new assistants who seem a little unsure of their abilities she tells them it's all about each individual's mark on the bread.
"People say, 'Oh, mine doesn't look as good as yours,' " Vanderhoop explains. "But I say, 'It will taste the same, and you'll get there.' "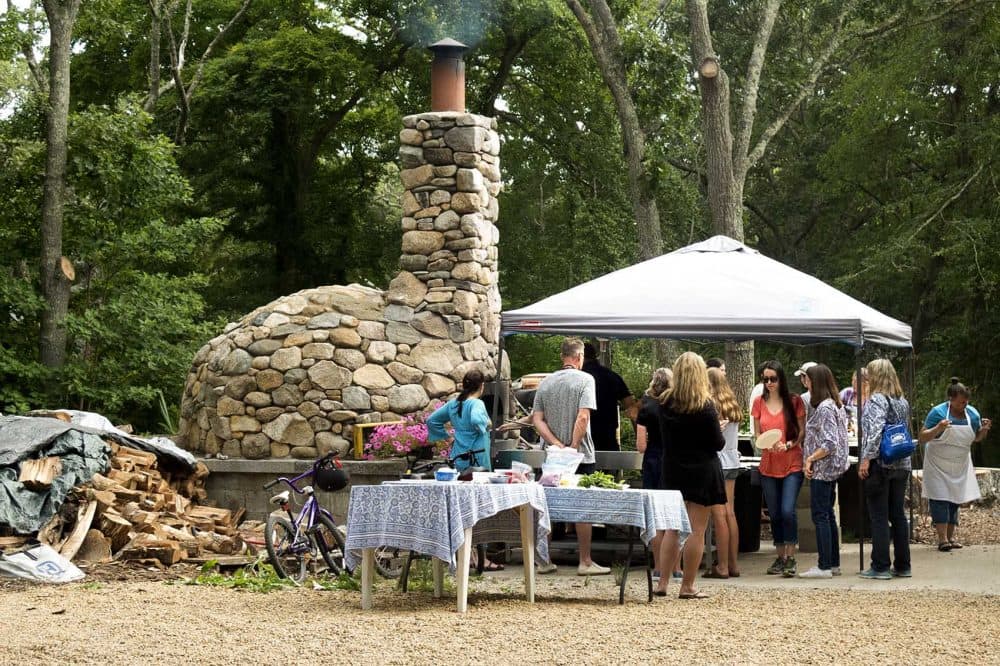 Before she became a professional baker, Vanderhoop was a commercial pilot. She traveled through Europe where she tasted traditional breads, cakes and cookies. But Vanderhoop says she couldn't get her first-class flight certificate because of a medical condition, so she returned to Aquinnah, opened her bakery and imported a traditional wood-burning oven from France. Vanderhoop built the 10-foot-wide behemoth in her backyard — piece-by-piece — with help from a local mason. They decided to encase its exterior in local field-stone.
"I stared at those 5,000 boxes in my driveway for about a week before unpacking them," Vanderhoop says, "and then we went to work.
"The oven is made of Terre Blanche, which translates into 'white earth.' That is the most thermodynamic clay in the world," she explains while giving me a peek inside its ashy, domed baking chamber.
"It will never go cooler than 300 degrees until November," Vanderhoop says. "At this point, we could use another oven, maybe two!"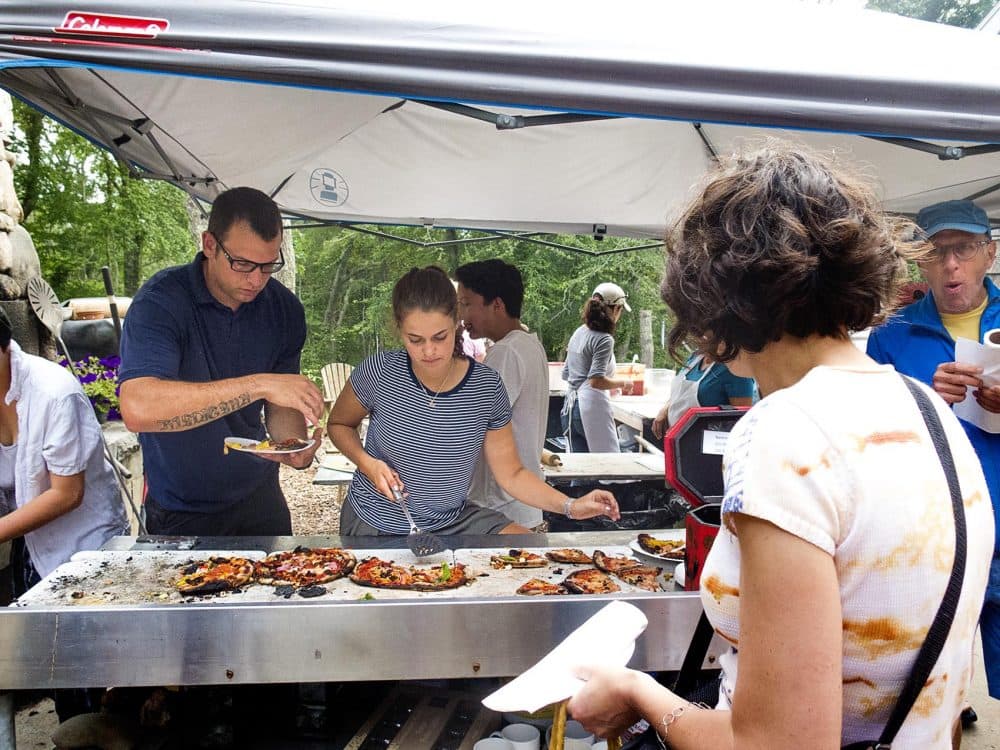 Vanderhoop executes three "bakes" a day — in all seasons and weather — often at midnight. She says her team lifts about 700 pounds of cut wood, dough and other ingredients a day ("No need for the gym," she adds). Their repertoire spans the sweet-to-savory gamut and includes rosemary/olive loaves, braided challah, puffy biscuits and glistening raspberry-almond tarts. Vanderhoop muses that her oven-baked goods release enticing aromatics that float through the evening air like a siren's call.
"I never really knew what that beckoning hand from a cartoon was until I smelled the granola or the chocolate coming out of the oven," she said. "Then a bicyclist from about a mile away said it changed his direction. And when he got to the bottom of the driveway he said, 'Are you baking chocolate?' And I said, 'Yes I am,' and he came up and had a warm chocolate croissant."
These kinds of unexpected human encounters clearly fill this baker with joy.
And then there are the pizzas.
Vanderhoop believes her outdoor oven is blessed. She says it's helped her create something she felt was missing when she moved back to the Vineyard with her two children: a place to foster kindness and sharing. Communal pizza night plays a big part in her mission.
"We spend the first five or 10 years teaching our children to share -- and then we become adults, we build walls, and we don't share," she says. "We must treat each other more kindly so that things are not so out of balance, as we've seen in the outer world where horrible things are happening to communities. It shows the disconnect that we're going through — and it is easier to disconnect than it is to connect."
Vanderhoop, on the other hand, is perpetually engaged. Orange Peel's hours are 24/7. Fishermen — or anybody — can buy a scone at all hours and just leave their money in an open jar. Vanderhoop says people have asked her to get a lock box after a rash of farm stand thefts, but this "honor system" also aligns with her philosophies.
"It is something that people don't give people a chance to do — and it's a reminder of how you feel when you're on your honor," she tells me, adding that it works. While there have been times when Vanderhoop suspected the jar was light on cash for the amount of product missing, she says someone would inevitably come back to pay for what they'd taken, explaining that they had forgotten their money.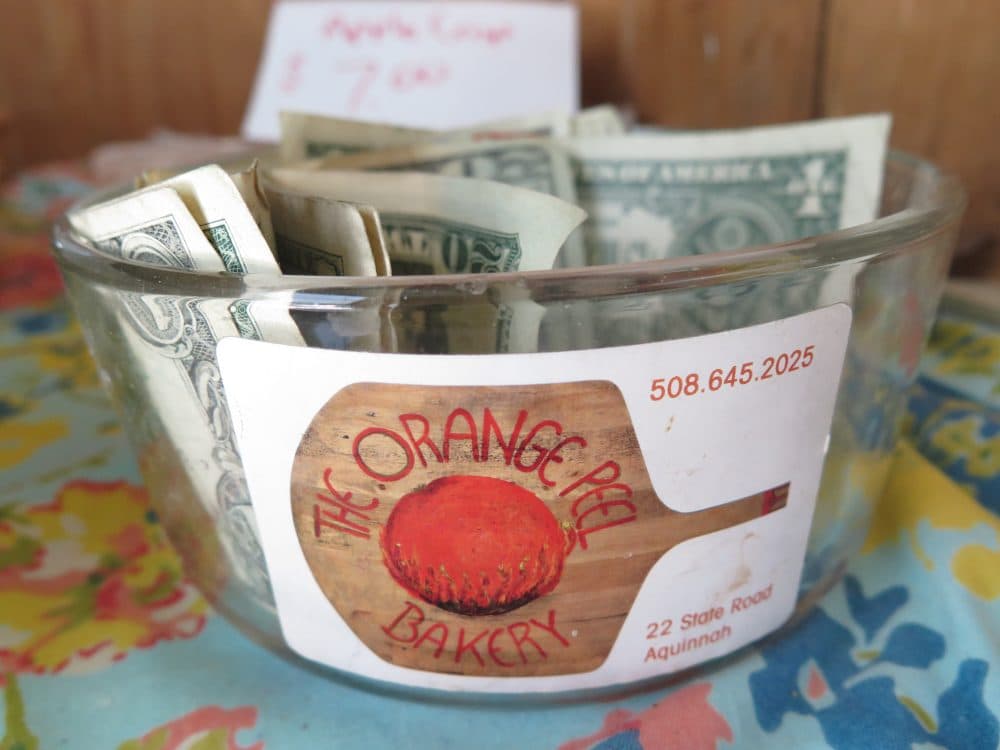 This year Vanderhoop opened a second location among the cluster of Wampanoag-owned gift shops and restaurants at the Gay Head cliffs. The baker has another job, too – one that people have long encouraged her to take on. She's an Aquinnah town selectman, dedicated to maintaining the land and supporting members of her tribe. Summer tourism is their main economic driver.
"We've only got four months, really, to make what people would try to make in a year — and that doesn't happen," Vanderhoop says. "We'd love to really bring our economy up a little bit."
Vanderhoop has also been instrumental in the recent creation of the new Aquinnah Circle Cultural District on the cliffs. It's a collaboration between the town and the Wampanoag tribe. Her popular pizza nights surely help bring visitors to the western end of the island, and her new space is located in the district. The Orange Peel Bakery has become a destination for aspiring bakers, vacationing families, island residents, celebrities and foodies from all walks of life.
"The oven brings a lot of people from around the world," Vanderhoop says. "It's actually an honor for us to do what we do and to feed the people and share with the people that come here to our land — the land of the Aquinnah Wampanoag," she says, smiling once again.
Before getting back to work, Vanderhoop adds that she couldn't pull off her community pizza nights without donations from diners or help from her hard-working volunteers. Vanderhoop says her eager, loyal team makes the weekly Wednesday gatherings look like cake instead of pizza.
This segment aired on August 22, 2016.