These Veterans Fought For Freedom, But Are Anything But Free
08:07
Play
This article is more than 4 years old.
A few dozen veterans begin filtering into a sparsely decorated auditorium.
The aroma of fresh perked coffee from a 30-cup urn permeates the air, while an empty seat in the front row is covered and reserved in remembrance of POWs and MIAs.
The sergeant-at-arms calls the meeting to order.
In unison, the vets and a handful of guests begin the meeting with their hands over their hearts and recite the Pledge of Allegiance.
It may seem like your typical VFW or American Legion meeting, but it's not. This is the bi-monthly meeting of the Norfolk Chapter of American Veterans in Prison, or AVIP. The men in this group fought for freedom, but today are anything but free. All are serving sentences at the Massachusetts Correctional Institution at Norfolk.
At the meetings, the incarcerated veterans discuss issues of importance to them, including how to apply for military benefits earned while in the service. On this particular night, inmate John Dutcher raises the possibility of convincing prison officials to create a special housing unit, exclusively for veterans.
"Because I want to live in a block where people aren't in there getting high, and getting tickets and fighting and this and that," Dutcher explains to the 30 or so fellow veteran inmates, who agree to mull it over, weighing the pros and cons of such a housing unit.
Incarcerated Vets Value Connection To Vets On The Outside
After the meeting wraps up, the incarcerated veterans confer with a small group of volunteer veterans who come in twice a month from the outside.
The volunteers work with the vets on issues including benefits, and dealing with post-traumatic stress disorder, but mostly, they are there to provide a link to fellow vets in the outside world. That is something inmate David McGraw appreciates.
"We look forward to it. It's a whole different environment when the volunteers are here," says McGraw. "It gives us, we know there's still people on the outside and how they live, and it gives us something to look forward to. Hopefully, we'll get out there some day."
For volunteers like Cherie Davis, who spent 10 years in the Army in the 1990s, assisting fellow vets is a rewarding experience.
"I think one of the biggest things that we're able to do is just listen," says Davis. "That they actually feel like somebody is listening, and paying attention to what they are saying, because I think a lot of the times they feel like they've so little control of what they have and what's going on that they don't really have a real good solid outlet which to talk about that."
There are 540 criminally sentenced military veterans currently in D.O.C. custody. That's about five percent of the state's total prison population. At Norfolk, the oldest veteran is in his 90s and served in World War II and Korea. The youngest vets saw action in Afghanistan and Iraq, including 34-year-old Josh Nilsson. He joined the Marines right out of high school back in 2000, and says at first, he liked it.
"It was fun," said Nilsson, who was born in Texas and grew up in Florida. "It was like, imagine going camping and doing, playing paintball for a living, I mean, so I enjoyed it. It was a lot of learning. A good experience."
Trouble With Benefits, Feeling Pushed 'Out The Door'
But the experience changed in 2003 when Nilsson and his unit were among the first U.S. troops to invade Baghdad. The experience changed Nilsson as well, and he says he came away from the service diagnosed with PTSD.
"It takes different forms in different people. Like I said, I had a lot more anger," said Nilsson. "I don't do good in crowds. I don't do good with noise, which in a place like this is challenging sometimes, you know. People yelling and screaming makes it difficult. A lot of anxiety. Anxiety is an issue I deal with a lot, that's been magnified from being overseas, yeah, being in combat."
Nilsson says he takes full responsibility for his crime. He's serving a minimum 15 years to life after pleading guilty to second-degree murder for strangling a woman in Westfield in 2006. But he feels the lack of proper mental health assistance after his combat experience was a contributing factor. Nilsson says before leaving Iraq, he and his unit met as one with a Navy Corpsman who handed out a one-page pamphlet.
"There was no services provided. They didn't say 'if you have trouble with this or that, there's, you can get counseling here,' there wasn't any of that. They were not concerned about it. They just kind of push you out the door and say, 'see ya,' " said Nilsson.
Nilsson says one of the biggest challenges for incarcerated veterans is the inability to easily access medical benefits they earned due to their service.
"The only issue with benefits is in order to qualify for the benefits you have to go to the VA for an examination, and we're not able to do that. And they're not able to come here, so that's what ends up getting lost is once you're in here, it's very, very difficult to file for benefits and get them. It's one of the main issues I'm trying to work on for the past year."
Nilsson counts on support from fellow veterans who are also serving time at Norfolk, like 64-year-old Joseph Jabir Pope.
"I don't have any regrets about defending my country, and serving my country," said Pope who is originally from Roxbury. "It's where I was born, it's where I live, it's where I raise my children, it's where my parents raised me."
Pope was also in the marines, and in 1971, he served a 13-month tour of duty in Vietnam. He admits to using heroin before, during and after his time in the military, and wound up serving a five-year sentence for assault and battery soon after he got home.
"Vets at that time didn't get treated very well in the Vietnam era," he said. "They got spit on, and they got accused of killing babies and all the rest of that, and then those that looked like me, we got treated even more so. There wasn't a lot waiting for us when we got home. We turned to the streets."
A few years after his prison stint, Pope was arrested again, this time for a murder he says he did not commit. He was convicted, and he has served 32 years for that crime. He is not eligible for parole.
"There wasn't a lot waiting for us when we got home. We turned to the streets."

Joseph Jabir Pope, on coming home from the Vietnam War
While he says it is hard to be patriotic, Pope is proud of his military service and appreciates his fellow inmates who served as well.
"Because I love the guys that served like I served. I loved the sacrifices that they made as well," said Pope. "That they put their lives on the line so that we could maintain freedom. Some of us more than others. But nevertheless, these were guys that, like I did, signed up. We wasn't called upon. We volunteered. And so, that meant something. That means something to me."
Jabir Pope, Josh Nilsson, and the other incarcerated veterans will likely take part in Veterans Day observations inside the yard at MCI Norfolk. As the nation honors veterans, Pope says vets in prison should not be defined by their crimes.
"It would be nice for people to know that those people just had a bad moment, for whatever their reason was. That is not necessarily to excuse what has happened but, certainly, not all circumstances are alike."
This segment aired on November 11, 2016.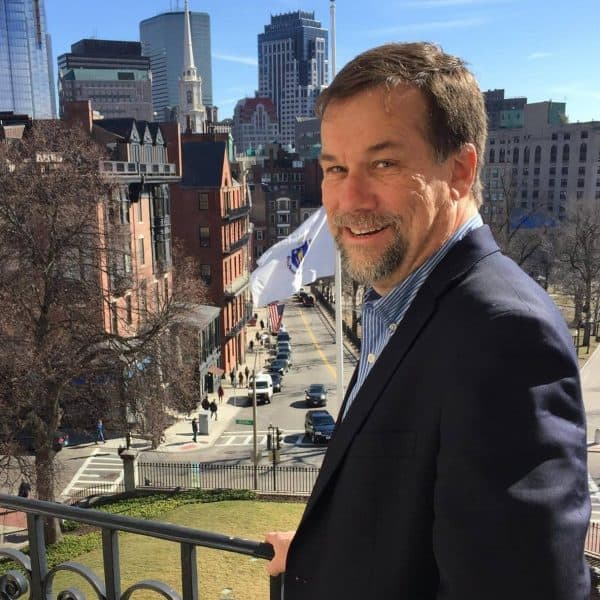 Steve Brown Senior Reporter/Anchor
Steve Brown is a veteran broadcast journalist who serves as WBUR's senior State House reporter.