Advocates Worry Trump Will Go Back On Nation's Decades-Long Commitment To Refugee Resettlement
04:24
Play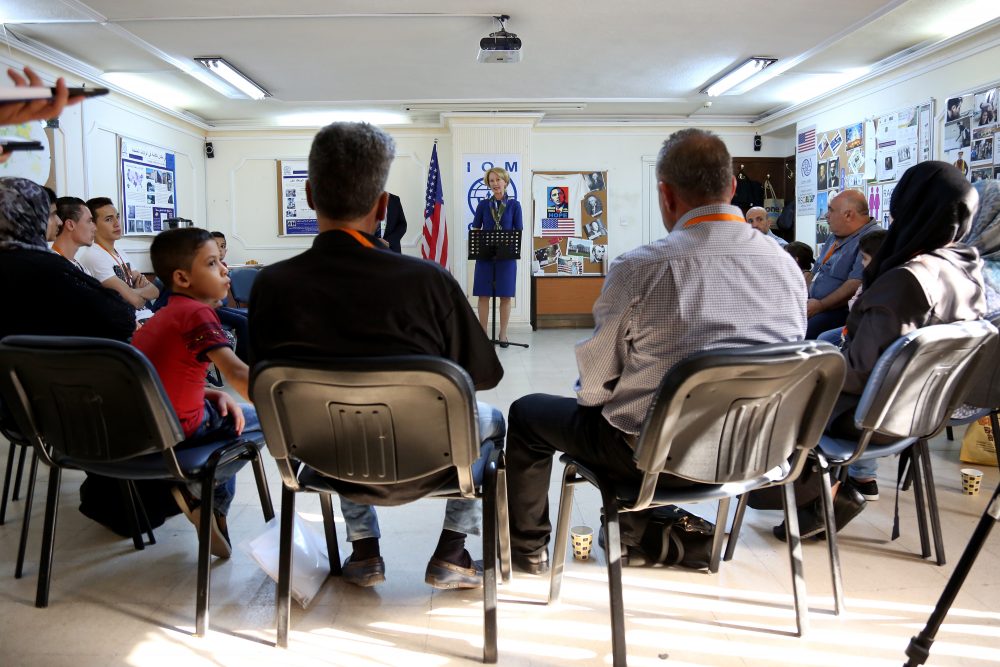 This article is more than 4 years old.
President-elect Donald Trump hasn't elaborated much on his vision for immigration policy, beyond what he laid out during the campaign. But enough has been said that many believe he will limit the number of refugees allowed into the U.S.
Before the election, at numerous campaign events, Trump made it clear he would not be putting out the welcome mat for refugees from Syria, who now number in the millions.
"We have no idea who these people are, where they come from," Trump said at an event in September. "I always say: Trojan horse. Watch what's going to happen folks, it's not going to be pretty."
Trump's "Trojan horse" includes Muslim refugees from mostly Middle East countries where ISIS and other terrorist groups operate.
About half of the 85,000 refugees who came to the U.S. last year are Muslim, according to a Pew Research Center analysis of data from the U.S. State Department. Many are living around New England, and a few hundred came through Integrated Refugee and Immigrant Services (IRIS) in New Haven, Connecticut. IRIS Director Chris George says in the coming year his agency expects to resettle about 500 people — or at least that's their hope.
"That's partly based on an assumption that 110,000 refugees will come to the United States," George said. "That was the number the White House and State Department gave us."
But anything can happen after Jan. 20, George mused, when Trump becomes president.
The refugee "ceiling" — the number of displaced people allowed into the U.S. each year — is set by the president, based on, among other things, world events. Federal funds are allocated to a few hundred agencies, like IRIS. Presidents have the power to stop the U.S. refugee program on a dime, like President Bush did after 9/11.
So what will President Trump do? "That's a question all of us are asking," George said, and then sighed.
"Areas like border control or anything having to do with foreign policy is where the president really exercises the highest level of authority and control," said Sudha Setty, a professor at Western New England University's School of Law. "So in terms of setting that refugee ceiling for future fiscal years, a future President Trump does have the authority to set that ceiling very low."
Setty says Trump's freedom to make sweeping decisions like banning Muslims from entering the U.S. continues a disturbing trend of the last two administrations.
"The lesson of the last 15 years at least has been that we have given the president a tremendous amount of power," Setty said. "And we have not put into place a lot of accountability measures when it comes to anything that is deemed to be national security or terrorism related, and that's not changing any time soon."
Trump has called for a more rigorous system to vet refugees. Kathleen Newland, of the Migration Policy Institute in Washington, D.C., says it's already a rather rigorous process. Once people are recommended by the United Nations or an embassy to come to the U.S., multiple screening levels ensue.
"By the State Department, against both bio-metric and biographical information," Newman explained. "They go through the FBI, they go through the CIA, they go though the National Counterterrorism Center databases, and Department of Homeland Security databases. And then there's an extra layer for Syrians refugees to make doubly sure nothing has been missed."
It can take up to two years, or longer, and since 9/11 plenty of refugee applicants have been rejected because of their ties, direct or indirect, to terrorist groups.
Amherst College political scientist Ruxandra Paul is watching both sides of the Atlantic right now. She says if U.S. leadership changes direction on its decades-long commitment to refugee resettlement, more global uncertainty is sure to come.
"Donald Trump has been suggesting that the U.S. has contributed too much and that allies from western Europe are not covering their share of this burden," Paul said.
Last year, the U.S. gave the U.N. Refugee Agency more than $1.5 billion. The European Union next in line, followed by several European countries, gave in the hundreds of millions.
From a legal perspective, President Donald Trump is on solid ground if he chooses to lower the refugee ceiling. And if he does, Paul says, it's possible other countries will do likewise.
This story is a production of the New England News Collaborative and originally aired on New England Public Radio.
This segment aired on November 29, 2016.