'He's The Real Deal': Author Mark Shriver Traces Life Of Pope Francis In New Book
05:07
Play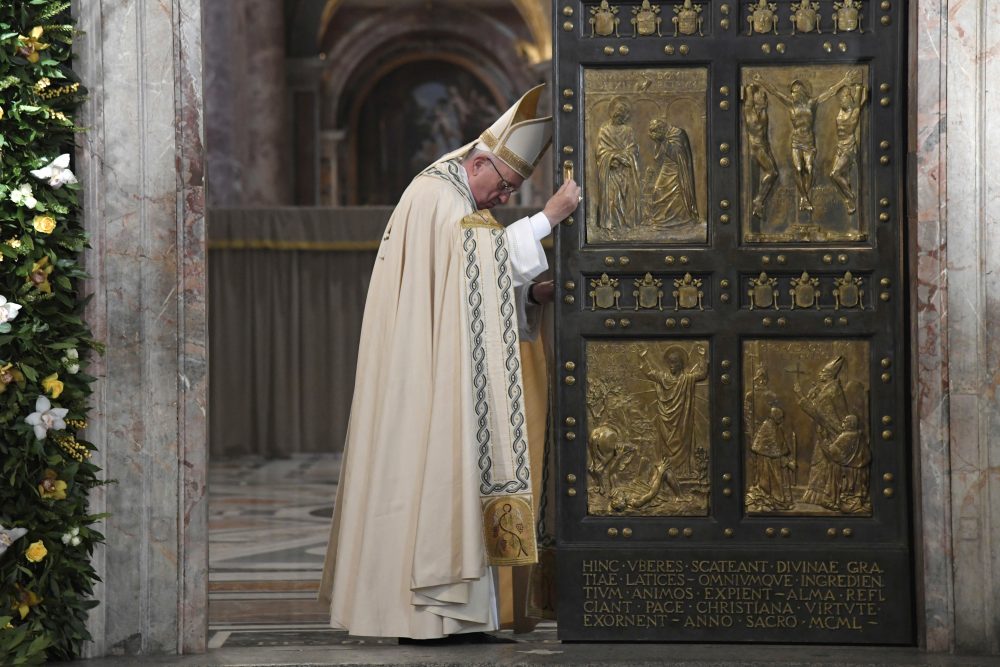 This article is more than 4 years old.
Pope Francis is renowned for his humility — choosing to live simply; acknowledging he's a sinner; and speaking out on behalf of the poor and powerless.
Mark Shriver, son of the late Sargent Shriver and Eunice Kennedy, is out with a new book on Francis. The book is titled, "Pilgrimage: My Search for the Real Pope Francis."
It digs into the life of Francis, from boy to pope, and tells the story of the impact writing the book has had on Shriver's life. He joined Morning Edition to discuss the book.
---
Book Excerpt: 'Pilgrimage: My Search For The Real Pope Francis'
It is 2:30 on a Saturday morning, and clusters of students from Córdoba University are shouting and laughing as they straggle home from the bar district nearby. Córdoba, Argentina, is known as La Docta, the Learned City, yet the barhopping students are loud.
His large bedroom window overlooks the street. He awakens and hears them as he lies on his hard single bed. At an earlier point in his life, he might have thrived here, given his passion for teaching and for students. When he was a high school teacher in Santa Fe, Argentina, he once brought Argentina's most acclaimed writer, Jorge Luis Borges, to class. His students later produced a book of stories for which Borges wrote the prologue.
His room is bare. It feels like the room not of a priest but of a penitent, even a prisoner. It feels like a room the students outside would stare at in bewilderment were they to peer in through his window. It is roughly twelve feet by twelve feet with a single bed, a wooden chair with no cushion, and a kneeler; there is a small table near the bed with a small lamp on it and a bureau with three drawers and a picture of his mother and him.
He himself is thin — too thin — and starting to slouch, weighed by the knowledge that he will likely never hold a position of power, of influence, again in the Jesuit order. Fellow Jesuits who pass him in the hall notice that he rarely, if ever, smiles.
He has been banished to Córdoba, an industrial city in the interior of the country. Unlike his beloved, cosmopolitan Buenos Aires, known as the Paris of Latin America, Córdoba has had many of its enchanting Spanish colonial buildings demolished in favor of cheap brick structures.
He had been the hotshot of the Society of Jesus, often referred to as the Jesuits; he was made provincial, or boss, of the Jesuit communities of Paraguay and Argentina on July 31, 1973, at the unheard-of age of only thirty-six. But now Jorge Mario Bergoglio — or Bergoglio, as he often calls himself — is merely trying to get back to sleep in a small, dank room. (He does sleep, though some of his former students and friends say he defies many basic human needs, sleep among them.)
Back in Buenos Aires, he had been confidently — some say arrogantly — certain that rooting young Jesuits in traditional theology, philosophy texts, and pedagogy was the only way for them to develop the skills, guts, and intellect they would need to serve the world as both keen thinkers and devoted pastors. He was orthodox in his conviction that a regimented lifestyle and a curriculum free of newfangled, borderline-Marxist theories on liberation and politicized faith were key to pastoral and personal success.
He had a profound sway over the old-line, Europeanized Jesuit order in Argentina, the order itself a socioreligious outlier in Latin America, a continent otherwise roiled with aggressive political and theological protest against injustice. His political philosophy, or rather his philosophy about the politics the Jesuits should embrace, ran counter to the post – Vatican II sweep of social change and political activism among many of his fellow Latin American clergy. Change was good, he thought, but it had to come through faith, not politics. Poverty had to be abolished, yes, but through prayer and devotion and good works, not through political insurrection.
But in June 1990, his reign ended abruptly when he was ordered to Córdoba. Years later, very few people will speak much of the exile of Bergoglio. The Jesuits have closed ranks; like a family, they have conflicts, but like a family, they protect their own.
He was shipped to Córdoba by his Jesuit superiors for a number of reasons, perhaps none more important than his authoritarian style when he was provincial and an excess of discipline when he was
rector of Colegio Máximo, the Jesuit formation house in Buenos Aires. His rigorous commitment to a conservative structure of Jesuit training was so unwavering that he caused a deep and painful split among the Jesuit community in Argentina.
Saint Ignatius of Loyola, the man who founded the Society of Jesus in 1540, knew this kind of spiritual exile. Once a sword-bearing, damsel-chasing Basque, he was injured in battle and forced to convalesce at his family castle for six months. Inspired by reading a popular version of the life of Christ and tales of the saints, Ignatius started to imagine a life far different from the courtly life he had so passionately desired. Once healed, he laid down his sword, gave away his splendid robes, and spent ten months in Manresa near Barcelona, where in extended periods of solitude he wrestled with his sins and refined his holy ambition to help souls.
Later, while studying at the University of Paris, Ignatius met other like-minded men attracted to his zeal and his down-to-earth, practical spirituality. They became the first Jesuits. They dubbed themselves "contemplatives in action," for they would go wherever the need was greatest and wherever others were not able to go. Their fame, memorialized by Robert De Niro and Jeremy Irons in the 1986 film The Mission, stemmed partly from innovative and courageous missionary work in Asia and Latin America in the sixteenth and seventeenth centuries. But they also went to the intellectual and cultural frontiers of their times, helping the Church do its thinking in the age of the Renaissance and Reformation. They were as comfortable working with the poor and marginalized as with the wealthy and well connected, often earning the jealousy and suspicion of religious and political authorities. They became caught in a nasty web of ecclesiastical and courtly politics, and Pope Clement XIV suppressed the Jesuits as a religious order in 1773, but through perseverance and ingenuity, they managed to reclaim their status a few decades later.
It was this tough-minded, hard-charging intellectual approach, this willingness to go anywhere for the
Lord, that attracted Bergoglio to the Jesuits. Now his own interpretation of it had put him here in Córdoba, lying awake in the dark early morning hours.
---
Excerpted from "Pilgrimage" by Mark Shriver. Copyright © 2016 by Mark Shriver. Excerpted by permission of Random House. All rights reserved. No part of this excerpt may be reproduced or reprinted without permission in writing from the publisher.
This segment aired on December 5, 2016.